In my last article, I started a discussion on the contrasting differences between countries and the international response to national security efforts and the critical impact of a country's organized responses to terrorism. I shared the pros and cons of how the same tools and instincts that are designed to help us, can often be used against us. This conundrum reaches far beyond security and is shared in many areas such as poverty, education and the environment. It also touches on many subjects that are important and urgent in today's world.

In January, at the Clinton Foundation "Health Matters" Summit in La Quinta, California, a gathering of leaders in the field explored opportunities and challenges to improving the fundamental systems of global health. In one of the opening programs, the same questions I have applied to security and terrorism came out in the discussions on technology and innovation, and the role of both in addressing health disparities. We discussed mass technological surveillance, mapping of human activity and the potential for groundbreaking advances in using maps for tracking and predicting disease. Subjects such as determining whether innovative tools designed to improve the health equity gap will reap detrimental consequences to the same people we are trying to help were addressed. Panelists debated on how information systems and sharing such as this could potentially pose significant risk to human rights.

In April, this topic continued in depth at the Clinton Global Initiative University (CGIU) at UC Berkeley where over 1,200 students gathered from across the world to explore and actively address an even larger scope of global obstacles and opportunities. The conference focused primarily on education, human rights, poverty alleviation and climate change. As part of the CGIU program, students make "Commitments to Action" and take measurable steps to create impact around the globe. The objective is to find real world solutions to first, second and third world challenges, primarily by using big data as the new currency of change in the modern era.

Over 900 commitments were made out of April's program, with specific ideas and inventions proposed for the balanced use of advanced data systems and device while factoring in possible risks and benefits. One really interesting project that got my attention was the use of drones to track and prevent elephant poaching in Burkina Faso in addition to assisting in preventing rhino poaching in Southern Africa and deforestation in the Amazon. Other commitments that challenged conventional thinking included creating an algorithm to predict and monitor disease transmission in Brazil and Malaysia, developing a $1 HIV test in Africa and organizing coding workshops in third-world countries to increase employment opportunities for refugees. How counter intuitive that we might see the use of drones as a way to save species, or use complicated math equations to track disease.

An all too recent example included the development of an app like Open Street Map which helped in geomapping areas to provide targeted disaster relief after last year's devastating Nepal earthquake. Actual GPS units were loaded with compiled data to help rescue teams, demonstrating that mapping for resilience is now a new and evolving partnership in the face of international disasters.

An equally important example was the use of data to track abuse in Malawi. In this project, compiled information including allegations and witness info would be eventually turned over to law enforcement to help in prosecution. They have hopes that the testimony of witnesses could end up making a difference in the international criminal court.

With a very diverse and enthusiastic group of students participating, there was a definite consensus on the implications of what we were exploring and it was clear that the promise for opportunity is as limitless as the potential for innovation. The impact and consequences of how we use technology will naturally have a greater impact on the lives of millennials and on a world and a future that will be left in their hands. Although the imperative to provide solutions to these challenges seems to be greater than for any other age group, their grip on the future of technology and what it can do to solve problems and bring opportunity where it wouldn't otherwise exist is growing every day.

The distinct focus of the Clinton Foundation and CGIU programs continue to lend a unique perspective on creativity and social activism, highlighting and creating a powerful platform for the courage it takes to create and to implement programs that result in comprehensive impacts - on topics that have been a continuous part of my work.

They also validate how we must continue to strive for creative solutions to potentially polarizing topics, be it terrorism, global poverty, health or the great promise of technology. In considering the obvious challenges, we must focus on the opportunities that will continue to shape the way we live, work and support each other in this constantly evolving global platform.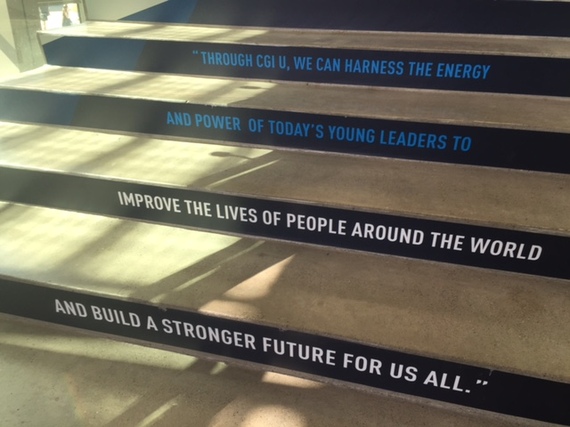 Related
Popular in the Community