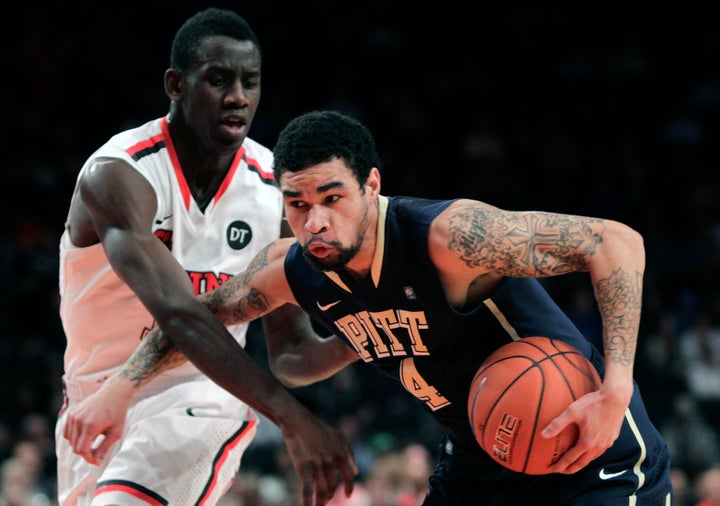 NEW YORK (AP) — Ashton Gibbs scored 20 points to lead Pittsburgh to a 73-59 victory over St. John's on Tuesday in the opening round of the Big East tournament.
Gibbs scored the first seven points of a 13-2 run to close the first half that gave Pittsburgh a 33-28 lead. Nasir Robinson scored on a rebound to give the 13th-seeded Panthers a 43-32 lead with 15:07 left and the Red Storm were never closer than nine points the rest of the game.
Robinson went 6 of 6 from the field and scored 12 of his 15 points in the second half for the Panthers (17-15), who play fifth-seeded and 13th-ranked Georgetown in the second round on Wednesday at Madison Square Garden.
Robinson, who was 7 for 10 overall, entered the game third in the conference shooting 56.2 percent from the field.
Moe Harkless had 25 points for the 12th-seeded Red Storm (13-19), who closed the season with three straight losses, one of them an 89-69 defeat at Pittsburgh six days ago.
Playing on the opening day is a different experience for the Panthers, who have been the No. 1 or No. 2 seed in this tournament the last three years. They came into this tournament having lost six of seven, the only win the blowout of St. John's.
The Red Storm shot just 33 percent for the game (22 of 66, including 2 of 11 from 3-point range). They came into the game last in the 16-team conference in 3-point shooting at 28.4 percent.
Pittsburgh shot 45.1 percent for the game (23 of 51, including 8 of 23 from 3-point range with Gibbs going 4 of 9).
D'Angelo Harrison added 12 points and 10 rebounds for St. John's but he missed all six of his 3-point attempts. God'sgift Achiuwa had 12 rebounds for the Red Storm, who dropped to 5-7 this season with their all-freshmen starting lineup.
REAL LIFE. REAL NEWS. REAL VOICES.
Help us tell more of the stories that matter from voices that too often remain unheard.
BEFORE YOU GO