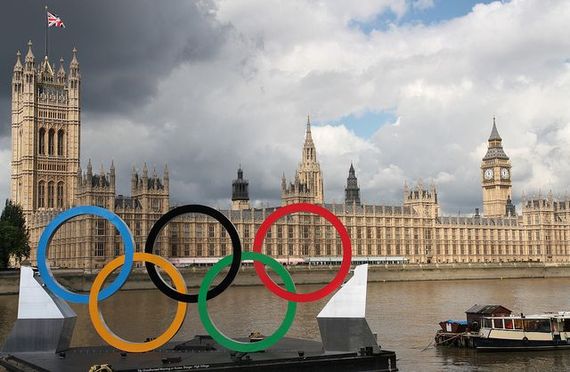 Foreign & Commonwealth Office / Flickr

Zach Everson and his wife spent their honeymoon in Paris at the same time the city was hosting the Rugby World Cup. While the timing was an accident, Everson said he loved the result. "The city was alive in a way I hadn't experienced on previous visits: Bars were packed with fans from across the rugby-playing world, allowing us to meet a wide range of people."
He and his wife ended up marching in an impromptu parade and watching the French team play on a big screen outdoors with thousands of Parisians. "That's an unforgettable experience that never would have happened if Paris wasn't hosting a major event," he said.
Although many travelers avoid host cities and their crowds, traffic and expensive hotels rooms, there are some surprisingly worthwhile reasons to visit them.
Be part of the action
"Visiting a destination during a major event is great fun, because there are a lot of people around, which gives the place a buzz and energy," said Anthony Bianco, an Australian travel blogger for The Travel Tart. "While the traffic and costs might be annoying, the memories from that experience last a lifetime."
Teresa Tomeo, a radio show host who covered the canonizations of Pope John Paul II and Pope John XXIII at the Vatican for the EWTN television network, agreed. "Yes, it took a little longer to get a taxi, and yes, some of our favorite wine bars and restaurants were crowded, but that was a small price to pay for being a part of something very special."
Chris Gahl, vice president of Visit Indy, which hosted the 2012 Super Bowl and hosts the annual Indianapolis 500, echoed Tomeo and Bianco. "Stepping into a city hosting a major event unlocks unique sights and sound like bumping into mainstream media celebrities on the streets and seeing major performers taking the stage," Gahl said.
Discover some unexpected peace and quiet
If buzz isn't what you're looking for, you'll likely find plenty of empty pockets within the city wherever the action isn't happening. Linda Jager, director of communications for Visit Park City, which hosts the annual Sundance Film Festival, noted that skiing is actually ideal during the annual film showcase. "While tens of thousands of filmgoers fill our town for the festival, most head to the theater venues to catch a screening, which leaves the slopes wide open for skiers."
The same is true in Vail, Colorado, according to Sara Lococo of Vail Resorts. This year, the city will play host to the 2015 FIS Alpine World Ski Championships. Though the event draws a heavy crowd, Lococo said this is actually a great time for skiers to visit the mountain, because less than 1 percent of the terrain will be affected. While crowds gather around the various competitive events, visitors more interested in the slopes will find plenty of quiet trails for skiing.
The same goes for major metropolises, too. While other visitors congregate around event activities, you can take advantage of a city's empty museums, parks and landmarks.
See a destination at its best
Host cities roll out the red carpet when big events come to town, hoping to make the best impression for the inpouring of tourists. You'll often find fully-staffed hotels, attractions and restaurants offering top-notch service.
Additionally, retailers and businesses will often use city-wide events as an excuse to run sales or promotions to further attract the sudden volume of consumers, according to Joel Morales, a past marketing chair for the BMO Harris Bank Magnificent Mile Lights Festival in Chicago.
Take advantage of unique experiences
Though the events themselves are once-in-a-lifetime, many of the surrounding performances, activities and competitions are also unique.
At the Albuquerque International Balloon Fiesta, for instance, special bike and kayaking tours allow spectators to catch amazing views of the balloons and related cultural events -- opportunities visitors wouldn't have the chance to experience otherwise, said Heather Briganti, senior communications and tourism manager for the Albuquerque Convention and Visitors Bureau.
For the 2012 Super Bowl in Indianapolis, visitors enjoyed 10 straight days of free concerts in addition to games, activities and kids events throughout the city. For this year's FIS Alpine World Ski Championships, Vail Resorts' ski school will offers students the chance to learn race techniques and tactics, along with behind-the-scenes views of where the athletes practice, train and prepare equipment.
Whether you're hoping to see a city at its best, be apart of the excitement or enjoy once-in-a-lifetime activities, there are plenty of reasons to follow the crowds.
"There is a real sense of community and excitement during these major events," Tomeo said. "It's well worth it to be part of something bigger than yourself."
Popular in the Community