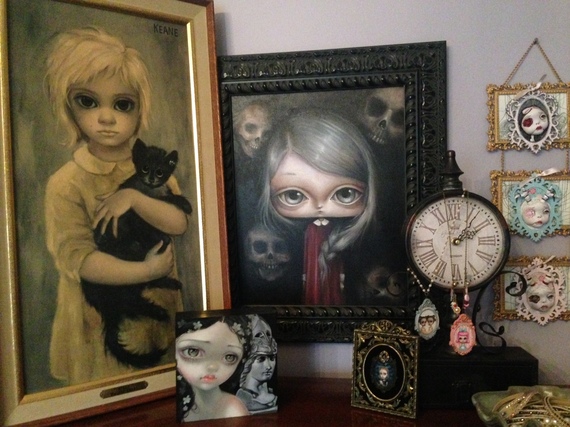 When the bizarreness of reality suffices, even Tim Burton can kick back and tell a great story without the garish visual lushness that hallmarks his more recent endeavors (Alice in Wonderland, Willy Wonka). But I'm a fan of Burton's work, going all the way back to his Pee Wee and Beetlejuice days and delighted he undertook the honorable task of telling a tale of feminine empowerment (though latent and moot, as was indicative of the times) interwoven with a great art history lesson. This cinematic lesson ties in superbly with the exploding pop surrealism genre, something I just happened to write on myself (A Pop Surrealism Primer Spotlighting Mab Graves). So what if Big Eyes is the penultimate in product placement? Burton, as long time collector of Keane originals and in keeping with his flamboyant style, can go right ahead and make a film that might conceivably take an entire oeuvres' value through the roof....
For me, the release of Big Eyes, starring the eminently likable Amy Adams, is truly a "And now, the rest of the story..." moment, for the story of Margaret Keane and the waifs she painted and nearly lost as her own legacy help explain why big eyes to this day, as rendered by talented artists everywhere, do anything but simply evoke the ooohs and aaahs most commonly reserved for puppies and kittens.
Big eyes challenge the observer to "get" what the winsome sadness could possibly mean as kin to the art genre, Pop Surrealism, which is as dark as it is light, as morbid as it is sweet, as ugly as it is cute. In Keane's case, you can bet the subjugation she suffered played into the longing she imparted in the twin orbs of her subjects. Keane figures, made up as clowns, dressed in overalls, do indeed appear more simplistic to our 21st century eyes, having not borrowed from either dark irony or older, more classical story telling sources as do most Big Eye artists today, but they still are effective, despite the kitsch they touch on. Keane kids are eerie despite their greeting card presentation.
Those scores of sloe-eyed waifs represent Margaret Keane's more important role, that of godmother of the current Pop Surrealistic Art Movement genre commonly known as Big Eye Art. Sadly, Keane achieved all this while slave to the whims and charms of a cad she wed, a fake artiste who functioned as figurehead to Margaret's one-woman art industry. Arguably, buyers over the years have skewed the market to male artists, much in the same way too much to this day is still skewed, but Margaret at least fought back, which final battle is played out in the form of a paint-off in the courtroom, a wonderful scene that borrows from the greatest of story makers, reality.
In a sad, sad time where beauty and art default to back seat status in the global arena of news as regards cultures and their destructive expression, I thank Tim Burton for seeing fit to make a film that is equally about art and not giving up. And we are all in need of a reminder to look to art as a conduit for personal expression and societal connector, and that we must protect art so Mankind will have something not of destruction to look back upon. I as woman appreciate Margaret Keane's fighting on her own behalf, even if she was initially sidetracked by romantic love (how susceptible we all are!). She opened her own eyes and wide, fighting back when the fog of devotional delusion cleared. I likewise see this film's message as a chance to alert us to all artists and those who support them directly as patrons, for creators and dreamers must also eat and drink and pay their electric bills. When working into the wee hours of the morning, one needs to be able to keep the lights on.
Photo by Kimann, all rights reserved. All works are property of the author.
Artists represented from left to right: Margaret Keane (vintage framed print with brass plaque bearing the name of Walter Keane), Jasmine Becket-Griffith, Paulina Gora, Mab Graves, Michelle Lynch
Popular in the Community