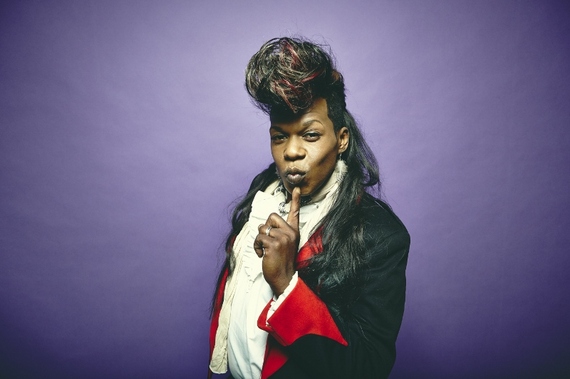 This piece was co-authored by Charla Mackey.
Big Freedia is shaking up the music scene and is making gay and straight people around the world want to get hot and heavy with his electrifying, booty-shaking beats and sexually charged lyrics. Make no mistake about it, the Queen Diva is all man, but embraces his femininity and sexuality like no other on Reality TV.
Her explosive reality TV show, Big Freedia: Queen of Bounce, has made her an instant celebrity who is ready to conquer the world and she is ready to claim her crown and true destiny. Big Freedia is no stranger to the music industry.
According to Wikipedia.com, she started her career in 1999 by performing in Jamaica, and released Dancehall Queen Diva in 2003. She gained mainstream exposure in 2009, after a fest-closing gig with Katey Red and Sissy Nobby at the Bingo Parlour Tent and the 2009 Voodoo Experience. In 2010, her album Big Freedia Hitz Vol. 1, was re-released in March 2011. In 2011, Big Freedia was named Best Emerging Artist and Best Hip-Hop/Rap Artist in January's "Best of the Beat Awards," and was nominated for the 2011 22nd GLAAD Media Awards.
In 2013, Fuse aired the first season of Big Freedia: Queen of Bounce, which continues to attract millions of viewers around the country. In 2014, Big Freedia released her highly anticipated album, Just Be Free, which is poised to set the airwaves on fire and top the charts. In this exciting interview, we explore the juicy details of the Queen Diva's life, and how fame has impacted her relationship with the love of her life. We also discuss when she realized she was gay, and much more!
Florence: In a recent interview, you spoke about your relationship with Devon, your boyfriend. How has fame impacted your relationship?
Big Freedia: Well, definitely now that it's in the spotlight, it's definitely made us closer and he's definitely realized the value of me and what he has so he's been on game and on point a little bit more.
Florence: Did your family approve of your relationship?
Big Freedia: Yes ma'am. His side and my side.
Florence: Is marriage in the cards?
Big Freedia: It has definitely been talked about. I already have an engagement ring, so it's definitely been on the plate for a while now, so hopefully, it will be happening soon.
Florence: A lot of celebrities hide their sexuality and play straight, but you decided to be authentic. Why was it important to you to be out and did you ever think it could hurt your career?
Big Freedia: I don't really worry about that. I just took a chance on everything that I have been doing in my career. I didn't second-guess it, I live day to day and enjoy life so whatever the repercussions are, I guess I'll just have to deal with them.
Florence: Has being famous been all of what it's cracked up to be in your experience?
Big Freedia: Well, being famous is a lot of work. It takes a lot of dedication to whatever you're doing or whatever your craft may be. It definitely lives up to words, more money, more problems.
Florence: What was the most shocking thing you've experienced since you've been on tour?
Big Freedia: Probably Devon going to jail. Right after my first show, leaving on tour, Devon going to jail the first night in. I had just got off stage, and my phone had blew up 1000 times that he was in jail.
C. Mackey: When did you first realize you were gay?
Big Freedia: About 12 or 13.
C. Mackey: Did you ever struggle with your sexuality or did you always accept it?
Big Freedia: I always accepted it.
C. Mackey: What are two secrets you haven't revealed on the show that you want to share with your fans?
Big Freedia: Well, they'll have to read God Save the Queen Diva, the new book coming out. They'll get all of the juicy details that they can't see on the show. You can pre-order now, but it will be out for the summer. They are definitely taking pre-orders now so it is on the way and its final editing process. We have the cover, everything is done.
C. Mackey: You currently hold the Guinness World Record for the Most People Twerking Simultaneously. Why do you think more people in different parts of the world are embracing your music more now than ever before?
Big Freedia: Because I get a chance to actually travel all over the world and let people experience it and they hear about it. The TV show is helping it get to a wider audience, so that's definitely helping in all directions; the show, album sales, everything.
C. Mackey: Besides Hurricane Katrina and your mother's home going, what other catastrophic life event did you experience and overcome that fans don't know about?
Big Freedia: That was the hardest thing, you know...last year. Losing my mom and having to deal with that...nothing could compare to that.
C. Mackey: You have stated that no matter how famous you become, your attitude will never change. What keeps you humble and sane?
Big Freedia: God. He provides and He makes everything happen. He keeps me really humble. I've always been a humble child since I was small and was always productive and into things. I try to stay positive, keep a cool head; keep working and making things happen and making dreams and goals come true. God is the only one who can do that for me and keep me in a sane place and be humble in my spirit and my heart.
C. Mackey: Now that you are approaching mainstream, what do you want you assure your fans of that won't change even with your mainstream status?
Big Freedia: My hard work and dedication to my craft. My love for my fans. My energy on stage. There's so many things I'm planning on not changing. Staying healthy will determine all of that.
C. Mackey: Besides being a famous reality TV star and the Queen of Bounce, what other projects are you currently working on for 2015?
Big Freedia: The new album, the book...becoming an author. I am also working on a cookbook that's going to be happening soon. New music, new videos...we have a lot happening this year. Just trying to make things happen and keep on pushing and making people aware of the music and the culture.
C. Mackey: Will the cookbook have your special recipes in it?
Big Freedia: Oh yeah! The Big Freedia Yaki meat, the Big Freedia Yellow Lasagna...
C. Mackey: That sounds good! We look forward to that! You're an inspiration to us, and the LGBTQ community. It's rough out there, but you make it look easy.
Big Freedia: I'm just keeping it real. That's the most important. I am real to myself, real to my fans and real to what I do so that's what helps me get through.
C. Mackey: Thank you for your time.
Big Freedia: Thank you. I appreciate it.
Watch Big Freedia on her hot TV show, Big Freedia: The Queen of Bounce, on Fuse TV!
Visit Big Freedia's website here: http://www.bigfreedia.com/
Connect with Big Freedia on social media by visiting the
Facebook: https://www.facebook.com/bigfreediadiva
Twitter: https://twitter.com/bigfreedia
Instagram: https://instagram.com/bigfreediaqueendiva
Support HuffPost
Every Voice Matters
Popular in the Community