Summer might not be here yet, but ice cream season has officially arrived. Ben & Jerry's is rolling out an ice cream burrito on 4/20. Boutique ice cream companies like Jeni's, Ample Hills and Snoqualmie Ice Cream are ramping up production of new and seasonal flavors. And one of New York's favorite ice cream shops is about to come out with an epic cookbook.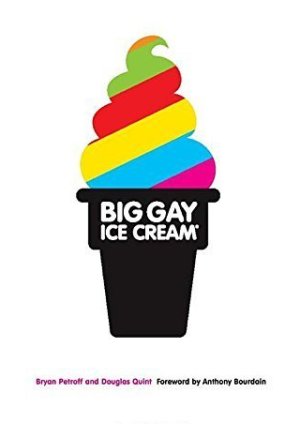 Big Gay Ice Cream started as a truck in 2009, and today boasts two New York City locations and stores opening soon in L.A. and Philadelphia. Hitting the nail on the head, the Village Voice called Big Gay Ice Cream "a cross between Mister Softee and Mario Batali." With its iconic unicorns adorning store walls and favorite flavors like the best-selling Salty Pimp Sundae, Big Gay Ice Cream has become nothing short of a New York City institution. And we haven't even mentioned seasonal specialities like the Thin Mint milkshake yet.
"Saucy Stories & Frozen Treats," the brand's first cookbook, comes out April 28. Organized like a high school yearbook, the book embodies Big Gay Ice Cream's playful personality. "Freshman Year" is Ice Cream 101; "Sophomore Year" focuses on toppings and sauces; "Junior Year" focuses on sundaes, floats and shakes; and "Senior Year" is all about sorbets and ice creams.
Anthony Bourdain wrote the intro, which playfully pokes fun at Petroff and Quint and concludes that anyone approaching the pair about contributing to their book should turn away: "The project is clearly doomed." (Ice cream entrepreneurs could certainly do worse than Bourdain writing an ironic introduction to their very first book.)
Big Gay Ice Cream's success has always relied on its sense of humor and its innovative flavors. The book delivers both, offering an entertaining read and a collection of some of the stellar recipes that made the store famous. You can now try recipes at home like the Mermaid Sundae, made with key lime curd and graham cracker crust, and Awesomesauce, a spicy chocolate topping. The best part of the book -- and the brand as a whole -- is that it's approachable. The sundaes and shakes may sound intimidating, but they're actually quite straightforward.
Take the Ginger-Curry Shake, for example. It has four ingredients and basically two steps. Oh, and you can add booze, too. Here's the recipe, courtesy of Big Gay Ice Cream.
Ginger-Curry Shake

The Ginger-Curry Shake was the first specialty shake of our own devising to find a regular spot on the menu. We'd been using The Ginger People's ginger syrup as an ice cream topping, encouraging people to give it a sprinkling of curry powder as a complement. Kyle, one of our regular customers, asked if we'd consider making that as a shake. With him as our guinea pig, we set about getting it right. Curry powder is a blend of spices, so you never know exactly what you may get until trying the end result. Start with the amount listed below and go from there.

Makes two thick 8-ounce shakes

3/4 cup whole milk
1/4 cup ginger syrup (HuffPost note: make your own ginger syrup, or use store-bought)
1/8 teaspoon mild yellow curry powder
4 large scoops Vanilla Ice Cream or Sweet Cream Ice Cream

Add the milk, ginger syrup, and curry powder to a blender, cover, and quickly pulse the blender to combine. Add the ice cream, cover, and blend on a medium setting until you see a whirlpool form -- that's when you know it's done. Pour or spoon the shake into two tall glasses. Top with any garnish you'd like -- candied lime rind, whipped cream, a drizzle of more ginger syrup, it's all good. Serve with straws and spoons. Chock dii!

HICCUP ALERT: We've liquored up this shake to good results. Reduce the amount of milk to 1/2 cup and use 1/4 cup well-chilled rum or coconut-flavored alcohol. New York City food personality Eddie Huang showed up one night with a bottle of coconut-infused vodka, and we used some in this shake. From what we remember (that night has grown hazy over time), it tasted excellent! We always keep our liquor bottles in the freezer, and we assume you do the same.
For more, get your hands on the new book. Summer just got a lot more fun.
Reprinted from Big Gay Ice Cream. Copyright © 2015 by Bryan Petroff and Douglas Quint. Photographs copyright © 2015 by Donny Tsang. Published by Clarkson Potter, an imprint of Penguin Random House, LLC.
Before You Go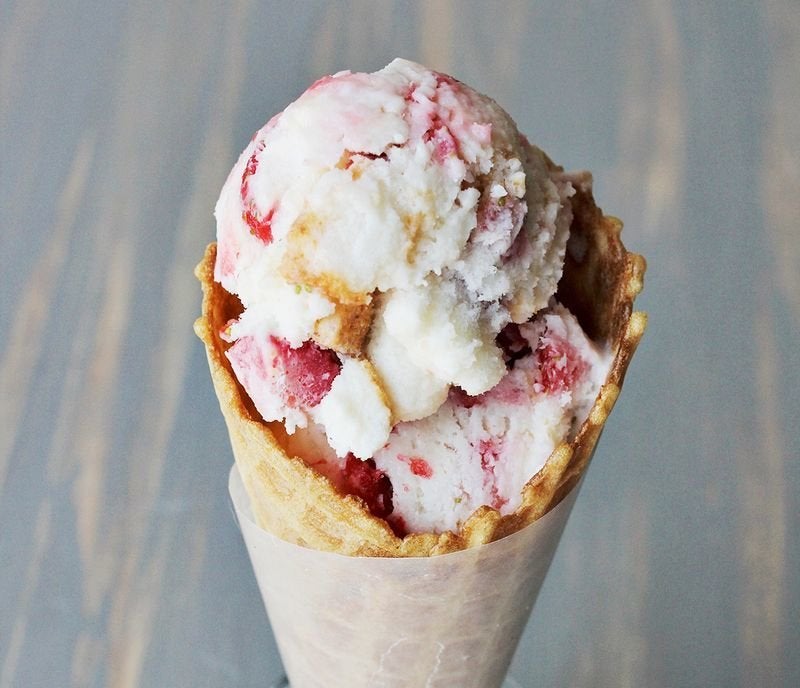 The Best Ice Cream Recipes