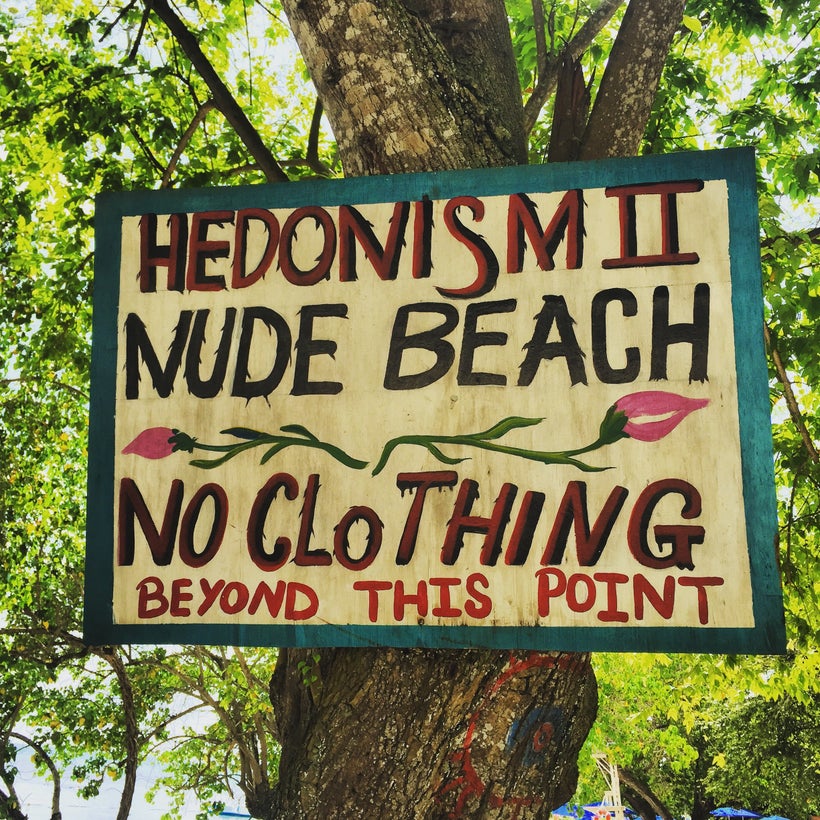 I've never been someone to really obsess about my body image. I've been skinny and I've been fat. Currently, the latter applies. Whatever my body weight, I've always had a fairly positive self-image nonetheless.  This was recently tested in a big way.
I was invited on a press trip to a clothing optional resort in Jamaica called Hedonism II. Me? Go nude on a beach? As confident as I am, this kinda seemed like a stretch outside of my comfort zone. I'm no prude by any means. But letting it all hang out in front of strangers— could I do this?
I consider myself somewhat of a free spirit and also a feminist. So, I thought if I really want to be about that life, I had to give it a try. My body is beautiful damn it!  Heck, at the end of the day, the place is clothing optional, not nude mandatory. Plus, I love adventure and live for a challenge. Off I went.
Not gonna lie, as a first timer at a nude resort, all the T&A kinda hit me in the face initially. Figuratively speaking of course. I still have some visuals of saggy balls etched in my memory. However, it all becomes pretty mundane fairly quick. Literally every kind of nude body you can imagine is visible: buff bodies, wrinkled bodies, big bodies, black bodies, and white bodies. They're all out there just living.
I was traveling with group of girls from across the country. Many of them were ready to roar and dropped their garments with ease. I will say their confidence did encourage me, but I needed to ease myself in. Baby steps.
My room had a big deck overlooking the nude beach and ocean. I figured this would be a good spot to test things out. It still felt private, yet with some exposure to everyone else. On the first morning at the resort, outside I went onto the deck in my birthday suit. I stood up taking in the views, had a cup of coffee, and checked emails. A couple people even passed by while I was out there. Guess what? I barely flinched when they did. So, I thought, maybe I can do this. Mentally, I was trying to pump myself up to join all the folks on the nude beach.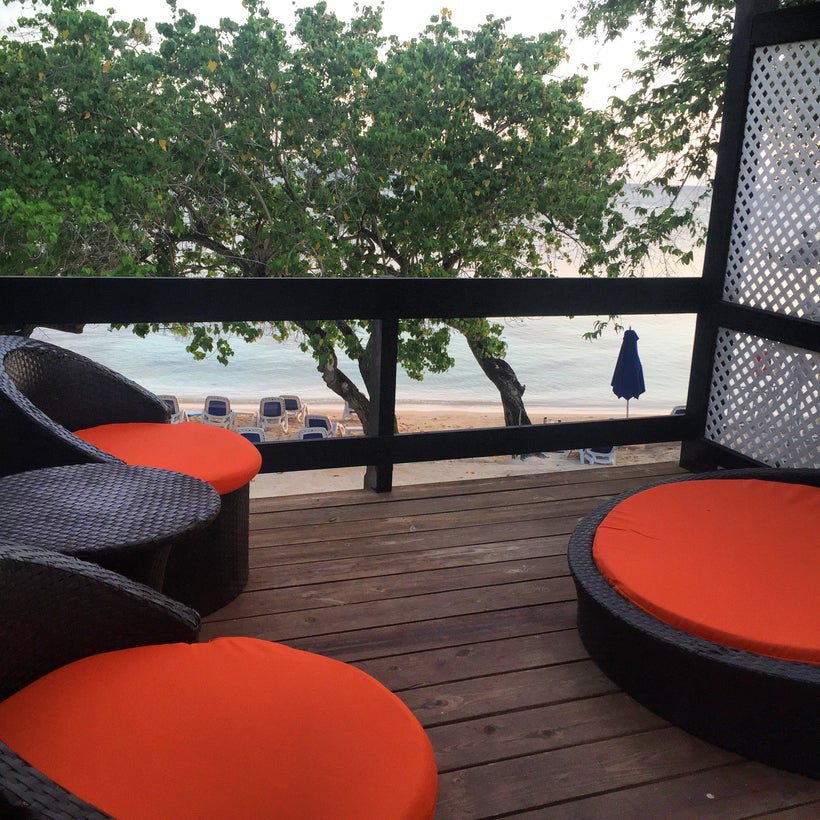 That same day, the group of girls I was with took a private snorkeling trip. Once we were out in the ocean mostly everyone decided to go topless. Welp! I was wearing a full piece swimsuit. No way I was ready to go fully nude yet. It was interesting, because you could tell the group felt completely liberated and free. In hindsight, I kinda feel like I missed out on the full experience. Although, I did take the top of my bathing suit down for a group picture of our bare backs near the end of the excursion. Tip: pack two piece suits if you're headed to a clothing optional resort. They'll come in handy.
After not indulging in the topless experience on the snorkeling excursion, I really wanted to get the nude thing on and popping. I needed to push myself further along in the process. On day three, I made my way down to the clothing optional side of the beach solo. On this side, you have the choice to wear clothes or not. I went all the way down to the end where there were only a few people. I set my lounge chair up and relaxed in the sun for a bit. Then, I decided to go for it. I discreetly slipped my swimsuit off and scurried into the water. My nude body was probably only visible on dry land for a matter of seconds. And honestly, there were only about four people total laying out where I was. But, hey, I was in the Caribbean sea buck naked. There's admittedly something spiritual about feeling the silkiness of the sea water sliding all over your skin, as the sun beats down. For some reason, you instantly feel lighter and freer. I liked it. But was it enough to get me to mosey down to the nude only beach? Not quite.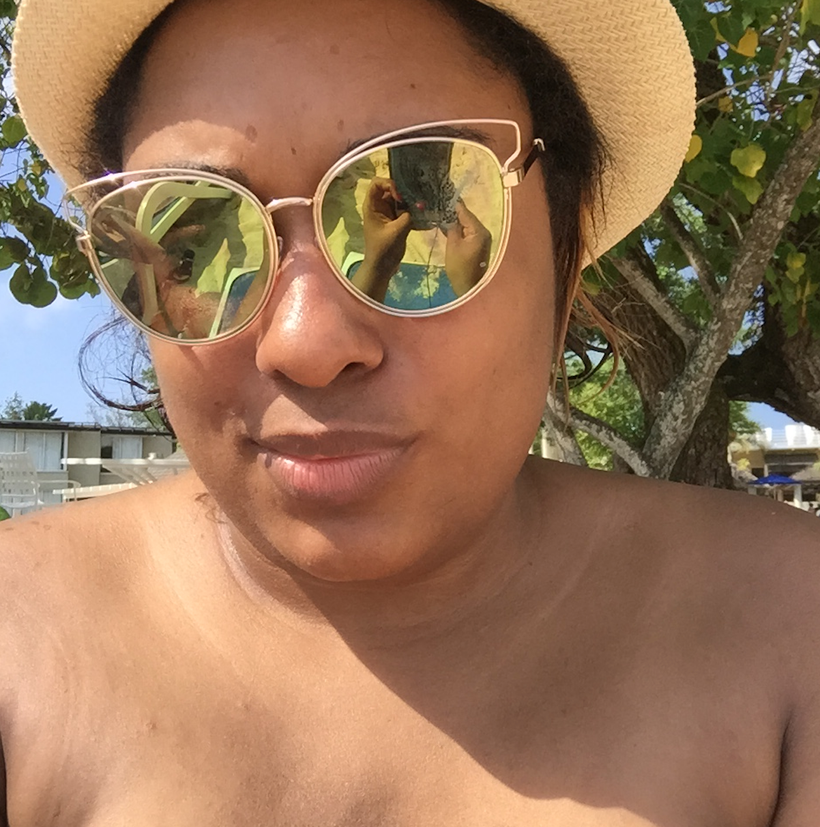 Still, I wanted to keep pushing myself to get there. Later on the same day, I walked by one of the pools and nobody was in it, so I decided to get in sans swimsuit. I splashed around enjoying the weather. A few people walked by and some even said hello. It was all pretty uneventful.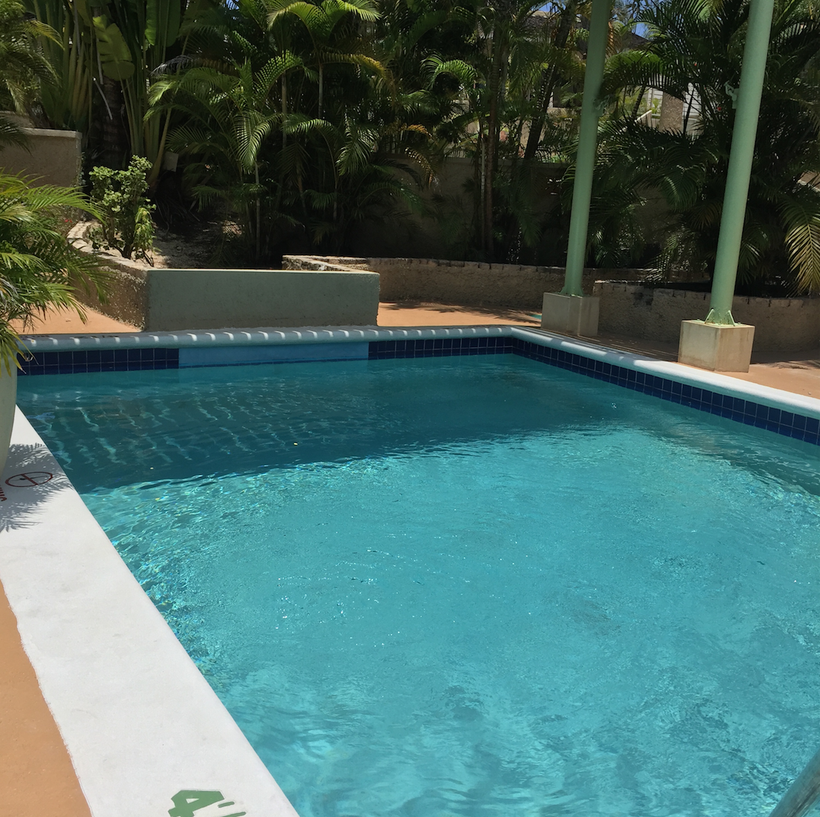 Truth is I never made it down to the nude only section of the beach where most of the action is. I may have needed another day, because I was sure getting there. What I appreciated most was being able to ease into the idea of being nude at my own pace and do as much as I was comfortable with. Now that I know what to expect, I would go back. And I actually feel even better about my body having been there. There's something super empowering about being around people who just don't give a damn!
Calling all HuffPost superfans!
Sign up for membership to become a founding member and help shape HuffPost's next chapter
This post was published on the now-closed HuffPost Contributor platform. Contributors control their own work and posted freely to our site. If you need to flag this entry as abusive,
send us an email
.