Well, you can use something like TurboTax to do your own taxes. You get the right records, and use their software to submit an entire package.
Sometimes a CPA has to get involved, and they can use their own expert software to get the job done. In either case, getting the right docs can be a pain, and then they need to be scanned in and sent to the right place. Once docs go electronic, they're easier to get to the right places, and harder to lose.
Veterans Affairs is now deploying something real similar. Looks like it's decently user-friendly, adjusted for the way that vets and veteran service orgs (VSOs) really operate. The software also accounts for all the laws and regulations, the rules that VA has gotta follow to write checks.
A vet would start up eBenefits, online, click on "Apply for Disability Compensation" and start filling in forms. In many cases, data fields get filled in automatically.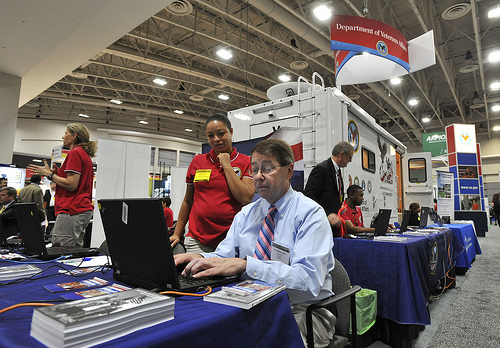 VA employee helps an Army veteran apply online for benefits at recent Association of the US Army conference.
Hopefully, the vet can get some help and file a Fully Developed Claim (FDC) verifying that there's not more info to submit. FDCs get done relatively fast, and even if something's missing, the claim is queued up fairly quickly.
A vet can get help from a VSO, they have the Stakeholder Enterprise Portal. A VSO officer can check out the claim and move it along the process.
Benefits to this stuff mean that the right evidence and documents can get to the right places much faster, resulting in way faster processing. With some luck, the huge stacks of paper at VA Regional Offices will start to shrink.
Calling all HuffPost superfans!
Sign up for membership to become a founding member and help shape HuffPost's next chapter