People spend a lot of time obsessing about funding for the arts, the political controversies surrounding provocative works of art, and the myriad challenges of building new and younger audiences for the arts. What often gets overlooked in these discussions is the pure joy that artists create for their audiences.
In a world that has been reeling from the catastrophic impact of tsunamis, earthquakes, nuclear meltdowns, child molestation in the sacred halls of football and the Catholic Church, and the inherent stupidity on display at the Republican debates, it's all too easy to be distracted from one's true feelings of joy. While it's easy to slather Liquid Joy all over your hands (or listen to Joy Behar's words of wisdom on television), let's not forget the genuine sense of joy artists experience when creating and sharing a piece of art.
Suppose you had a friend from school who was about to make it big. Very, very big. What if you and several close pals were documentary filmmakers? Assuming you had access to the necessary technology and funding, would you "carpe diem" to the max? Go all out to document your friend's impending celebrity breakthrough? Of course you would. As the creators of Big In Bollywood explain:
"We call ourselves the Dream Team. We grew up together in the San Francisco Bay Area, where we all pursued filmmaking from an early age. We went to rival high schools, and to different colleges, but discovered in our twenties that we were on the same path. Between us, we've traveled to over 50 countries, made hundreds of short films, and worked as directors, editors, and hosts for a wide variety of projects. It was only a matter of time before we figured out some way to work together. Big in Bollywood is the moment that it happened.

The five of us have all worked together in a variety of ways for years. It's a little complicated, but here goes: Matt McCroskey and Kenny Meehan grew up together making films. Bill Bowles and Tyler MacNiven grew up together making films. Tyler and Kenny went to college with Omi Vaidya, and in 2007, the three of them produced the narrative film Wrestling Mongolia. Tyler and Omi starred in the film, while Kenny directed, and Bill stopped by to say hello. Kenny and Matt traveled back to Asia to finish their documentary film Namaste Nepal, while Bill and Tyler traveled to Cuba to make Road Trip to Guantanamo. In late 2009, with old projects wrapping up nicely, we synchronized our schedules, and bought tickets to Mumbai."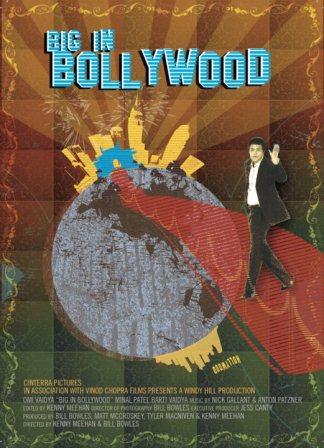 Poster art for Big in Bollywood
Screened at the San Francisco International South Asian Film Festival (Third i), Big In Bollywood captures Omi Vaidya's ride on the roller coaster of fame as he suddenly became a Bollywood celebrity. An aspiring actor who had received plenty of rejection in Hollywood, Vaidya was cast as Chatur Ramalingam in 3 Idiots, a 2009 Bollywood musical starring Aamir Khan which opened in theatres across India as one of the most anticipated films of the year
As a non-native Indian cast in a Bollywood film, Vaidya was something of an oddity. His performance in 3 Idiots earned him the 2010 Star Screen Award for Best Comedian, the 2010 Star Screen Award for Most Promising Male Newcomer, and the 2010 Lions Club Award for Best Supporting Male Actor.
Vaidya and his friends decided to turn the whole experience into a grand adventure. As filmmakers, they could shoot footage for a documentary about Omi's big moment. As friends, they could accompany Omi's family as a bizarrely ebullient group of cheerleaders.
I knew Tyler MacNiven prior to watching Big in Bollywood because he and his brother, Rowan, had filmed a mini-documentary about my owl collection for their Sfsecrets.com website. A tall, enthusiastic redhead with a hunger for adventure, MacNiven competed in the reality show, The Amazing Race 9, and shared the $1 million prize with his partner, B. J. Averell.
MacNiven and his friends approached Big in Bollywood as a combination of fun and adventure. As they explain in the film's press kit:
"This film is a distinctly 21st century documentary. Shot on five cameras, by five filmmakers in five different video formats, it stands squarely within the avant garde of contemporary filmmaking. Gone are the days of the single perspective, the voice of authority, and the fourth wall. The filmmakers themselves exist in front of the camera, and both their journey and their relationship with the subject are ever present. This transparency allows the audience the sort of intimacy usually afforded only to reality shows and video blogs. Simply put, this is a film made by and about a group of best friends, and the audience will feel like they're along for the ride."
While Omi's trip to Bollywood is framed with the loving care of friends who can all laugh at themselves, Big in Bollywood offers viewers a refreshing look into the Indian film industry, combining key moments at the Star Screen Awards (India's equivalent of the Golden Globe Awards) with intimate footage of Omi's family and friends. Big in Bollywood is by no means your run-of-the-mill road trip movie, but it's a helluva lot of fun. Here's the trailer:
Popular in the Community