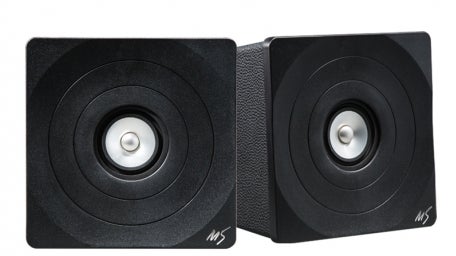 Great things DO come in small packages, especially if you want great audio and are cramped for space.
Imagine, if you will, a stereo amplifier/speaker combo that will take up no more shelf space than the average-size seven-channel rig.
We had the opportunity to play with two Tozzi One speakers ($445 for the pair) from MarkAudio-SOTA and a Sprout amplifier ($499) from PS Audio.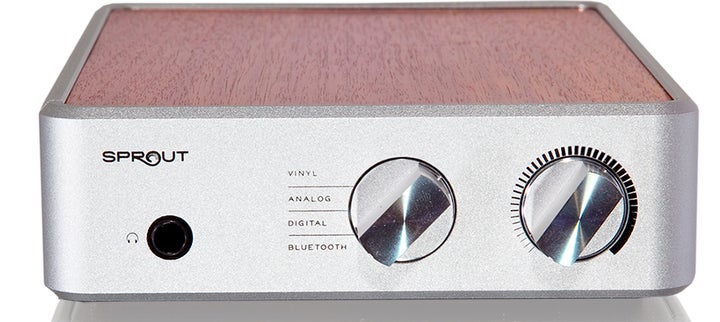 These two products easily fit on my desk with the speakers on either side of my computer or they can be placed on a bookshelf or table. The result: Great sound in small spaces.
The Tozzi One speakers were able to handle the whole spectrum of sound we threw at it boasting a frequency range of 90Hz to 22KHz basically eliminating the need for a sub-woofer. They also had no problem handling the 50-watt per channel output of the Sprout amplifier.
Other key features of the speakers are:
They can be mounted on 1/4-inch thread tripods
They feature 50mm Sota 5 all range drivers
Nominal impedance is at 6 ohms but they can handle up to 50 watts at 8 ohms
They each weigh 3.3 pounds
The Sprout amplifier is a mighty-mite, measuring only six inches wide by eight inches long. It delivers 50 watts per channel, which is more than enough for the average office or room. Keep in mind that this is a stereo amplifier and not intended to rival the much bigger 7.2 channel rigs.
It was small enough to fit on a shelf under my computer with the Tozzi Ones on either side. All we had to do was pop an audio cable into its headphone jack.
Other key features include:
A low-impedance headphone amplifier
Analog output that can handle a sub-woofer, etc.
USB, analog and coaxial digital inputs
Bluetooth to connect with mobile devices, etc.
An analog preamp
A signal-to-noise ratio of less than 90 decibels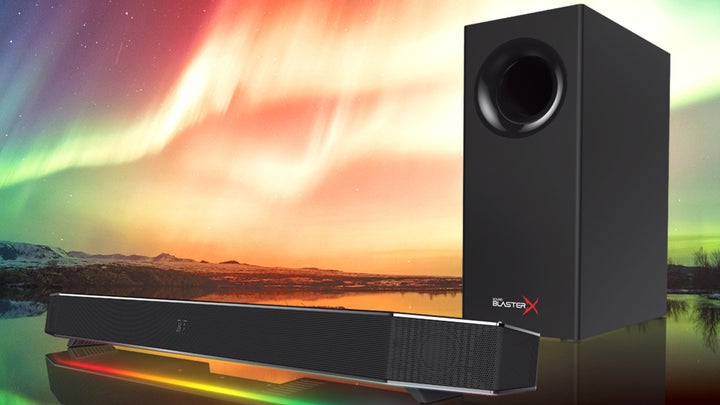 Not to be outdone, Creative Labs has introduced the Sound BlasterX Katana ($229.99), which is a soundbar designed to fit under your computer monitor and a sub-woofer that can fit under - - - or next to - - - your desk.
We've hooked our computers up to a ton of speakers, but this one delivers the purest sound of any we've tested so far. In fact, this slim, low-profile soundbar makes us actually want to play the tunes we've stored on our computer.
Like the Tozzi One/Sprout combo, this a a stereo system that can handle everything from Bluetooth streaming to a bevy of analog inputs. The one exception here is that it can virtually recreate 7.1 channel playback using a PC running Windows or 5.1 through it's optical cable input. We've been using it with an audio cable going from the computer's headphone jack to the soundbar's auxiliary input.
Other key features include:
MultiCore Audio DSP
A reactive lighting system consisting of 49 programmable LED lights
Bluetooth, Auxiliary, USB FlashDrive, USB audio, Microphone and optical connectivity.
A remote control to handle volume, input, playback and set the mood for the lights
The soundbar weighs 3.3 pounds and the sub-woofer is 8.8 pounds
A "night mode" that dampens the volume so you won't wake up the neighbors
A built-in sound card
Attention Facebook users: Check out Michael Berman's Jocgeek fan page or follow him on Twitter @jocgeek. You can also contact him via email or through his website.
Related
Popular in the Community