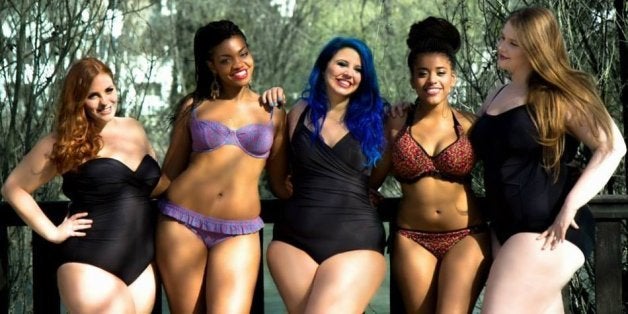 Today, women face an epidemic of low self-esteem.
I know firsthand how hard it is to struggle with body issues. I'm a woman. I understand how tough it is to see size-0 models on every billboard and constantly question myself about why I don't look like them.
At Explore Talent, I work with a massive online talent community. We see thousands of gorgeous, confident models every day of all shapes and sizes - and our plus size models are some of the most beautiful and unique clients we work with. Our goal is to give them all a platform to show the industry professionals what they're made of, but what about the other millions of women out there who can't just jump into a small dress and feel good about themselves? Or don't think they could ever get in front of a camera and become the face of a brand? We wanted to let those women know that they deserve to feel sexy too. That's why we turned to Facebook.
We created our page, Plus Size Modeling, to bring the community of plus size women on Facebook together. We started off posting some motivational quotes but quickly realized that these women are deprived of images of beautiful women with bodies like their own. Where are all the big, sexy models? Why don't we see them in the shows we watch, or the magazines we read?
We made it our mission to expose the world to this wonderful side of plus size modeling and started showcasing the work of plus size models all over the globe in an effort to show our fans that big, beautiful and sexy really does exist - all it takes is a little dignity and self-reflection.
Our page now serves a community of nearly 120,000 people, and we love the relationship we've been able to create with them. We want them to know one thing: We're here for them. We couldn't do our job if it wasn't for their strength and determination to find happiness within themselves. We receive tons of messages and we take the time to reply to every single one. We would love to hug them each individually, but unfortunately we can't, so we use Facebook.
A few months ago, we heard from a 17-year-old girl who was suffering from extremely low self-esteem. Her parents told her she was too big to achieve her dream of someday becoming a model. She told us that it felt like no one could understand that she wanted to pursue modeling because she was different, because her body didn't look like the rest of the bodies on runways today. She said until she found the plus size modeling community on Facebook, she felt alone. Through our page, she told us she found motivation, and thousands of other women who questioned their own bodies. Connecting with these people made her feel at home. That girl is why we continue to do our jobs.
Society's idea of what is beautiful is already changing, but we have more work to do. It's 2013. People are evolving and the "weird" is starting to become the norm. We need to accept each other for who we are on the inside, rather than the size of our clothing. The world will become a better place when we all start loving our bodies for what they are instead of what we wish they could be. Every woman on earth is beautiful, it just takes someone or something to awaken that feeling in them.
REAL LIFE. REAL NEWS. REAL VOICES.
Help us tell more of the stories that matter from voices that too often remain unheard.