Film directors get their names in the credits. Songwriters get their names in the credits. Toy and Game inventors? Not so much. That's what Andy Roo Forest, a celebrated toy maker and accomplished singer/songwriter, sang about as he kicked off a celebration of toy and game makers at Chicago's Navy Pier.
Every fall, for the past fourteen years, Mary Couzin, the creator of ChiTAG -- The Chicago Toy and Game Fair -- puts unsung game creators in the spotlight by turning a weekend in Chicago into a family toy fest.

The week kicked off with an industry get together, a deep dive into the business of making toys mixing inventors, executives, toy company reps, designers and more. The toy inventor community is an eclectic one with a mix of well-established serial inventors to young and old with first time inventor's itch. They spent two days immersed in discussions about topics as wide ranging as intellectual property to how to get a meeting with that big toy company. They participated in a speed pitching session where inventors, sometimes with little more than a die cut one-off board game or a hand drawn toy idea, got everything from feedback to investment ideas from the likes of Hasbro, Spin Master and Mattel.
A gala awards night dinner called The TAGIES continued the spirit of invention with this year's Lifetime Achievement Award given to Reyn Guyer, creator of Twister -- a game he said broke the rules by asking people to "get really close to one another" and Nerf Ball -- a game that broke all the rules by letting kids "throw balls in the house."
Keynote, Steven Fink, founder of Bang Zoom Design, a serial toy inventor, told the audience he got his first job in the toy business by writing fiction -- his resume. His most notable toy invention is Hip Hop Elmo but his personal favorite is a toy Mattel launched called the Amazing Eyeball -- a farting eyeball you grow in an aquarium, because, given how bizarre it was, he never expected it to get out on the toy shelves.
Aspiring inventors got recognized at a tender age, too. Kedar, Junior Category Winner of the Young Inventor Challenge sponsored by Target and Pressman Toy, created a game to help vision-impaired people learn to code. Also, Spin Master sponsored the new Young TECH Challenge award which was given to young inventors in the technology.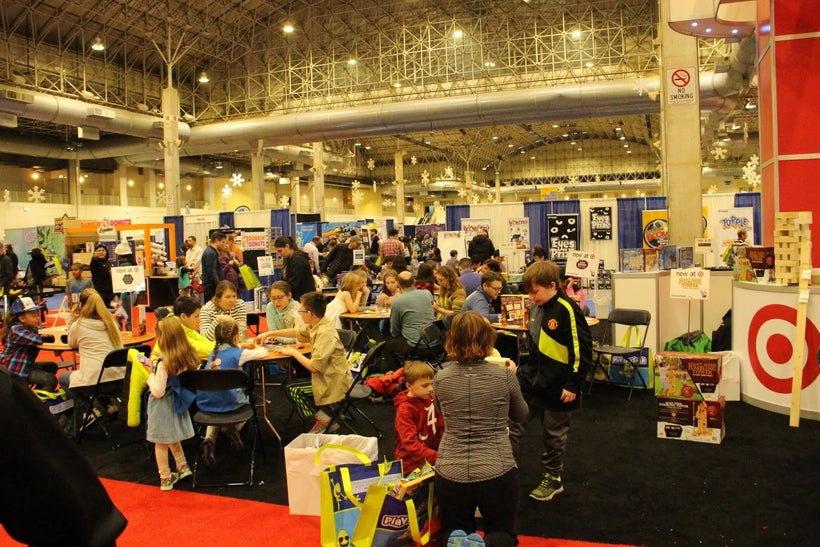 When the grownups get done talking "invention", ChiTAG turns into a kiddie toy fest with over 160 companies adding to the pre-holiday frenzy. A few of the season's standouts: This year's "Rainbow Loom," a toy called PomPomWow, and BoseBUILD Speaker Cube, a DIY Lego-like kit that lets kids build their own speaker. For Elon Musk wannabes? They got to take the Radio Flyer Mini Tesla for a test drive.
As always, I find it amazing that ChiTAG's founder, the vivacious, Mary Couzin can turn Chicago into a playground for kids and grownups alike.
Robin Raskin is founder of Living in Digital Times (LIDT), a team of technophiles who bring together top experts and the latest innovations that intersect lifestyle and technology. LIDT produces conferences and expos at CES and throughout the year focusing on how technology enhances every aspect of our lives through the eyes of today's digital consumer.
Calling all HuffPost superfans!
Sign up for membership to become a founding member and help shape HuffPost's next chapter
This post was published on the now-closed HuffPost Contributor platform. Contributors control their own work and posted freely to our site. If you need to flag this entry as abusive,
send us an email
.