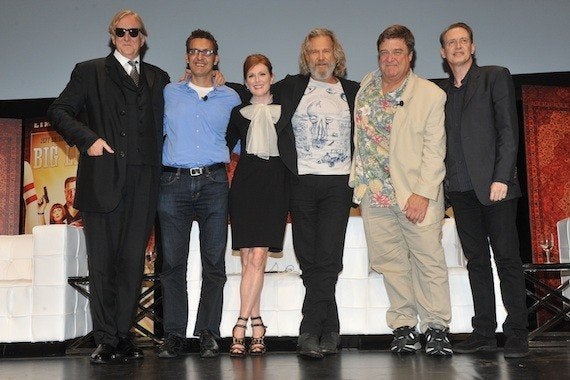 The Dude abided Tuesday night in Manhattan.
13 years after the release of "The Big Lebowski", the cast of the Coen brothers classic reunited at The Hammerstein Ballroom.
Jeff Bridges, John Goodman, Steve Buscemi, Julianne Moore, John Turturro and T Bone Burnett were all there to answer questions in front of a sold-out crowd and to celebrate Universal Pictures' Blu-ray DVD release The Big Lebowski Limited Edition.
Many of the fans in the audience were dressed as their favorite characters, and according to Time, before the event started, Jeffrey Lebowski and Walter Sobchak impersonators wrapped around a full city block on 34th street.
Gothamist describes the scene as having resembled a "long overdue family reunion" with "a palpable wave of love flowing between the actors and the overly-exuberant Lebowski lovers."
At one point during a Q&A with the cast, Bridges asked the crowd, "What do you think of the theory that Donny does not exist, do you believe that?" to which the crowd immediately responded, "Yes! Yes! Duuuuude!"
Buscemi, who played Donny in the film, agreed. "Yeah, that Donny is just a figment of Walters imagination," he chimed in.
Goodman then took the opportunity to deliver one of his immortal lines in the film. "Shut the fuck up, Donny!" he said. According to E!, the crowd went nuts.
Monday night, die-hard Lebowski fans converged upon the Chelsea piers for a night of White Russians and bowling (Gothamist has some great photos here).
Calling all HuffPost superfans!
Sign up for membership to become a founding member and help shape HuffPost's next chapter