If you thought a California Roll was as far from authentic sushi as it could get, you'd be wrong.
In a YouTube video uploaded earlier this month, Miami-based sushi chef Hiroyuki Terada creates futomaki using a McDonald's Big Mac. The concept is undeniably ridiculous, but we'd be lying if we said we didn't want to try it.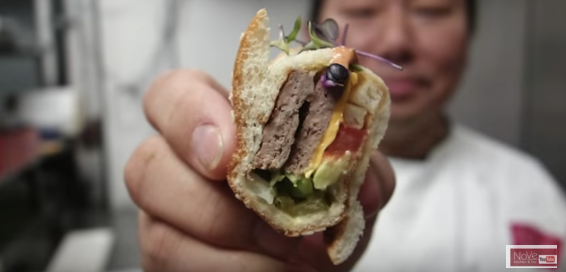 First, Terada cuts each bun in half horizontally to make them thin enough to form a replacement for the seaweed that typically holds everything together in a sushi roll. He then presses them together to form a thin sheet of bread.
After carefully arranging all of the Big Mac ingredients, plus some avocado, tomato, fresh herbs, spicy mayo and, of course, french fries, the chef rolls up his creation, unveiling a tightly curled, cylindrical Big Mac sushi roll.
He then cuts it into bite-size pieces and arranges them on a plate. He tops the roll with barbecue sauce, a little spicy mayo and a sprinkling of micro greens. The final result looks like something you could actually order in an American sushi restaurant.
Bravo, America. You've really outdone yourself this time.
Watch the full video below: