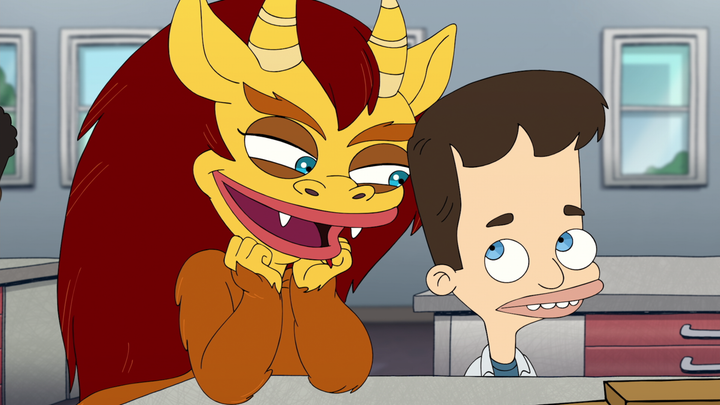 The Netflix Highlight: "Big Mouth," Season 3.
What's up: Netflix's "Big Mouth" is an animated comedy featuring middle schoolers going through puberty and figuring out how to be happy, yet responsible sexual beings. Their pubescent emotions get anthropomorphized into characters, which means the human characters hang out with fun-loving "hormone monsters" and embodiments of shame.
The third season begins with the sound of birds chirping and cello music over a shot of bees buzzing around flowers. Through the flowers, Maurice the Hormone Monster ― a Maurice Sendak-like character with a horn and a penis-shaped nose and who also sort of looks like a lion with a clean-shaven face and belly ― reads a poem he wrote called "A Chode to Spring." He dons thick glasses to aid the joke of mixing highbrow poetry with lowbrow sex jokes. Here's the beginning of the poem:
Behold the Sun, the fiery anus of the sky,

Melting away the woolen clothes of winter,

Exposing skin, sweet flesh,

A budding side-boob,

A peek of midriff and legs, legs, legs,

Lean haunches,

Squatting low beside a bike rack,

Revealing a butt crack.
You get the idea. The poem ends with Maurice teasing a character about an event that happened at the end of last season involving an ended relationship. Then the show launches into each ex's own fantasy ― with the girl dreaming of flying through the cosmos with actor Nathan Fillion and his "fat package." The boy ex gets his fingertip cut off while yet another character has a sex fantasy (which involves having sex with a turkey) and when the fingertip hits another character in the face, a fingering joke gets made. Again, you get the idea.
The main voice cast includes Fred Armisen, Jessi Klein, Nick Kroll, Jason Mantzoukas, John Mulaney, Jordan Peele, Maya Rudolph and Jenny Slate.
Seasons of "Big Mouth" run 10 episodes of roughly 25 minutes each.
Sum up: The show aims to promote sexual acceptance while also delivering a strong new joke every couple seconds, making this a worthy and easily watchable project. It accomplishes these two "North Star" goals by repeatedly playing absurdity for laughs and using it to point out hypocrisies. An example early in this season involves a new dress code at the middle school that forces the female students to cover up their skin. If the girls don't comply, the school forces the students to wear the leftover costumes from a past play, "The Ronald McDonologues." While expressing frustration about the dress code, these characters don Grimace and Hamburglar costumes, while the boys get to continue wearing schlubby shirts and jeans. That's a creative and richly detailed, yet still hilarious way to tackle the problem of blaming young women for the male gaze.
Although the majority of the show focuses on various facets of sex, "Big Mouth" does find interesting ways to tackle other problems of contemporary teenagers such as phone addiction and conservative red-pilling. These stray topics tend to come back to sex though, as the phone addiction plot is told through the phone being anthropomorphized as a woman and the addicted character essentially dating her (even going on a date to an expensive new doughnut shop in town, in which the character gets to gaze at "her" lovingly, but otherwise by himself).
Heads up: Narratively, "Big Mouth" has found many avenues of the sexual experience to explore. But comedically, the show has pretty clear limitations in basing almost all of its humor on tired sex jokes. The show finds plenty of creative ways to present these jokes (such as the aforementioned fingertip bit), but they still fall in the category of well-worn sophomoric gags.
Close-up: The show often contrasts the kids' sexual journeys and confusions with their parents also figuring themselves out. In one episode, a father repeatedly tells his daughter about how he uses his wife's bra to gather radishes. After realizing that this might be seen as atypical, he keeps going to greater lengths to stress that he doesn't actually wear the bra and that the bra just does a good job holding the radishes. In the culmination of this joke, the father enters his daughter's room holding a bra full of radishes. The daughter has been patient to this point, but finally snaps and yells that she gets that her father doesn't wear the bra. Satisfied, the father exits. "Big Mouth" is essentially a show about celebrating that everyone has their own sexual thing going on, and the pushback here only comes from the father's potential denial of something about himself.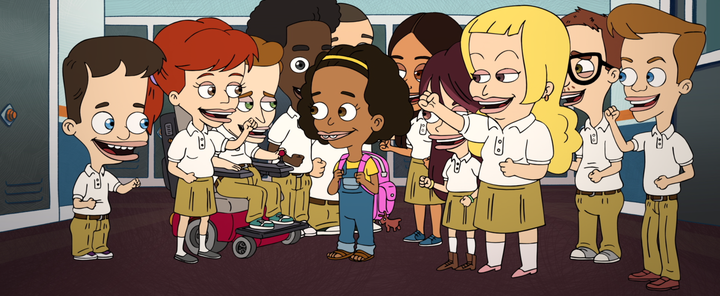 History: About 100 years ago, American schools began to widely integrate sex education into curricula. A Newsweek story on the history of sex education notes that schools back in the 1920s would try to rely on culture as a teaching aid. Instead of a Netflix Originals though, these schools went with something more classic. Here's the relevant passage:
Schools also tried using older media, like literature, to teach students about the birds and the bees. In 1920, an English teacher named Lucy S. Curtiss wrote an influential article called "Sex Instruction through English Literature" that encouraged teachers to draw on classical literature when explaining sex to students. "Read to them Lancelot's wild, passionate quest for the Holy Grail," she wrote, "and they will enter into the bitter experience of a soul which has rendered itself incapable of receiving the full spiritual blessing through the sin of yielding to impure desire."
Comparable Shows: "Big Mouth" has similarities to "South Park" in that it features kids discussing adult themes, but it has little of the satire or darkness of that show. Despite the animation, the show has many similarities to another Netflix show, "Sex Education," as both use humor to tell the story of children working through puberty and their sexuality.
The Characters and Money: The kids live in an affluent suburban area. Their parents give them smartphones. The homes have big backyards and many rooms. A funny, but telling detail ― Nick appears to have a certified Michael Jordan jersey hanging in a glass case on his bedroom wall, a classic sign of suburban affluence. It's also worth mentioning that according to Celebrity Net Worth, co-creator Nick Kroll's dad is a billionaire from his business Kroll Inc. Perhaps that's why Kroll called his own production company "Good at Bizness."
Bonus: "Big Mouth" continues the growing Netflix tradition of featuring fake streaming shows within the show. (Shows such as "Unbreakable Kimmy Schmidt," "Lady Dynamite," "BoJack Horseman" and "Dear White People" have done this in the past.) One such fake "Netflix show" within "Big Mouth" focuses on a Canadian magician experiencing sexual confusion. Less fake, "Big Mouth" also has a crossover episode with the Netflix show "Queer Eye." This crossover episode has segments modeled after actual "Queer Eye" episodes (even including a trip to Bonobos) and features the "Queer Eye" cast giving a makeover to the character Coach Steve. At one point, Jonathan Van Ness tells Coach Steve that he looks like a combination of Clark Gable and Mario. "I do like to jump on turtles," Coach Steve responds.
Read on for more recommendations and news from the week. And if you want to stay up to date with what to watch on a weekly basis, subscribe to the Streamline newsletter.
What Else Is New This Week On Netflix
"Peaky Blinders" (Netflix Original) ― A gang in post-World War I England uses violent means to gain power.
A Couple Of Netflix News Stories From This Week
1. Netflix renewed "Dear White People" for a fourth season, but also announced that the season would be the show's last. With many Netflix shows earning this one-more-renewal treatment ("GLOW," "BoJack Horseman," "Easy"), an era of niche Netflix shows seems to be ending.
2. Related ― Netflix debuted the trailer for the last season of "BoJack Horseman." Watch it here:
"Gotham" (Season 5)
"Mo Gilligan: Momentum" (Netflix Original)
"Carmen Sandiego" (Season 2, Netflix Family)
"Nikki Glaser: Bangin'" (Netflix Original)
"93 days"
"A.M.I."
"Along Came a Spider"
"Bad Boys"
"Bad Boys II"
"Blow"
"Bring It On, Ghost" (Season 1)
"Charlie's Angels"
"Charlie's Angels: Full Throttle"
"Cheese in the Trap" (Season 1)
"Chicago Typewriter" (Season 1)
"Crash" (2004)
"Exit Wounds"
"Good Burger"
"Harold & Kumar Escape from Guantanamo Bay"
"Honey 2"
"House of the Witch"
"Lagos Real Fake Life"
"Men in Black II"
"Moms at War"
"No Reservations"
"Ocean's Thirteen"
"Ocean's Twelve"
"One Direction: This Is Us"
"Payday"
"Rugrats in Paris: The Movie"
"Scream 2"
"Senna"
"Signal" (Season 1)
"Sin City"
"Sinister Circle"
"Supergirl"
"Superman Returns"
"Surf's Up"
"The Bucket List"
"The Flintstones"
"The Flintstones in Viva Rock Vegas"
"The Island"
"The Pursuit of Happyness"
"The Rugrats Movie"
"The Time Traveler's Wife"
"Tomorrow With You" (Season 1)
"Trainspotting"
"Troy"
"Tunnel" (Season 1)
"Unaccompanied Minors"
"Walking Out"
"Living Undocumented" (Netflix Original)
"Ready to Mingle (Solteras)" (Netflix Film)
"Rotten" (Season 2, Netflix Original)
"Seis Manos" (Netflix Anime)

Popular in the Community