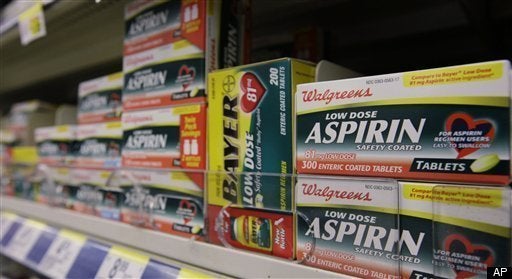 There's important news this week on the breast cancer front.
A study published by The Journal of Clinical Oncology suggests that regular, low-dose aspirin use reduces the risk of recurrence and death from breast cancer among women who've had stage I, II or III (non-metastatic) disease.
This is a remarkable report for three reasons:
1. The results are simple and significant. The study supports that among women who've had breast cancer, regular aspirin use more than halves the risk of death from cancer and greatly reduces the risk of recurrence.
2. The findings matter to millions of women who are living after breast cancer, today.
3. Aspirin is widely available, without patent restriction, and costs around $5 for 100 tablets.
As emphasized by the study authors, aspirin is an old and generally safe drug, available over the counter, that can be very dangerous in people with have bleeding problems or low platelets (blood clotting cells). Among women with breast cancer who are actively undergoing chemotherapy, radiation and some other treatments, aspirin use can exacerbate bleeding problems and may be inadvisable.
Anyone who considers taking aspirin should ask their doctor if it's OK.
The major finding is this:
Among breast cancer survivors who reported taking aspirin between two and five days per week, the risk of dying from breast cancer declined by 71 percent and the risk for cancer recurring fell by 60 percent as compared to women in the same study who said they didn't use aspirin. For survivors who ingested aspirin six or seven days per week, the effects were similar but slightly less pronounced. For those who took zero to one aspirin tablets per week, there was no measurable effect on either breast cancer recurrence or survival.
The work derives from the Nurses' Health Study, a decades-old observational analysis of health among over 238,000 registered nurses. This particular research hones in on 4,164 of those nurses who had non-metastatic breast cancer (BC) found between 1976 and 2002. The statistical analysis, as provided by the study authors, show that it's extremely unlikely these findings are due to chance.
Some researchers were surprised by these results because earlier studies failed to show that aspirin prevents breast cancer from arising in the first place. The study authors speculate that aspirin inhibits some inflammatory molecules that promote tumor growth and metastatic spread in patients who already have the disease.
Related