When Californians angry about oil companies' attempt to repeal the state's greenhouse gas emission cap went to confront the oil refiner behind Prop 23's power play, they found the Tea Party in their way.
What's an angry populist movement that's supposed to represent real people doing defending oil companies?
It's a question the New York Times could have answered in its otherwise excellent editorial today, "The Brothers Koch and AB 32". Petroleum magnates Charles and David Koch fund both Prop 23's greenhouse gas cap repeal and The Tea Party.
While the Tea Party is voicing authentic anger, the money fueling it is coming from petroleum magnates who simply want to profit and pollute at the expense of the rest of us. The Tea Party in California has become Big Oil's army. Not very populist to me.
If you believe Kansas oil and gas tycoons want to save California jobs through Prop 23, you might as well join The Tea Party. I debated a Tea Party pooh-bah on LA's NPR station KPCC yesterday. All there is when you strip away the angry talk is a Reagan-Bush plan to deregulate everything.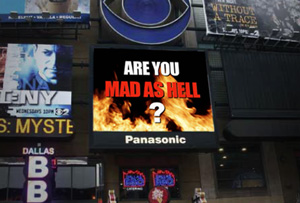 That's why Consumer Watchdog is airing a JumboTron advertisement in Times Square, the largest public square in America, that raises the question: "Are You Mad As Hell? But Think The Tea Party Is Insane?"
The commercial, created by Robert Greenwald's Brave New Films, calls upon those who believe in progress to use their anger to get the change they voted for. It is insane to let oil companies repeal greenhouse gas emissions caps, and it's insane to turn the reins of government over to people who would destroy it.
Progressives need to start speaking up and raising some hell. The power of the government is our collective will to deal with the corporate abuses at the heart of the 2008 election. We cannot allow the Tea Party or anyone else to exploit the public's anger in order to rob us of our ability to deal with the corporate greed and corruption that pisses us off most.

_________________________________________________________________________________________
Popular in the Community