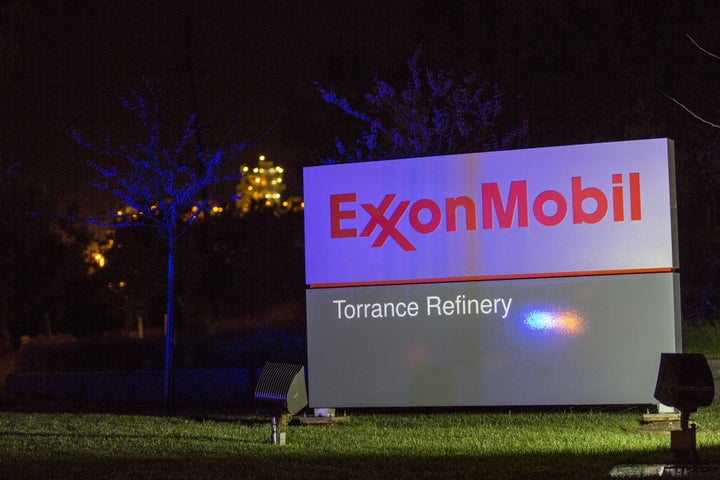 After decades of denial, and in some cases outright coverup, a few of the world's largest oil companies may be waking up to the realities of climate change.
American giants Chevron, ConocoPhillips, ExxonMobil and Valero Energy have started to tell investors that they face financial and physical risks as the planet warms and the world begins to use smaller amounts of fossil fuels, according to a review of their recent public filings with securities regulators.
These risks include increased government regulation aimed at making dirty energy more expensive to produce or limiting how much of it can be burned. Extreme weather, another danger, could disrupt operations or damage company assets.
A report published last November found that more than half of the 20 largest public U.S. energy and industrial companies had not disclosed information about the potential risks of climate change to their businesses. Since then, negotiators have reached a historic agreement in Paris to try to limit climate change, a new report found that sea levels could rise even faster than researchers had previously anticipated and state attorneys general continued to investigate companies that may have withheld information about the dangers of climate change.
Influence Map, a nonprofit group that examines the corporate influence of climate change policies, released both the November and April reports.
The recent disclosure by Exxon is perhaps the most significant. The story that the company tired to hide evidence of climate risks was first revealed by the L.A. Times and Columbia University's Energy & Environmental reporting program and is now the subject of investigations by state attorneys general.
"ExxonMobil believes the risk of climate change is real and warrants action. ExxonMobil is taking action by reducing greenhouse gas emissions in our operations, helping consumers reduce their emissions, supporting research and participating in constructive dialogue on policy options," said company spokesman Alan Jeffers.
In its annual report to investors, released in February, Exxon said it assumes "governments will enact policies that impose rising costs on energy‑related CO2 emissions." It also assumes carbon emissions will be priced at $80 per ton in 20 years, as governments around the world enact policies to make fossil fuels more expensive and renewable energy even more competitive.
Currently, there is no stated, national price on carbon in the U.S., but some states have implemented carbon pricing plans, and hundreds of companies are using internal carbon prices to make investment decisions.
U.S. companies are not currently required to disclose climate change risks to investors.
Financial regulators are doing "almost nothing" to push companies to disclose climate risk, Mindy Luber, head of sustainable investing coalition Ceres wrote earlier this month. Previously, the Securities and Exchange Commission seemed poised to enact rules requiring that companies tell investors about the climate risks their businesses face. But that was in 2010, when the SEC was headed by Mary Shapiro. Under the current leadership of Mary Jo White, the agency has not moved forward with that effort.
In contrast, the Financial Stability Board, a group of national regulators, is working with executives to develop voluntary climate change disclosure standards.
"It's encouraging to see the energy sector providing greater disclosure," Timothy Smith of Walden Asset Management, a sustainability-focused investment firm, said in a release. "This is an indicator that post-Paris, companies are increasingly aware of new realities that will inevitably affect their business."
Reached for comment, Chevron referred The Huffington Post to its proxy statement, where it recommends investors vote against proposals requiring additional climate change reporting. ConocoPhillips, Valero and the SEC did not immediately respond to requests for comment.
Calling all HuffPost superfans!
Sign up for membership to become a founding member and help shape HuffPost's next chapter