Soaring prices for a life-saving drug have heavy-hitters in the pharmaceutical industry pointing fingers and shirking blame.
Express Scripts, the nation's largest pharmacy benefits manager (PBM), is suing the pharmaceutical company Kaléo on the grounds that the company is price-gouging consumers and neglecting to pay administration fees, The New York Times and ProPublica reported earlier this week.
The lawsuit alleges that Kaléo raised the price of its version of naloxone, an opioid overdose reversal drug, "in order to exploit for profit those who depend upon the medication." Express Scripts also accused Kaléo of failing to pay more than $14.5 million in related fees and rebates, and said the company had dropped the drug, sold under the brand name Evzio, from its list of preferred medications.
But the lawsuit also indicates that Express Scripts started charging Kaléo higher administration fees as the price of the drug increased. Moreover, Express Scripts dropping Evzio from its preferred list of medications means the pharmacy benefit manager is at least partly responsible for reducing access to the overdose reversal drug.
The legal conflict between the two companies shows just how much corporate interests can influence the health of Americans. It also comes at a particularly sensitive time, given that the opioid addiction epidemic in the U.S. is killing an average of 91 people each day ― more than die from gun homicides.
Raising prices to increase profits during an opioid crisis
Compared to the complex history of the opioid epidemic, the response to a user in distress is quite simple: Emergency responders or a trained friend or family member can quickly administer naloxone, effectively canceling the effects of the opioid.
At a time when the antidote is in critical demand, the list price for Evzio, a two-pack auto-injector delivery system, shot up 700 percent over three years ― from $690 to $4,500.
There are cheaper alternatives, including Narcan nasal spray and a generic injectable naloxone. Still, the price hike is a concerning snapshot of the gap between the pharmaceutical industry's priorities and those of the American people ― 61 percent of whom say that lowering the cost of prescription drugs should be a "top priority" for President Donald Trump and Congress, according to a Kaiser Health Tracking Poll published in January.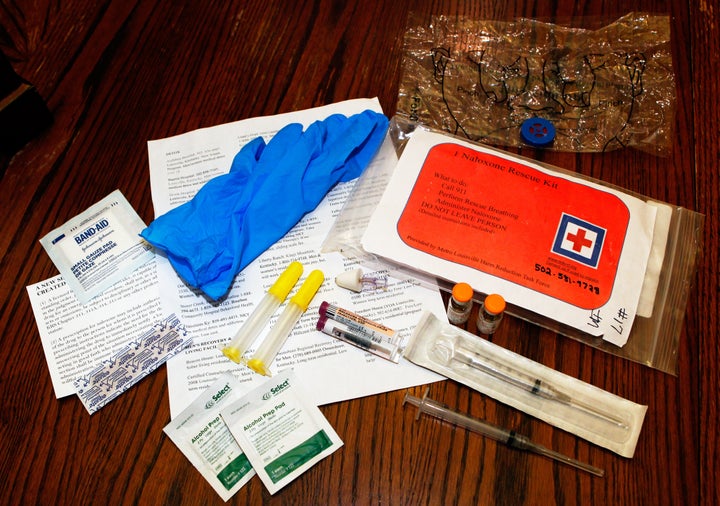 A few politicians are trying to hold drug companies accountable.
Sen. Amy Klobuchar (D-Minn.), for example, wrote a letter to Kaléo CEO Spencer Williamson in February, and called for transparency in drug pricing.
"Due to the severity of the opioid epidemic and Evzio's life-saving attributes, it is critical that your products remain affordable to Americans," she wrote.
She also sponsored an amendment that Sen. Bernie Sanders (I-Vt.) introduced in the Senate in January, to allow Medicare to negotiate with drug companies to secure lower prices and to enable Americans to import cheaper drugs from Canada and elsewhere. The amendment failed, 52 to 46.
Without drug industry regulation, however, it's unlikely that the current pattern will change. Consumers will continue to shoulder the cost of increasing prescription drug prices in other ways, such as via increased premiums and deductibles.
The hidden way consumers bear the cost of drug spikes
Just because the price of Evzio has jumped 700 percent doesn't mean patients are paying that much more for it. The list price is the average price wholesale buyers pay.
"Pharmaceutical list prices are not a true net prices to insurance companies, pharmacy benefits managers or distributors due to the numerous discounts, chargebacks and rebates that are routinely negotiated in the health care system," said Mark Herzog, vice president of corporate affairs at Kaléo.
"Nobody actually pays that price," Williamson told HuffPost. "There's, I think, a lot of misunderstanding out there."
Kaléo provides free Evzio to qualifying patients who don't have commercial or government insurance and have a combined household income of less than $100,000, Williamson said. As of early February, Kaléo had donated more than 200,000 doses in 30 states. There are no out-of-pocket costs for people with insurance, but those patients are still responsible for insurance premiums.
Evzio costs $360 for patients without insurance and household incomes above $100,000. That higher price allows the company to absorb the cost of giving away free Evzio when insurance companies block the drugs from their plans, Williamson said.
Arthur Caplan, the founding director of New York University's Division of Medical Ethics, doesn't buy Williamson's claim that donating Evzio to vulnerable patients offsets its high list price. Raising a drug's list price, after all, also increases a company's profits.
"Anytime the price goes up, access goes down," Caplan said. "It doesn't matter whether the consumer sees it, or the third-party payer sees it or the budget of the EMT department of Baltimore sees it."
And that increased price gets passed on to the consumer eventually, with higher premiums, copays, deductibles or coinsurance ― which is when a patient shares responsibility for paying a percentage of the prescription's cost with his or her insurance company.
Williamson declined to comment on how much money Kaléo makes from Evzio, saying, "We don't share the confidential information about the company."
The fallacy of community donation programs
Kaléo has responded to criticism of the price spike by highlighting its donation grant program, which provides free Evzio to nonprofits, harm reduction groups and health departments serving patients with financial hardships.
But groups typically don't get the drug for free unless they apply for a grant, and there's no guarantee that the program will continue indefinitely. Insurance companies or municipalities that aren't grant recipients may not choose to stock the drug if they can't absorb the price increase.
"There's no such thing in the drug industry as a partial giveaway program," Caplan said. "You just are buying it. It's a sales tactic, not an altruistic charitable act."
"There's no such thing in the drug industry as a partial giveaway program. It's a sales tactic, not an altruistic charitable act."

- Arthur Caplan, founding director of New York University's Division of Medical Ethics
Should the Kaléo's giving streak run out, community organizations are left footing an exorbitant bill or switching to a more affordable form of naloxone.
After her son died of a heroin overdose, Aimee Dunkle founded the Southern California-based Solace Foundation to distribute naloxone. But when the group ran out of the free auto-injectors it had received from Kaléo, it couldn't afford to buy more, even at the discounted rate.
"There's no way I can even contemplate buying it," Dunkle told The Guardian in December. "We sometimes get some financial donations. One time I had about $1,500 that had been donated, and I bought $1,500 of Narcan. Then I had to select who to give it to. Not who was at most risk but who was most likely to witness an overdose. For a mother that's lost a child, that's a hellish decision to have to make: who gets the kits and who doesn't."
The entire pharmaceutical industry is price-gouging
PBMs such as Express Scripts and CVS Health are basically the middlemen of the drug industry. They're supposed to negotiate prices with drugmakers to make medicine more affordable for insurance companies and their patients.
But their critics, including drug makers and some members of Congress, say PBMs aren't transparent about the fees they collect from drug makers. Take the revelation from the lawsuit Express Scripts filed, for example: The company was charging Kaléo higher administration fees as Evzio's prices rose.
"We filed this lawsuit to get money that is rightfully owed our clients," Brian Henry, the corporate communications vice president at Express Scripts, told HuffPost. "Kaléo owes rebates and administrative fees that we share with our clients and we are working to get that money back."
A spokesman for the company told The New York Times that "the vast majority of the administrative fees are passed back to our clients."
Still, it remains unclear how much of that money the company is keeping. And the more money a PBM keeps, the more its customers pay.
"They are supposed to use heavy-clout buying leverage to push prices down," Alan Sager, a professor of health law, policy and management at Boston University School of Public Health, told HuffPost. "It's an interesting mystery that they apparently failed to do so."
Drug spending in the U.S. outpaces drug spending elsewhere in the world: The per capita figure that the United States spends on prescription drugs was twice as high as the average drug spending in 19 other industrialized nations, according to an article published in JAMA in August.
Take, for example, the case of Mylan Pharmaceuticals's EpiPen pricing scandal, during which the company raised the price of its life-saving allergy pens by 500 percent between 2009 and 2016, from $100 for a two-pack to $600. Following outrage from parents of children with allergies, politicians and pharmaceutical watchdogs, Mylan expanding its patient purchase assistance program and introducing a generic EpiPen that sells for $300.
The company also settled with the government for $465 million, but did not admit wrongdoing.
Clarification: This article previously implied that higher administrative fees, corresponding to an increase in the price of Evzio, contributed to more limited consumer access to the drug. This has been amended, as there is insufficient evidence to make such a conclusion.