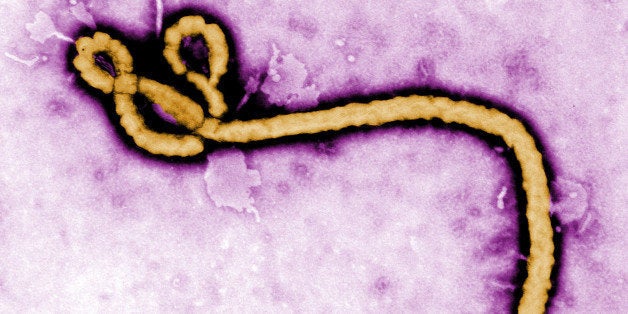 The Ebola virus may be getting closer to Americans than ever, but don't expect big American drug companies to come to the rescue.
Instead, small biotech firms, academics and government agencies are leading the search for an Ebola cure.
Over the past few weeks, an Ebola outbreak in Africa has resulted in over 1,600 cases of the disease, including more than 880 deaths, according to the World Health Organization. Two American relief workers became the first people treated for Ebola in the United States, and New York City is suffering its own (hopefully unfounded) Ebola scare.
But as Ebola spreads, pharmaceutical giants are sitting this one out. That's mainly because treating a disease that affects a relatively small number of people who typically don't have a lot of money doesn't offer a great return on investment for profit-driven companies, experts told The Huffington Post Tuesday. It's unclear how much profit it would take to get Big Pharma interested in finding an Ebola cure, but right now such a project could well be a money-loser, they said.
"You're just talking a small number of cases," said Thomas Geisbert, a professor at the University of Texas medical branch at Galveston whose lab is researching possible treatments for Ebola. Geisbert noted that the number of Ebola patients right now pales in comparison to the number of people suffering from diseases like malaria and cancer. "Who are they going to sell it to?" he said of an Ebola treatment.
Smaller biotech firms are more likely to be drawn to the project of finding a cure or vaccine thanks to the lure of government funding, good PR and the chance to make an impact, Geisbert said.
A tiny San Diego company called Mapp Biopharmaceutical came up with the chemical structure for the treatment. And Kentucky BioProcessing, which was acquired by tobacco giant Reynolds American earlier this year, produced the drug using tobacco plants.
A handful of other companies are also working with government funding to develop a cure for the deadly disease, according to CNNMoney. The government typically gets involved in these efforts with national defense in mind: Without a cure stockpile, a bioterrorist could possibly wreak havoc using Ebola, smallpox or other diseases, said Jason Kolbert, the head of health care equity research at the Maxim Group, an investment banking firm.
Geisbert said he isn't sure if increased awareness of Ebola will push Big Pharma to develop a cure, but he's already seen a "flurry of activity" by the government trying to advance the development of treatments.
If the ZMapp treatment is a consistent success, then that might spur bigger companies to invest more money in finding a cure, said Charles Arntzen, a professor of infectious disease at Arizona State University. Arntzen received government funding to research an Ebola vaccine through the same grant that offered money to the scientists behind Mapp Biopharmaceutical.
Arntzen said he's gotten pretty far along in his research -- all the way to animal testing -- but hasn't been able to move to clinical human trials to test side effects because he needs "the big money" from a larger company.
"We just haven't found a commercial interest in developing a vaccine," he said.
Popular in the Community