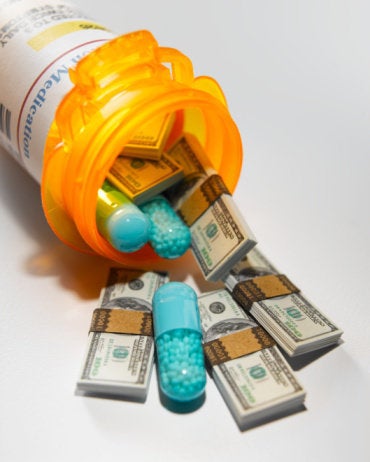 The health care deal cut between the White House, the Senate Finance Committee and drug makers is destined for a showdown on the Senate floor. Senate Majority Leader Harry Reid (D-Nev.) has been merging the two bills from the finance and health committees into one, in consultation with White House representatives and Finance Committee Chair Max Baucus (D-Mont.).
Is the White House deal going to survive the merger process?
"The White House is in the room," Baucus told HuffPost.
The White House, however, will not be on the Senate floor, and neither will PhRMA lobbyists. (They'll be in the small room just off the floor.)
"I wasn't a party to any deal," said Sen. Sherrod Brown (D-Ohio), telling HuffPost that he is cobbling together support for amendments that would bust the Big Pharma deal by allowing the government to negotiate with drug companies for lower prices and by limiting the amount of time biotech companies can have patent-protections.
The White House deal bars the government from negotiating drug prices, extends patent protections and blocks re-importing cheaper drugs from Canada.
Big Pharma's ready for the fight to keep it. "At times, it's going to be hand-to-hand combat," said Ken Johnson, senior vice president for the Pharmaceutical Research and Manufacturers of America (PhRMA). "We're going to have some tough floor votes."
Sen. Sheldon Whitehouse (D-R.I.) is working with Brown to round up votes, but finds himself confused by the White House-PhRMA deal.
"It's the deal that has no name," Whitehouse told HuffPost Wednesday. "It's been sort of a mystery to see how this is a sort-of-deal that no one acknowledges, yet everyone honors. So I'm hoping that we can get a more profound contribution [from PhRMA]."
The deal has indeed had an unusual history. It was announced in June, but details were withheld. When those details were reported over the summer, the parties to the deal said the deal that was outlined in a memo was not, in fact, the deal. Later, the deal was publicly debated and defended during the finance committee mark up. And the bill that Baucus unveiled contained the details of the deal that the parties had previously said had not been struck.
Drug makers, in their deal with Baucus and the White House, have offered to contribute $80 billion over ten years to the reform effort and $150 million to buy ads backing health care reform and Democratic candidates. Much of the contributions come in discounts to seniors for name-brand drugs. But drug makers set those prices to begin with. PhRMA argues that the drug industry is being squeezed dry and any more than $80 billion will cost jobs and potentially cost its support, PhRMA insists.
A group of Senate Democrats call that claim nonsense. Whitehouse, Brown, Sen. Bill Nelson (D-Fla.), Sen. Byron Dorgan and several others want that contribution to go much higher.
"Some of our critics are unrealistic in their expectations of what our industry can provide without catastrophic job losses in our industry or driving critically important research and development overseas," Johnson said.
One such critic is House Speaker Nancy Pelosi (D-Calif.), who has long said that she isn't bound by any deal the White House cut and will push a provision to allow the government to negotiate with drug makers for cheaper prices. She reportedly put her opposition to the deal a little more colorfully in a leadership meeting Wednesday night. "I've been smearing poo-poo on it for months," Politico quoted her saying.
The House and Senate versions will need to be reconciled in a conference committee, but before it comes to that, PhRMA will have to beat back the Brown-Dorgan onslaught on the floor.
Democratic leadership may end up taking PhRMA's side for the sake of passage of the entire bill. Sen. Chuck Schumer of New York, the third-ranking Democrat in leadership, backed an amendment by Bill Nelson in the finance committee that would have increased PhRMA's contribution by $106 billion over ten years by altering who was eligible for certain discounts.
The amendment failed, with some Democrats pleading with colleagues to stick to the deal. HuffPost asked Schumer on Wednesday if he'd back Nelson's amendment, or any other that would bust the PhRMA deal, on the Senate floor.
"To me, $106 billion is very tempting," Schumer said, but added that the PhRMA deal has to be considered in the context of the entire package. If breaking the deal costs some Democratic support, Reid could find himself short of the needed votes.
"That's the hard thing. You can't look at any one piece alone. It's how they all interact with one another. So, that's obviously something I'd like to see there, but there are other considerations, not only on that, but on other issues as well," he said. "This has got to be one piece, and Harry Reid is the best weaver of legislative priorities that I've seen."
Reid has previously said that he does not consider himself a party to the deal, but his senior communications adviser, Jim Manley, declined to comment when asked about the strategy going forward. A White House spokesman did not respond to a request for comment.
As Reid hashes out compromises to stitch together 60 votes, the bill will become highly brittle and resistant to major change on the floor. If Reid asks for strict party discipline during the amendment process, Brown and Dorgan and his allies will have trouble rounding up the votes needed, even with the hypothetical support of all 40 Republicans. That would leave Pelosi and the House as the remaining obstacle to a Big Pharma victory.
As the end game approaches, the situation is becoming tense. HuffPost reached PhRMA's Johnson Wednesday afternoon while he rode on a train full of Phillies fans headed to the World Series in New York, where the Yankees would be stomped flat later that night. Over the drunken din, Johnson had trouble hearing when HuffPost said that Sheldon Whitehouse was rounding up votes to take the PhRMA contribution over $80 billion.
"You said the White House is trying to get votes to go above $80 billion?!" he responded.
Not to worry, HuffPost said. We're talking about the senator from Rhode Island, not the White House.
"Oh, oh," he said, laughing. "When you said White House, I was like, 'Agh!'"
Popular in the Community