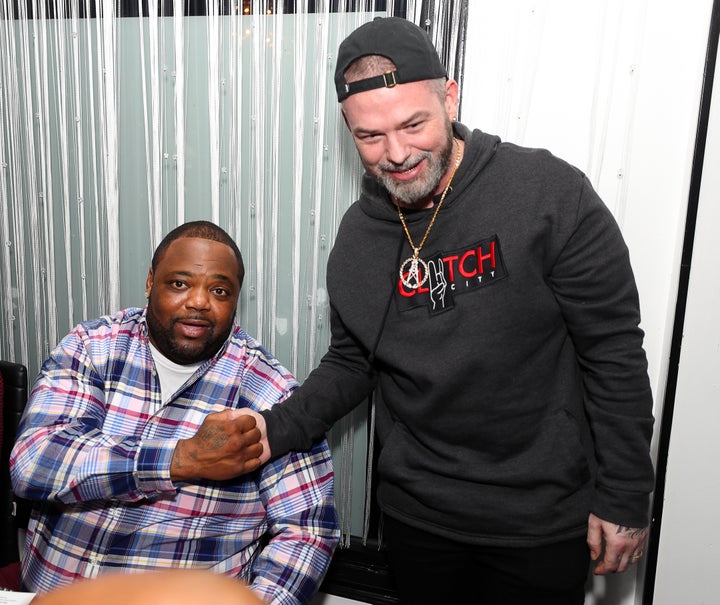 Houston rapper Big Pokey died at age 48 on Sunday after collapsing onstage during a Saturday late-night performance, according to multiple reports.
Videos show Big Pokey, an original member of the Houston hip-hop collective known as Screwed Up Click, falling backward during a set at Pour 09 Bar in Beaumont, Texas. He was taken to a hospital where he was later pronounced dead. Details about his death and what led up to it have not been released, according to local outlet Fox 26.
"It is with deep sadness that we share the news of the passing of our beloved Milton 'Big Pokey' Powell," a statement from the rapper's publicist said, according to Fox 26.
"Big Pokey passed away on June 18, 2023. He was well-loved by his family, his friends and his loyal fans. In the coming days, we will release information about his celebration of life and how the public can pay their respects. We ask that you respect his family and their privacy during this difficult time. Big Pokey will forever be 'The Hardest Pit in the Litter,'" the statement continued.
Representatives for Big Pokey did not immediately respond to HuffPost's request for comment.
Big Pokey solidified himself as a rap legend in Houston and elsewhere with a six-minute freestyle on the 35-minute freestyle session "June 27th" in 1996, according to Pitchfork.
He released his debut album, "The Hardest Pit in the Litter," in 1999. His sophomore album, "D-Game," was released the following year and his third solo album, "Da Sky's Da Limit," came out in 2002.
Big Pokey was featured on Paul Wall's 2005 hit "Sittin' Sidewayz," which made the Billboard Hot 100, and was also featured on Houston rapper Megan Thee Stallion's "Southside Royalty Freestyle" in 2022. In March of this year, he released an EP titled "Play Tha Game."
Big Pokey spoke out against police brutality and racism after George Floyd, who was also a former member of Screwed Up Click under the name "Big Floyd," was killed by a Minneapolis police officer.
"We need to start holding these policemen accountable just like they're holding everybody else accountable. When the law starts to punish policemen correctly, harshly, then we'll see a step in the right direction," Big Pokey said in May 2020, after Floyd's death, in an opinion piece for the Houston Chronicle.
"I can't believe I just sat and watched the police kill Floyd. Black men like Floyd are dying at the hands of the law. As black men, we know it could be any one of us. But then it happens close to home," he added.
Houston rapper Bun B, one part of UGK, the hip-hop rap duo that released "Int'l Players Anthem" in 2007, paid his respects to Big Pokey on Instagram on Sunday.
"Low key, humble mountain of a man who moved with honor and respect. He was easy to love and hard to hate," Bun B said.
"One of the pillars of our city. If heart of gold was a person. Iconic member of the SUC. There will never be another and will be missed dearly. We love and honor you Sensei. Rest in heaven," Bun B continued.
CORRECTION: An earlier version of this story included an incorrect age of death for Big Pokey.
Support HuffPost
The Stakes Have Never Been Higher
Popular in the Community