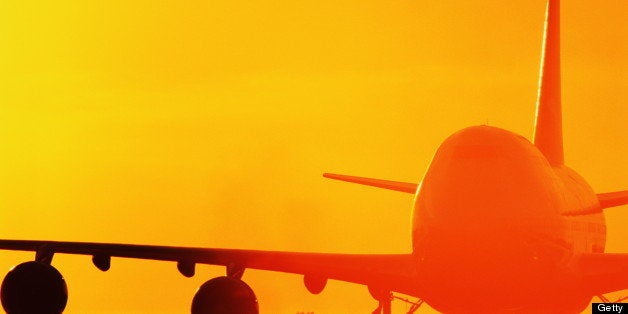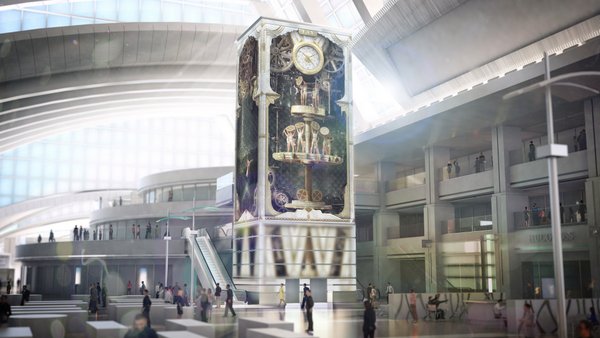 Photo credit: Moment Factory
Angelenos, prepare to celebrate changes at LAX harkening back to the days when international travel was an elegant affair. After too many years with an outdated, substandard international terminal, LAX is about to enjoy a chic, über-modern international terminal that recalls times past, when departing on a journey was truly glamorous and not just a depressing means to an end.
LAX's Tom Bradley International Terminal has undergone a major renovation, which includes both an improved passenger experience and an aesthetic overhaul. The transformation includes the creation of a dynamic multimedia environment inspired by international destinations. A team of designers collaborated on the project, including Fentress Architects, the terminal's designer; Sardi Design, specialists in immersive environments; and Moment Factory, the project's executive content producer.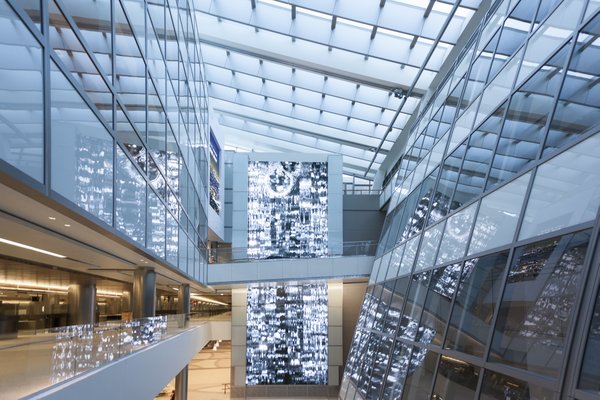 Photo credit: Moment Factory
Moment Factory is a cutting-edge, multimedia studio known for creating highly inventive, often interactive, public events. Headquartered in Montreal, Moment Factory's previous projects have included such vital experiences as Madonna's Super Bowl Halftime Show in 2012, Arcade Fire's Zygote Ball drop at Coachella in 2011, and numerous Cirque du Soleil collaborations. The LAX project is their largest undertaking to date. Seven massive media features that tap into LA's history as the world's entertainment capital now enliven the International Terminal's Great Hall.
I spoke to Sakchin Bessette, Moment Factory's Creative Director, at LAX after checking out the revamped terminal.
"We want to bring back the romance of travel and enhance the travel experience," Bessette shared. "In the past, traveling was an exotic adventure of discovering new lands, but it became a very logistical experience to travel. Waiting in security, waiting in lines, wondering if you'd make it in time, and getting your documents together."
Perhaps the most exciting new feature is the Time Tower, a 72-foot-tall video clock tower/elevator featuring four sides clad in vibrant, changing screens. Bessette described the Time Tower thusly:
"It's more of an architectural piece. We play with the perception of time and how time is perceived while you travel to different time zones. Each side has six arms that stick out and represent every time zone. On the hour strike, it transforms. It opens and you see the inside mechanics of the clock. You have a bunch of dancers that do a show, so it's also entertainment."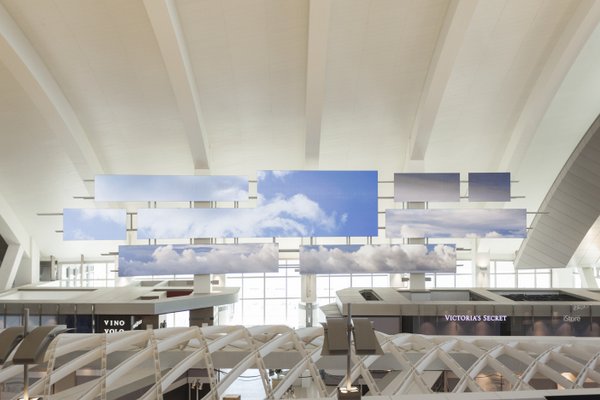 Photo credit: Moment Factory
We checked out the Story Board, a massive series of LED screens displaying films of Los Angeles and various destination cities.
"The Story Board is more of a cinematographic experience. It represents the industry of Los Angeles and the nature in So Cal and around the world. It's more of a short film approach, more cinematic than architectural. We went to Rio and South Africa to shoot different pieces for it."
Among the other media features are two series of 10 28-foot-tall columns featuring visuals and sound effects synchronized with videos of different destinations.
"So if there's a flight leaving for Moscow, there's a piece of content synchronized with Moscow," Bessette shared. "They're static until people walk by -- then they start to move. People walking generates their movement. They interpret the cities people are traveling to while conveying the movement and motion of travel. Things come alive when you start moving around."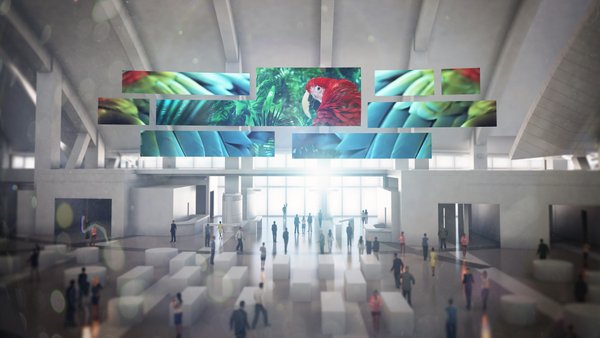 Photo credit: Moment Factory
You might think all this video activity could be over-stimulating, but the designers planned for that.
"Because of the size of these features, if you watched at the speed you watch on a TV or a personal device it's a very fast pace -- the MTV approach. Here the objective is to calm people down and create a relaxing experience so we had to bring it down. It's about being more hypnotic, more ambient."
I asked Bessette what he hopes to achieve with this project.
"We wanted to create a bit more magic. The only magic these days of travel is looking through the porthole and seeing the clouds and the sunset. We want people, once they enter the terminal, to get that sense of wonder and say, "Oh, right, I'm on a journey here. I'm not just going from A to B."
Popular in the Community