Grandiose mountains, rolling plains covered with fields of wheat and barley, a romantic myth of cowboys and Indians and the mystique of the West.
These images are what people conjure up when thinking of Montana. Few people immediately think of drought, hardship, social isolation, alcoholism, aloofness, and a set of cold, distant variables understood only through the lens of uncommon insularity. But those who know the history of Montana know both the good and bad are part of its sprawling heritage.
Montana's disposition has twice been represented on the big screen (Slaughter Rule, Winter in the Blood) by Big Sky-born filmmakers Alex and Andrew Smith, who last week wrapped pre-production of their third film, Walking Out.
Filmed on location in Paradise Valley, Livingston and Bozeman, Walking Out earns the "Made-in-Montana" label. Indeed, Andrew and Alex Smith revere their art as the act of sharing a point of view of both visual and emotional truth; landscape, topography and scenery are sacrosanct intermediaries, stimulants deserving to be set to celluloid.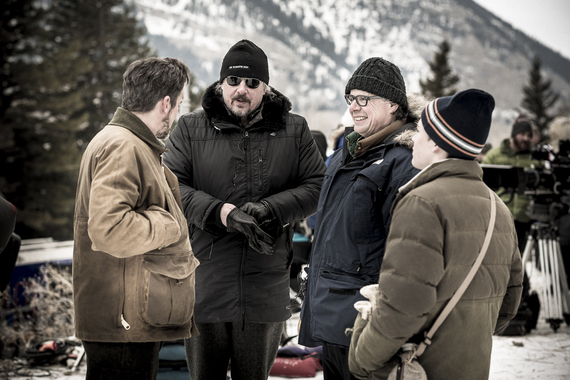 (Filmmakers Alex and Andrew Smith (center) on the set of the survival drama Walking Out, which wrapped pre-production last week.)
"For us," said Alex Smith, "landscape is the character, and we don't want the setting to ever feel as if it were generic. For us, it's really crucial, especially when you are dealing with a piece of literature that is set in Montana ("Winter in the Blood" and Walking Out are adaptations of Montana stories), to shoot it in Montana."
While Montana-made movies stretch the gamut of the sublime (The Horse Whisperer) to the forgettable (Steven Seagal's The Patriot), its cinematography is always met with a standing ovation.
Practically every sort of terrain is available in Montana with the exception of desert and ocean. Visually diverse, the fourth largest state has limitless stretches of forests, peaks jutting to more than 12,000 feet, grasslands, clean air, unobstructed views, irrigated farmland, badlands, alpine lakes, and meandering cold-water streams. Montana locations, authors, and stars have had a place in the film industry almost since the first motion pictures were made. In the silent-film era, Billings' cowpoke William S. Hart drew big numbers and Butte's scandalous Mary MacLane's Men Who Made Love To Me book was transferred to the screen in 1917.
"I think that one of the keys to shooting in Montana is that you need to be in the right space at the right moment," said Andrew Smith. "You need to be flexible and anticipate what's going to happen."
"The production values that Montana gives us are incredible," said Alex. "One morning, we had snow coming down on our actors as if they woke up from a camp in the snow. When the snow was really happening, the cameras and the actors pick up that energy. We also said going in that we were going to embrace what the day gives us. We were not going to try to challenge the film gods, but embrace what they give us. If they give us snow, we can throw in a line about snow. Actors get there easier if they believe in the space that's around them. When we put actors into our world -- the real world -- we are not settling for easier shots."
It is clear that the Smiths sense of aesthetics was shaped in large by their upbringing at Potomac, MT, a forested haven crisscrossed with mountains. The brothers graduated from Missoula Hellgate High School. Their dad, Dave, died in 1974, when the twins were 6.
"Potomac was beyond provincial back then," said Andrew. "Now it's sort of a bedroom community for Missoula. Years ago, it was a working-class, lumber-oriented, timber-oriented community, and we were at the end of the road and we were basically left to our own devices. Mom was a widow and she was working. Alex and I were able to play in the woods and subsist out there. We didn't have a TV and I think that helped a lot. We had comic books, literature, outdoor play and films. My mom was a cinefile and we would go into town every weekend."
"Our dad passed when we were little," added Alex, "so we had to fill that role when we were little -- fixing fences, chopping wood, working with horses, and going to school. It was the classic Little House on the Prairie experience and we were out in the elements a lot, and that's something that we think plays in our films and resonates to us."
David Smith was a literature professor, lover of films, and aspiring screenwriter. Annick Smith led by example, showing her two sons that art required passion, inquisitiveness, and sacrifices.
"She worked first on a series of documentaries on Native American customs and we were with her when she was shooting a lot of these docs," said Alex. "We remember going to a lot of powwows and to reservations and we were exposed to a lot of fascinating rituals. Once, she was editing a doc about Richard Hugo and they were editing it in our house. We could hear Hugo's poetry run forward and backwards. Back in the day, they would run the sound forward and backwards, and we were able to recite his poems backwards."
Annick forged a successful career as a writer and filmmaker, directing Heartland (1979), a stark, rugged saga of frontier life based on the actual diaries of a pioneer woman, which won the Golden Bear Award at the Berlin Film Festival. Heartland was shot in the area of Harlowtown, White Sulphur Springs, and Garneill. Location scenes for the film included storms over the prairie and local cattle brandings.
"I can remember being on the set of Heartland, said Andrew Smith. "I think we were ten when we visited Harlowtown, and we went for a couple of days, and it was a very exciting, a very immersive film and environment. It was very influential and it stuck."
Not only has moviemaking allowed the siblings to creatively exorcise some of their difficult memories, but it has fostered the rebirth of their own cultural awareness. Indeed, the state's stern, poised visage and durable residents are a far cry from the easy smiles and contagious laughs of a Hollywood backlot.
"We are definitely interested in people on the edge," said Alex. "We are interested in people on the fridges, the marginalized. We like those stories of people who struggle, and a good story to use is one where someone struggles really hard and overcomes that struggle in some capacity. Montanans overcome a lot of adversity. The state is no joke. It makes for a certain hearty, stoic person who can handle anything."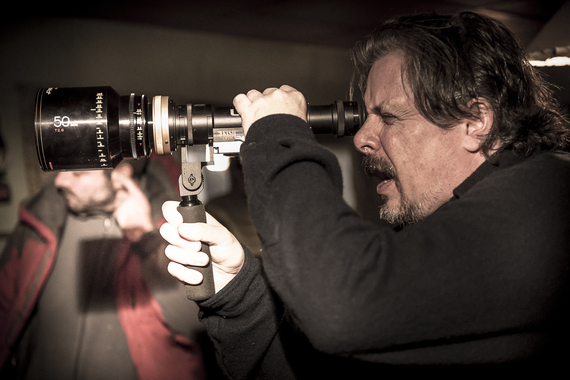 (Alex Smith behind the scenes of Walking Out. "We are not after a postcard," said Alex. "We are not after the ideal Montana. We are after the real Montana."
The twins attended different colleges, but both ended up with Master of Fine Arts degrees in writing. They worked on the Slaughter Rule script for almost six years, including the time they worked on it at the Sundance Institute, Robert Redford's incubator for promising films. The film was accepted into the influential Sundance Film Festival. Village Voice said that film was "the most impressive feature by far in the dramatic competition at Sundance."
The title comes from the former "mercy rule" in six-man football by which a game is called if one team runs up a 45-point lead. Through the story of a cross, frustrated teen and the moody, volatile man who befriends him, the brothers Smith emphasize that there is "no mercy rule in life." One reviewer said the film "hits you like a 250-pound linebacker."
The Smiths co-directed the filming in Montana in the winter of 2000.
"When filming Slaughter Rule, we hit a record cold snap in Great Falls and it shows up on screen," said Alex. "It was almost too cold to shoot, but it's amazing because it shows up on screen, and you can see the actors' breathe, you can hear the crackle, you see people shivering. I believe that it made the film even more intense. Winters are fierce -- and they are long. Every season is robust and has its challenges. We are not after a postcard. We are not after the ideal Montana. We are after the real Montana."
Winter in the Blood is based on the first novel by James Welch. Welch, who died of a heart attack at age 62 in 2003, was a product of the Hi-Line, born in Browning of a Blackfeet father and Gros Ventre mother and raised on the Ft. Belknap Reservation. Published in 1974, Winter in the Blood, tells the narrative of a young Native American who violently grapples with his heritage and his life. Citing their respect for Welch's novel, then-Governor Brian Schweitzer offered to make his plane available to fly in potential investors, and Native American tribes approved filming in guarded spiritual places. Winter in the Blood was filmed in Havre and Chinook during the summer of 2011.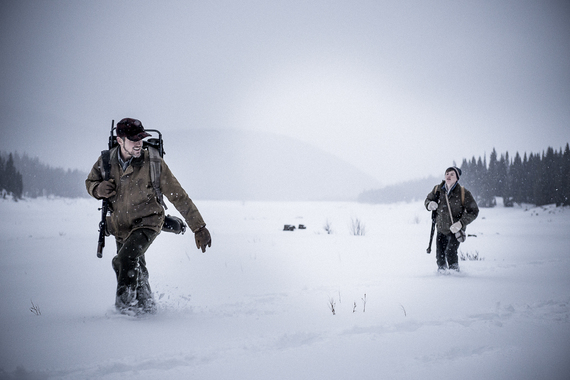 (In Walking Out, Josh Wiggins (trailing, right) plays a city teen who travels to Montana to go hunting with his estranged father, (played by Matt Bomer), only for the tense trip to become a battle for survival when they encounter a grizzly bear.)
In addition to writing and directing the feature film adaptation of the short story, Walking Out, the brothers are adapting the Wallace Stegner novel, Remembering Laughter  for filmmaker Rodrigo Garcia. (Domestic distribution rights of Walking Out have not yet been sold.) All the while, they remain as loyal and affixed to their creative impulses as they are to each other. That's not to say that spates and disagreements don't arise, it's just that they have played, worked and grown together as a team for so many years that filmmaking instinctively broadens their mutual evolution.
"Generally speaking, when one of us sees something and wants to go after it, the other generally trusts that there is a reason for it -- and it's probably a good reason," said Andrew.
"Film is such a collaborative medium and we are collaborating right from the get go on the script and then coming in as co-directors," said Alex. "Our goal is to collaborate on something that's beyond the sum of the parts. Remember that we're twins, we grew up isolated, and we did this as kids. We made movies, comic books, and we'd take turns to doing panels. We've been collaborating all of our lives -- it's just that the scale has gotten bigger."
While the scale is greater than before, the brothers' belief that Montana tales are much too complicated for tidy, generic or ordinary resolutions hasn't vacillated.
"I think that if you look at the sort of weird cross-genres that we've made," said Andrew, "there is a football movie, a Native American Western, and now this is in the hunting genre, in each case we are trying to get past a cliché. We are trying to get past a stereotype of, say, what kind of a person is a hunter and what kind of a person plays football. We've tried to find stories that are inside that seemingly known world and find stories about real lives and the people who are living it."
Calling all HuffPost superfans!
Sign up for membership to become a founding member and help shape HuffPost's next chapter