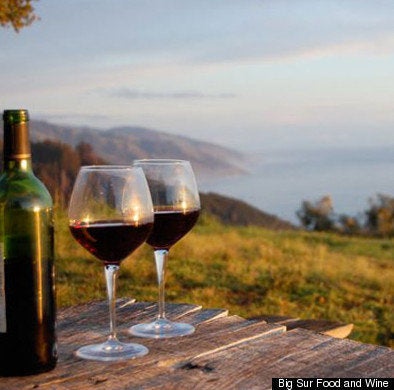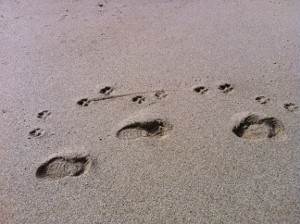 Sometimes life is hard. Sometimes life is really hard. Sometimes life becomes so crazy hard that you know you need a change but the noise in your head is screaming at such a loud decibel that, try as you may, you can't hear the wise whisperings of your own intuition. In times like these it is natural to seek the silence and solitude that only nature can provide.
My first hints of unhappiness with my career and personal life surfaced a decade ago, but, instead of listening, I convinced myself I should be happy with my "glamorous" Hollywood life. Denial is a funny thing. Over the years, life became more and more toxic until it finally came to the point where everything in my world seemed to collapse at once. It's my belief that the universe will do that to you... you can't ignore the signs sent your way, ever. If you try, the universe will continue to shake up your life in larger and larger ways until you finally wake up and listen and realize a major change needs to be made. When I reached this point in my life, the clamor in my head was so loud that I couldn't make sense of any of my screaming thoughts. I knew I needed quiet and seclusion in order to figure out what I need next. And this is exactly how I ended up on my current three-month road trip with my dog, Yoda.
In the spirit of seeking outer-silence in order to find inner-peace, I decided to start the trip off with camping in Big Sur, California. I love camping. I've even camped in the middle of the Amazon rainforest with my friend Angela Hynes and a Peruvian medicine man who acted as our guide -- an experience that involved boiling our drinking water (it still tasted like fish), drinking a white milky substance from a tropical fern to ease the nausea from the fish-tasting water, making our own rope by peeling the bark off a tree, and listening to bats screeching and dropping fruit on our tent all night long. Camping in the jungle is an adventure of a certain sort. However this time around I needed a more gentle camping experience since Yoda and I were doing it by ourselves.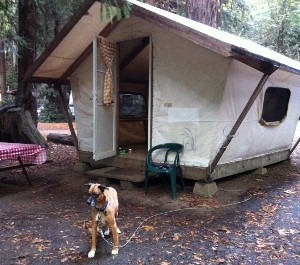 We landed at the Fernwood Resort campground in Big Sur. Our home for the night was a tent cabin under the Coastal Redwoods right on the bank of the Big Sur River. Other than two other tents and a couple RVs on the other side of the campground, we had the place to ourselves. When we pulled up there were wild turkeys and deer grazing right in front of our tent. Fernwood is hardly hardcore camping. Although there was no electricity and I had to bring my own sleeping bag, the campground has bathrooms with electric lights, there is a convenience store up the hill, and my tent cabin had a wood floor and door with a lock. For camping novices (or those simply seeking a few more creature comforts), Fernwood also offers charming cabins and a rustic motel. If you're looking for a bit of nightlife, just walk up the hill to the Fernwood Tavern which often hosts local bands and touring acts.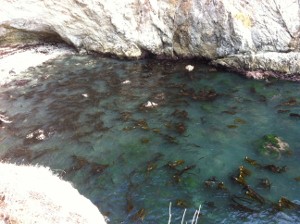 Yoda and I found plenty to keep ourselves occupied outside of the campground. We visited nearby Partington Cove which is host to a kelp forest and a respectable population of sea otters. Kelp forests are a fascinating and important underwater ecosystem. Kelp is used in everything from toothpaste to ice-cream, and is being talked about as a possible source for renewable energy. I picked up a piece that had washed up on the shore and it was as big as a fire hose and its texture was rubbery instead of slimy as one would expect.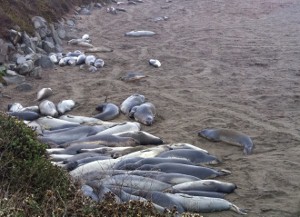 A mandatory day trip from Fernwood was a visit with the Elephant Seals at Piedras Blancas, just two hours south on Highway 1 north of San Simeon. It's early in the season, but still, I saw a solid thousand of these giant sea mammals beached on the sand looking perfectly content napping in clusters. In a couple months there will be up to 15,000 elephant seals on the beach. My visit with the elephant seals was planned this time around, unlike my first encounter with these captivating creatures. In 1996, during my first California road trip, my boyfriend and I pulled over to walk on the beach after a visit to the Hearst Castle. Imagine our surprise when we stumbled upon these magnificent mammals. We walked amongst them and even posed for pictures next to them (little did we know they actually have quite the dangerous bite if provoked). The elephant seals first commenced their now annual journey to this beach in 1991 to molt, breed and birth. It was a special experience to privately happen upon them when we did. The beach is now protected with a fence, and the public views them on wooden walkways from a safe distance away.
The sun had set when we arrived back at the camp so I built a campfire and Yoda and I ate dinner by the light of my headlamp. As I sat in the dark by myself next to the dying embers of my campfire, I realized the manic chattering of my mind had started to slow. Nature was starting to work its magic. I'm still trying to find my way, but with road trip experiences like these, I'm beginning to believe I just may land on my feet.