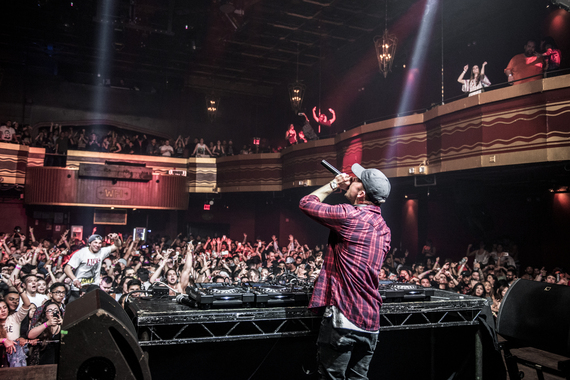 Last summer, I attended my first electronic music festival ever -- Moonrise Festival at Pemlico Race Track in Baltimore, MD. I still remember leaving Porter Robinson's set early because there was no way I was going to miss even a second of Party Favor closing out the Celestial Garden stage. He was the last artist to play the smallest stage of the festival, and he was up against three of the biggest names on the lineup: The Glitch Mob, Zeds Dead, and Above & Beyond. There had to be less than 400 people at his set, but it will stand out in my memory as one of the most energetic live performances I've ever seen. That fall, I made my way to Webster Hall to catch his co-headlining tour with Brillz, "Twonk di Nation" and was wowed once again.
Well here I am, six months later, sitting down with the man himself for a one-on-one before his performance at Webster Hall on March 26th with Valentino Khan. Life is seriously crazy sometimes.
Shawn: So, I'm kinda living my own moment right now as I sit here interviewing you, but you've been gaining popularity at a rapidly accelerating rate. Did you ever have a moment where you thought to yourself "oh man, this is it. This is really happening?"
Party Favor: You know, it's funny I kinda consider two moments. There's the musical moment, and then there's the live show -- the performance moment. The music moment, you know, I had a couple remixes come out, but that show moment, where it really like hit me, was the first time I played EDC Las Vegas. Obviously, in the electronic music world, that's kinda the mecca of shows, y'know. I played, I think it was the 7UP stage or something like that, but I brought it to capacity. I remember having this moment in the middle of my set where I was going so hard and I stopped for a second, and it all just hit me. I was trying to stay in the zone, and I was trying not to be nervous, and I was just like "wow, ok." Like, Tiesto is on the stage next to me but all these people came to see me.
Shawn: You've managed to partner yourself with a couple really big names within your genre. You've got Mad Decent, the Twonk Team with Brillz -- how has working with them fostered your creativity, or allowed you to branch out?
Party Favor: Well something that I feel is really important to me, because I feel like in our genre, and music, whatever it is, there's a lot of copy-cats. I like to associate myself with people who are pushing the envelope further than anyone else, and inspire the hell out of me to be the best of myself. I think that's why Mad Decent is such a great fit for me, you look at the roster of MD and it's everyone who's pushing the scene forward, y'know? There's people who kind of make the same thing over and over again, and yes I'm in the trap-bass world, but I don't think that every single thing that I put out sounds the exact same. I like to be around people who challenge me creatively, and inspire me.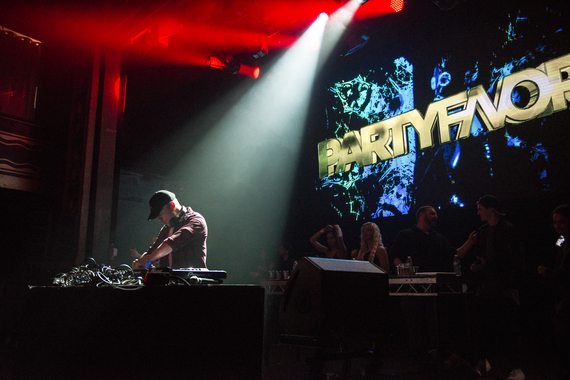 Shawn: So along with the aspect of inspiration, you have a background in film. Do you ever draw inspiration from your film work when you produce music? How do you bridge both worlds?
Party Favor: I like to think I do. My emphasis was in editing, so I was in post-production. Taking everything that's been put together, and piecing it. That's kinda how I started my music, my production, was a lot of sampling. So I was taking things that people had done, and bringing them into my world, and creating something new. So it was how I transitioned into the scene. Video has always been an important thing to me, and I remember when I first started I was always kind of micro-managing all of my promo videos or whatever, I would edit most of them myself.
Shawn: Now, you've been pretty quiet on SoundCloud for a while now, there haven't been many releases. Is this like a calm before the storm? Do you have something big coming up?
Party Favor: Yes! It is definitely a calm before the storm. I'm releasing an EP with Mad Decent very soon. I'm really stoked on it. It has some big names on it and some big collaborators. I'm really proud of all this stuff, and it's a much wider range of music -- it's got some mellow songs with lyrics, to your trap bangers and everything else. I've got a new song coming out next month called "Bust 'Em" that I'm really stoked on, it's featuring vocals from 2 Fresh it's a super kind of twerky, breakbeat, crazy, vibe-track -- I'll play it tonight, you'll hear it [laughs].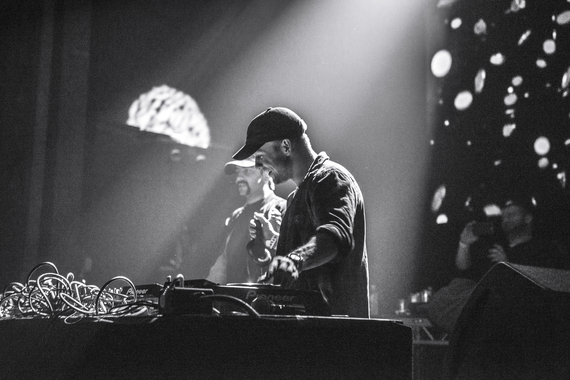 Shawn: You're on a ton of festivals this summer. How do you prepare yourself and your music for a long summer on the festival circuit?
Party Favor: Well, I just played Ultra Music Festival, and this year was a big step up for me. I felt like I really brought a full crowd to my set. I'm so excited, I love playing festivals because it's a completely different world. You're playing for fans that are so there for you. You tour and you play nightclubs and sometimes they're there for you, and sometimes they're there just to be out at the club and don't know who the f*ck's playing. I'm playing Lollapalooza this year, which is like a dream of mine and I'm excited to have all this new music out by then. I'm working so hard on my sets to ensure that when you come see me, you're hearing stuff that you've never heard before. Everybody can play the same old "bangers," y'know? I'll give a little bit of that, but mostly when you go to a Party Favor show, you're going to hear stuff you've never heard before; whether it's mine or other people's, or whatever.
Shawn: Well I can vouch for that, your shows have been killer. Is there a release date for the EP yet, what should people be on the look-out for?
Party Favor: We don't have a release date just yet, but I'd say late May. "Bust 'Em" will be coming out on April 22nd. You're going to see a lot more releases from me beginning of summer through late fall. I was quiet for a reason, so now I'm going to come out with a vengeance.
The rest of the night I spent pacing the balcony anxiously anticipating Party Favor's set. I thoroughly enjoyed his co-headliner Valentino Khan (who shares the limelight with his righteous handlebar moustache), and from where I was standing it seemed like the crowd did too. Much like Party Favor, Valentino Khan had a level of energy and excitement that was contagious. The crowd was into it, and as his set progressed, the energy began to build leading up to Party Favor's 1:45 set time.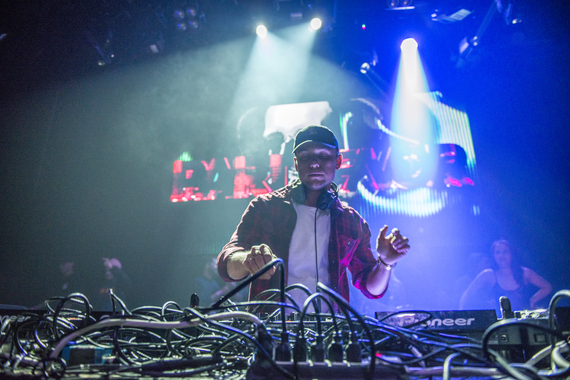 Once Party Favor took the stage, I was in full-on photo mode. There was an entourage flooding the area behind the DJ booth, and the crowd was going wild. The atmosphere of the show didn't feel like a club, didn't feel like a performance; it felt like the best kind of party. There were numerous points in the night that I had to remind myself that I was there to cover the show. I found myself bobbing and dancing to the music and forgetting that I even had a camera in my hand! After I'd taken a number of photos, it was time to go and see what things were like from the crowd's perspective. I dropped my camera off in the green room, bought a drink from the bar, and waded into the sea of bumping and grinding club-goers.
Most shows you go to, whether they be at clubs, theaters, or arenas, there are always people standing off to the side sipping their drinks, more interested in the people-watching aspect than the actual show going on. But anyone who wasn't dancing (or procuring more drinks at the bar), had their eyes fixed on the stage and Party Favor's enthusiastic showmanship. I had a couple of friends attending the show with me, so after moseying around the Grand Ballroom I met back up with them on the balcony and watched the mass of twerkers and clubbers move like an ocean of trap-filled debauchery below us.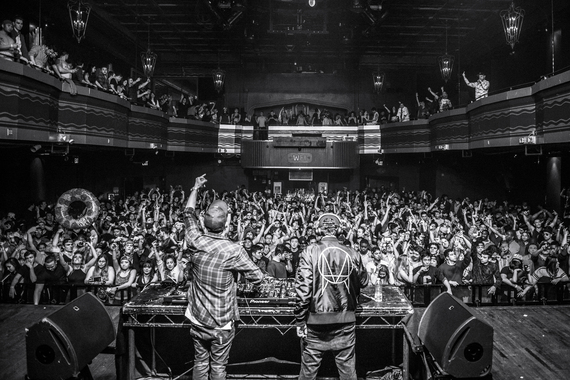 By the time Party Favor's thunderous anthem "Bap U" teased its crescendo through the mix, Webster Hall's main floor began to shake with each jump and bob from the crowd. Every hit from the kick caused a brief sensation that the floor was about to collapse. Party Favor began to wrap up his solo set, and announced to roaring cheers that Valentino Khan would be joining him on stage for a B2B (back-to-back) set to finish the night. I hustled to collect my camera and experience the finale from the stage, ensuring I captured the final moments.
When the smoke had cleared, the last beats from the B2B had dispersed, and the crowd made its way downstairs to collect their jackets, I walked away with fond memories of another set with Party Favor at the helm. I've got a number of festivals in my sights on for this summer and many of them boast Party Favor on the lineup. I guarantee that I'll be at each and every set and I highly suggest that you are too.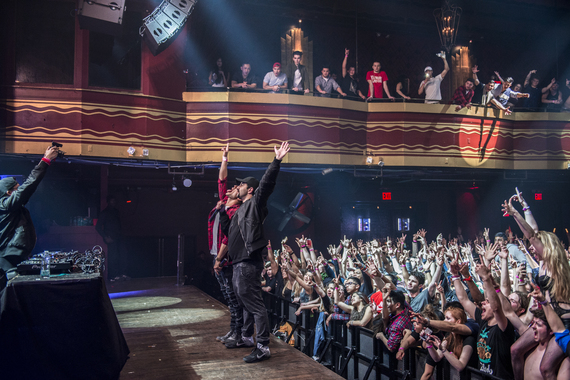 "Bust 'Em" comes out on Mad Decent April 22nd.
REAL LIFE. REAL NEWS. REAL VOICES.
Help us tell more of the stories that matter from voices that too often remain unheard.