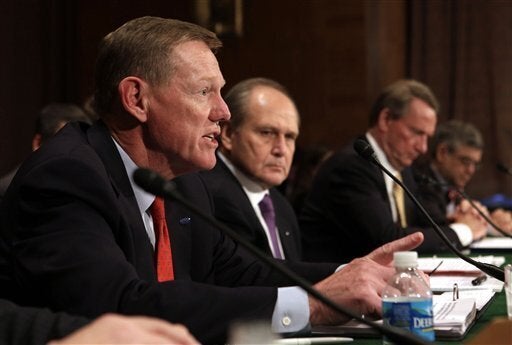 Executives of the Big Three have been on Capitol Hill today asking for $34 billion in government aid, lamenting their financial straits and vowing their commitment to fuel-efficient cars - GM CEO Rick Wagoner even pulled up to the capitol in a light-blue Chevy Volt electric prototype.
But during the hearings, Wagoner and his colleagues have yet to mention the millions of dollars they've spent this year lobbying Congress.
In less than two years, the auto industry has spent $120 million lobbying Congress - much of which was used to fight legislative proposals to boost fuel economy requirements.
In the first nine months of this year, they've spent almost $50 million, with more than $20 million of that from the Big Three:
GM: $9.8 million

Ford: $5.7 million

Chrysler: $4.6 million
And in 2007, the industry spent $70 million on lobbyists. The Big Three spent more than $28 million:

GM: $14.2 million

Ford: $7.1 million

Chrysler: $7.1 million
GM was the fifth largest corporate spender behind General Electric Co., ExxonMobil, AT&T and Amgen in 2007, according to the Center for Responsive Politics.
Among the contentious issues battled by automobile lobbyists were proposals to boost fuel economy requirements though they weren't entirely successful - last December, Congress passed a bill that increases fuel efficiency standards 40 percent to 35 mpg by 2020.
Starting in the 1980s, the industry successfully lobbied to classify SUVs as "light trucks," making them subject to less stringent fuel economy standards.
"Our lobbying activity is proportional to the potential competitive and economic impact that proposed legislation could have on our business," GM spokesman Greg Martin told the Detroit News.
The industry has also contributed heavily to prominent members of Congress in 2008, including $1.1 million to president-elect Barack Obama, $432,000 to John McCain, $302,000 to Senator Hillary Clinton, $189,500 to Michigan Rep. Joe Knollenberg and $168,000 to Michigan Senator Carl Levin.
By contrast, some of the biggest Congressional foes of a bailout for the industry have received far less money - Alabama Sen. Richard Shelby, the most vocal opponent on the Senate Banking Committee chairing today's hearing, has only received $141,000 over the course of his 22-year tenure in the Senate.
As noted by a reader, it's important to explain that there is no love lost between Shelby and the Big Three largely because he has given more than $400 million in subsidies and tax abatements to foreign automakers such as Honda and Hyundai. In addition, Toyota and other foreign automakers have also lobbied against an increase in federal fuel economy standards.
Yet the industry seems to have lost much of its clout in the last year. As The New York Times recently reported:
Analysts and longtime observers of the industry say several strategic missteps have hurt Detroit's standing.

The carmakers, for example, fought hard in recent years against two Congressional efforts to raise fuel economy standards, at a time when Americans were struggling with more expensive gasoline and had become more environmentally conscious.
Calling all HuffPost superfans!
Sign up for membership to become a founding member and help shape HuffPost's next chapter