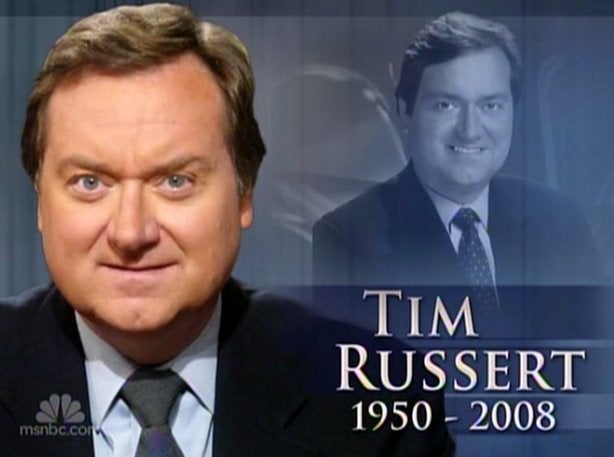 "If It's Sunday, It's Meet the Press." Those words will never again be spoken by Tim Russert. Yesterday's broadcast of Meet the Press was the first time we did not hear Tim Russert sign off with those words. The moderator's chair he occupied since 1991 remained empty.
We have heard so many wonderful things about Tim Russert over the past few days -- glowing tributes and testaments from leaders in politics and media about his journalistic ability, his family, his faith, his roots, and his impact. But not much has been said of the influence Russert has had on young people.
In fact, young people were among some of Russert's biggest fans. Those among us most interested in politics got up on Sunday mornings to watch him and to learn about the political process by doing so. Granted not all of us always got up early on Sunday mornings to watch the entire show. But Russert not only revolutionized Sunday morning talk in terms of format, he also led the charge to make Meet the Press available as a podcast on iTunes, as a netcast, and as a video podcast. This is often where members of my generation were able to watch him in action.
With the agenda-setting nature of Meet the Press, this gave unprecedented access to political inside information to a whole new set of viewers -- particularly young people. Just as the YouTubeization has given young people access to political candidates, Russert allowed the best of political analysis to become available to us. Russert believed in access and education to as many people as possible. As a result, Meet the Press remains the most accessible Sunday morning show.
Russert also conveyed a sense of authenticity that members of my generation hunger for. In an age where many of us are cynical about politics and politicians, he brought honor the process, asked the questions young people wanted answers to, and he made politics understandable. He showed the kind of leadership often missing from cable news, one of the reasons so many young people have turned away from television news. He understood us, he wanted to educate his viewers, but never in a way that seemed condescending. Young viewers found him a bridge between our excitement and interest in the current political campaign, and all we needed to know about the past that we had not experienced first hand. We found him warm and genial, and we also liked his regular guy appeal, his frequent sports references and his affection for rock music. We knew him, and he knew us. Contrary to what some older people would have you believe, young people are incredibly interested in the meat and potatoes when it comes to politics. We're frustrated by the polarization, trivialization, and gotcha-centered politics and punditry. We want to discuss issues and substance, and Sunday Mornings with Tim gave us just that.
To give you an idea of the connection young people felt with Russert, within hours of the news breaking of Russert's passing, at least five Facebook groups had burgeoned dedicated to his memory. One of those five was launched by me, and within a few hours, hundreds of people had joined. Even before his death, Russert's "Facebook fan page" had over 3,000 fans.
Since Tim Russert was one of my heroes, I had always wanted to meet him. I had noticed he had been scheduled to speak at several events in Connecticut and New York over the past few years. Each time I wanted to go, but for one reason or another it didn't work out. This January, I embarked upon a journey to cover the New Hampshire primary campaign, an exciting chance to see the candidates up close. For me, the New Hampshire experience would culminate in attending Barack Obama's "Yes we can" speech. But just a few days before that, while covering what would be one of the rallies that propelled John McCain to become the Republican side's New Hampshire winner -- and position him as the presumptive nominee -- I saw the leading politicos and pundits milling about. Then I spotted among all of them, towering quite tall, Tim Russert. I immediately went over to him and introduced myself and told him he was one of my heroes. I described my organization and why I care about getting young people involved and voting. He listened intently and congratulated me on what I was doing. Maybe it was just my excitement, but he seemed to be genuinely focused on me and my story, even though I had just come up to him out the blue. While the meeting was brief, he showed a serious interest in me and what I was doing. I had a picture taken of the two of us standing there outside the rally, which I would have said back in January I would cherish forever -- a sentiment I feel even more strongly now after his untimely death.
In reflecting on Russert's shocking and too soon death, I thought of the night that Barack Obama captured the Democratic nomination, Russert said on MSNBC how much he would love to be a history teacher in an inner city high school that next morning. As much as he loved politics, Russert loved sharing stories and moments with young people in all parts of his life. We will all miss him.
David D. Burstein, 19, is the Executive Director and Founder of the young voter registration and mobilization effort "18 in '08." Learn more at www.18in08.com.