Hey Big Time Rush fans!

Over the past few hours, we've received thousands of passionate responses from you about this article. Kendall gave us a call tonight to talk about it.

The guys want to make sure you know that, though the show is wrapping up, they still have a lot of exciting musical projects coming up. (They can't share details just yet, but will be able to share more with HuffPost Teen and you all later this year.)

Big Time Rush is still very much a band and Kendall wanted us to make sure you knew that!

- The Editors
We had one important question for the boys of Big Time Rush when they visited the Huffington Post office on Thursday: Is their Nickelodeon show really ending? We'd been hearing rumors both ways all summer, and now Carlos, Kendall, James and Logan have finally revealed the truth.
Read their surprisingly candid thoughts on the future of the band, below, and check HuffPost Teen tomorrow to read the rest of the interview. (Spoiler: We've got all the details on Carlos' engagement and two very special fans they met this week!)
HuffPost Teen: So, is the show ending?
Kendall: They'll never give a press release, but it's done.
James: Look, it's one of the biggest hits -- between the music and the show -- that Nickelodeon's ever had. We're proud of it and they're proud of it, and I think it's difficult for them to let it go. We do have opportunities to continue with them and continue with music we haven't made decisions about yet.
Carlos: And quite honestly, we've all known for five years that we're ready for our individual careers.
Kendall: Let's put it this way: The episodic 28-minute "Big Time Rush" episodes are done.
Carlos: I think it'll just help the band if we give people time to miss us -- it's kind of like a relationship. Someone leaves…
Logan: You love 'em, and you leave 'em, you know what I mean?
Carlos: [Laughs] You start to miss them a lot. My fiancee [Alexa Vega] travels and I appreciate all the time I have with her. I think that we've been around for five years is great. Now, we're leaving for a little bit.
Kendall: Or won't come back at all.
You mean you wouldn't come back as a boy band?
Logan: We're going to be a girl band next time!
Kendall: It's sort of like a thin line to walk on, because we have a lot of fans who love Big Time Rush and we don't want to ever disappoint them. We want them to be fans of individuals whenever we go and do our own things -- which I think they are, anyway. But we don't want to end Big Time Rush in a way that's going to make them go, "Well that f---ing sucked."
James: Kendall said this before and he's right. The band itself is never going to die. Our music's out there. It's online. We've got four albums.
Kendall: There's 74 episodes to play every day.
James: So it's not like it just disappears. But in terms of new content, it might be a while, but might not be ever. We don't know at this point and we've all kind of been saying, "We're all really excited and really antsy to be our own individual artists outside the band -- and support each other."
Carlos: We get along, but we get along even better when we're not working. So I think we'll all stay friends and all stay very supportive.
Kendall: We make a big joke about it, but there's a big meeting tonight. They're going to want to do something, but it's really up to us.
Anyone else want to be a fly on the wall for that meeting? Rushers: What do you think about the band taking a break? Are you excited for possible solo music from the guys? Sound off in the comments or tweet @HuffPostTeen!
Support HuffPost
The Stakes Have Never Been Higher
Related
Before You Go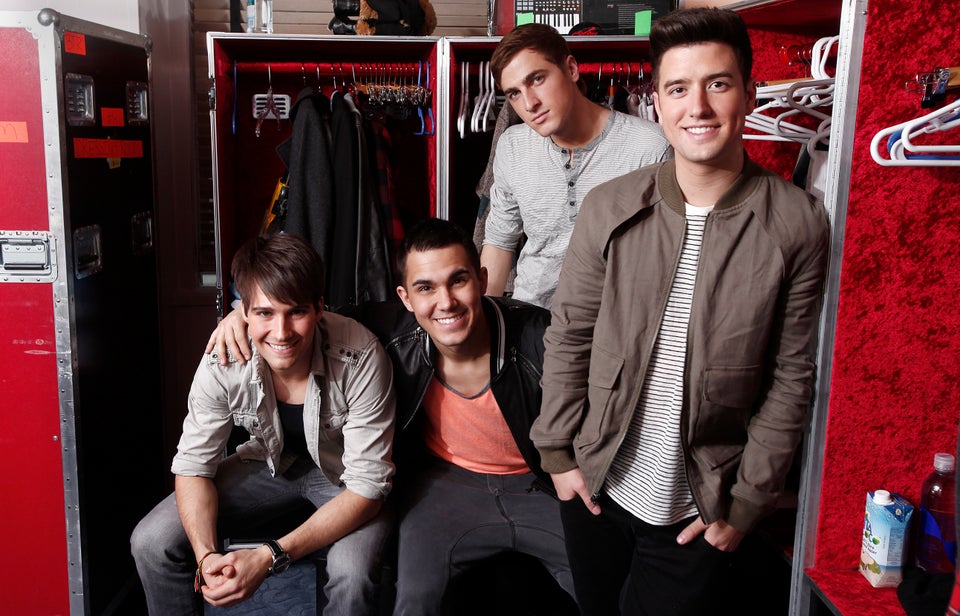 Big Time Rush Photos
Popular in the Community