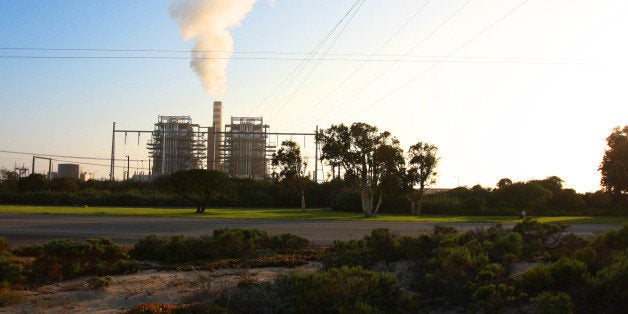 Some corporations privatize profits by socializing large costs or risks, but if often takes years to understand the latter. When science goes against them, companies can choose to change, but to fend off unwanted actions, they can employ a collection of think tanks, front groups, lobbyists and politicians one might call the "machinery of doubt."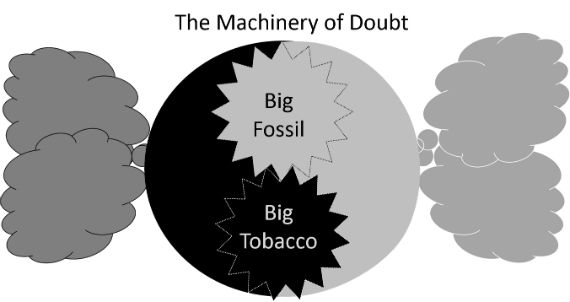 Fossil-tobacco comparisons extend well beyond Exxon to others, especially the Koch brothers and Big Coal, who all employ the machinery side-by-side, but sometimes relationships are more direct.
As surfaced in Merchants of Doubt, Big Tobacco and Big Fossil share similarities, and sometimes use the same people, such as famed climate science denier Fred Singer's attack on the EPA regarding secondhand smoke. Of course, fossil energy is actually useful, even as the downsides are increasingly understood, but documentation of tobacco tactics can help understand likely fossil industry actions.
UC San Francisco's Truth Tobacco Industry Documents digital archive offers 14 million internal industry documents. Readers could try that by entering "Exxon" or "global warming." It is complemented by the fine collection of tobacco advertising images at Stanford's SRITA.
By 1953, major tobacco companies knew smoking caused cancer, and they responded by marketing doubt, brilliantly.In 1954, Philip Morris VP George Weissman said:
"If any one of us believed that the product we were making and selling was in any way harmful to our customer's health -- and our own as well -- we would voluntarily go out of business."
Sixty years on, Altria plus Philip Morris International revenue is over $100 Billion/year. For most people, nicotine is able to "rewire" brain receptors and create customers only during adolescent brain development, roughly ages 10-24. Later, half the regular users die of it. That business needs great marketing skill, perhaps why Koch Industries has hired tobacco operatives. Doubt works.
Following are just a few examples from the history of actions and relationships.
The Koch brothers fostered a large network of think tanks often funded also by ExxonMobil, other fossil interests, Big Tobacco and related private foundations (Crescendo to Climategate Cacophony pp.93-95). They became key gears in the machine.
Over decades, Big Tobacco evolved away from official industry groups to using front groups and "independent" think tanks to promote their messages. Starting in the 1990s, Big Fossil followed the same path, often with the same groups.
The U.S. Chamber of Commerce helps fossil interests fight the EPA, but by 1997-1998 was sold to Big Tobacco.
It can be easy to stall action in the U.S. Congress, but sometimes the Executive Branch, Courts or individual states move faster. Congress did little about tobacco, but the EPA was made progress on secondhand smoke. State Attorneys General pursued tobacco cases, and finally started to win some. Eventually, courageous Department of Justice lawyers won a difficult RICO case against Big Tobacco, described in Bad Acts: The Racketeering Case Against the Tobacco Industry.
This post is part of a "Corporate Skullduggery" series produced by The Huffington Post, in conjunction with the U.N.'s 21st Conference of the Parties (COP21) in Paris (Nov. 30-Dec. 11), aka the climate-change conference. The series will put a spotlight on businesses that have actively tried to mislead the public about the dangers of climate change or about their own contributions to rising temperatures. To view the entire series, visit here.
Popular in the Community