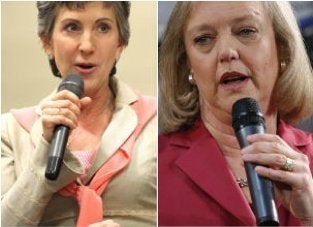 Female candidates won big last night, reshaping the political landscape. But what does it really mean for women?
From Meg Whitman and Carly Fiorina in California, to Tea Party survivor Nikki Haley in South Carolina, and Senator Blanche Lambert Lincoln's surprise victory in Arkansas, today's hot political topic is all about the rise of conservative women at the ballot box and their success in last night's primaries. MSNBC celebrated the "Ladies Night" results, and today the women of America are left with a chance to reflect on how these races will affect our future.
Women currently hold a pathetically small fraction of elective offices -- only 17% of seats in Congress. The good news is that a woman running for office is becoming more normalized (with the help of Women's Campaign Forum, EMILY's List, Emerge, Eleanor Roosevelt's Legacy, Annie's List, and others), but we still have a ways to go before it becomes "the norm." But following a night where women comprised a mere 23% of winning candidates (47 of 204 winners), some of the media coverage is not in line with reality. As NPR notes in "A Super Tuesday for Women", 1984 was the year of the woman -- till they all lost in the general election.
While increasing the number of women in political leadership positions is good and necessary, the bottom line is that issues matter most. My feminist friends and colleagues will ultimately vote for what a candidate stands for, not their reproductive organs. Are these candidates representing the interests of young mothers, working women, and the growing number of senior women? If the result of "Ladies Night" is a new crop of women elects pushing a conservative agenda that would allow the government to interfere in medical and family planning decisions, refuse to reign in corporations, and even stop me from drinking a glass of wine when visiting Las Vegas -- last night's results do little to move me. We need more pro-equality leaders who aren't afraid to stand up for our values. Sarah Palin is not Hillary Clinton, Jan Brewer is not Janet Napolitano, and last night's winners still need to prove how they will represent the sentiment, values, and rights of women.
At the same time, while the policies and performance of all political figures should be subject to rigorous media critique, we cannot ignore that more women candidates ultimately still means more opportunities for sexist media coverage and political maneuverings. Sexism against any woman candidate adds an additional barrier for all women and girls who aspire to political leadership. I look forward to the day it will not be remarkable to have a woman running against another woman -- for now, I cringe at the "cat fight" statements likely to come in the coverage of Senator Boxer vs. Fiorina. Last night, a guest on Chris Matthews' show commented that it's not easy to attack a woman. Not sure what planet he's living on, but not only is it easy, it's often accepted. No more. Sexism may sell, but we're still not buying it.
The Women's Media Center will continue to serve as a watchdog for sexist and biased attacks directed towards women candidates. In the midst of all the hype, some journalists and commentators are already using this opportunity to reach for their misogynist bag of comments.
We want to know: What have you seen or heard? Keep us on the loop as the midterm election season heats up.
Calling all HuffPost superfans!
Sign up for membership to become a founding member and help shape HuffPost's next chapter