When I moved back to Miami from NYC in 2000, I joined an amazing improv group called Laughing Gas. There I met Mr. Cesar Gracia. I will never forget his hysterical green dinosaur character he used for the "Mating Game". Dressed in a full blown green unitard with a tail,Cesar woed the special guest with his sweet little skwacks. After a few months life happened and we went our separate ways, I become a full time mom and build a business and Cesar went to NYC to persue his dreams.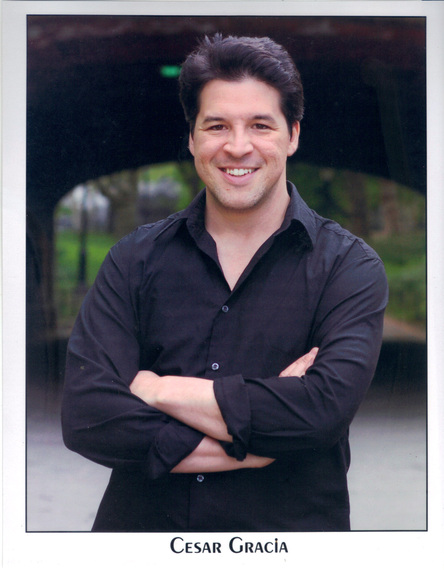 Photo by Danielle DeJesus.
As luck would have it, we both have returned to our true love, theatre and I reconnected with Cesar in September of 2015. I was working in Miami on a new idea and I needed some talent for a piece, enter Cesar Gracia! After jogging his memory he remembered me and the rest is history.
Cesar returned to Miami to settled down and plant some roots and it seems to be working for him.
This month, Cesar will be mounting his hit comedy , The Al Pacino School of Acting at Miami's own Micro theatre. Premiering in NYC, Cesar is thrilled to be bringing the piece to his home town.
It will take place Wednesday night in July Only. I can't wait to see this play live, the promo alone fills me with Butterfly giggles...and if you happen to be in Miami and you ever wanted to take a swing at acting, here is your chance. Cesar, as Pacino, uses the audience to teach his own personal style of acting and it becomes a once in a life time night of interactive hilarity. watch his video here.
https://www.facebook.com/AlPacinoschoolofacting?fref=ts
I caught up with Cesar while he was putting the final touches on his play. Here is what he has to say in a way only Cesar can!
Who are you? I am Cesar Gracia a local actor and filmmaker here in Miami.
How would you characterize yourself? I don't know. Talkative and humorous comes to mind.
What is your connection to the community/city? I was raised here. I have been in love with Miami since I was very young. I want to wear a Marlins hat!
Favorite Characters/Plays? I like comedy and I like shows that expose something about the human experience, also true stories.
Role Models? Bruce Lee, Martin Scorsese, Alvarez Guedez and Walt Disney.
How did you end up in theater? My father was a performer, he was a ventriloquist. I always wanted to be on stage.
What is your voice? I'm a romantic fool, I don't know if I speak for anyone.
Favorite style of theater? All of it. I don't discriminate.
What do you gain in theater? Oxygen. It might sound silly but I do need it to breathe. I have been without theater at one point and it wasn't fun. The smell of black paint and the feel of cheap plywood under my feet. It's just home.

Any other words you would like to express about theatre and perhaps your journey in it?
There is isn't enough of it. When ever people experience theater either as an actor or an audience they get hooked. There aren't many things that compare to live entertainment but I still feel that there could be a bigger audience. For me I'm just glad I got involved early. I don't know what else I would be doing.
Need a really good laugh mid week, check his Facebook page and see why Cesar is a BIG voice in Small Theatre.SNEAK PEAK
Calling all HuffPost superfans!
Sign up for membership to become a founding member and help shape HuffPost's next chapter