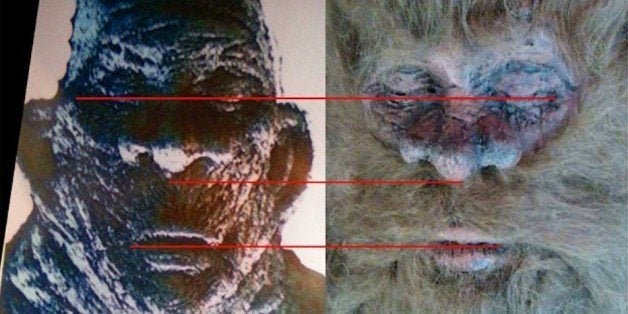 Rick Dyer, who once proclaimed he'd "go down in history as the best Bigfoot tracker in the world," has cried Bigfoot a few too many times. Last Friday Dyer confessed that the purported Bigfoot that he toured -- and charged folks to see -- was a fake.
In a post to his Facebook page, Dyer wrote a long and rambling confession. "Coming clean about everything is necessary for a new start," Dyer wrote. "From this moment own (sic), I wlll speak the truth! No more lies, tall tales or wild goose chases to mess with the haters!"
This chapter in Dyer's ongoing Bigfoot fantasy began in 2012 (some years after a previous Bigfoot hoax in 2008 to which he also confessed), when he claimed to kill an 8-foot-tall Bigfoot-like creature in Texas. He went on to declare last year that an unnamed university had completed DNA analysis and determined that the creature -- nicknamed "Hank" by Dyer -- was an unknown species.
In January, Dyer announced that he would take the beast on a national tour and charge people to see it. From the start, the tour encountered problems -- among them a lack of venues willing to let him display Hank, and Dyer's unwillingness to release the alleged DNA "results."
Watch the evolution of Hank the Bigfoot in the following slideshow. The story continues below.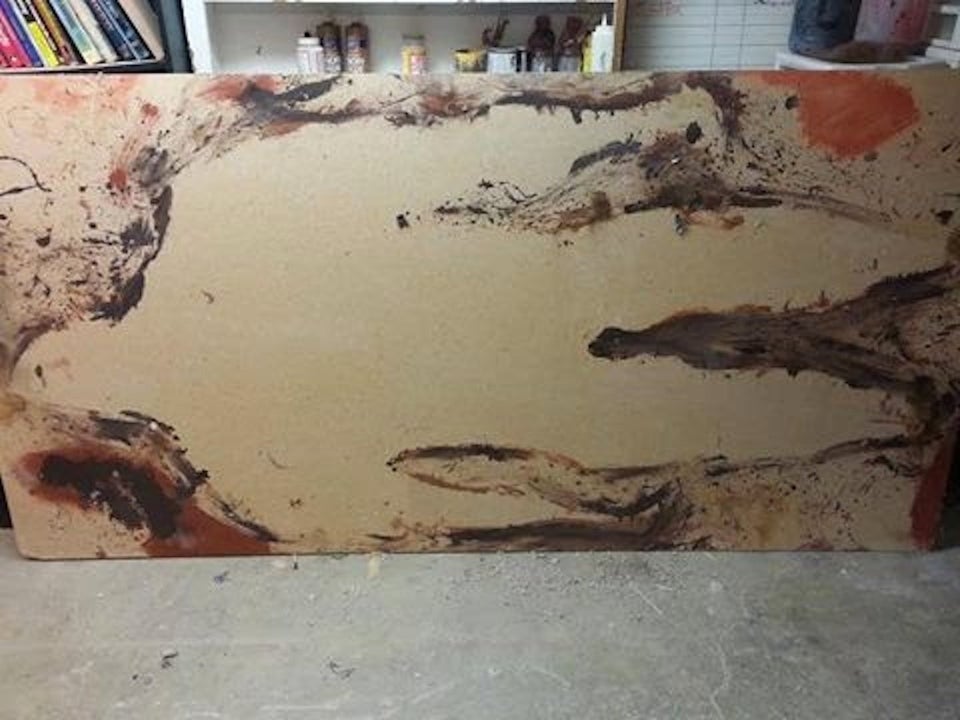 Bigfoot 'Hank': From Clay To Display

Andrew Clacy, Dyer's business partner and tour promoter, told HuffPost in a statement, "I met Rick Dyer online some time ago, and over time a relationship developed and ... I was of the opinion that the events and subsequent body were genuine based upon solely on the advice and information supplied to me by Dyer."
The Huffington Post had several conversations with Dyer and Clacy in February, when the Hank tour was poised to kick off in Arizona. At the time, Clacy said he truly believed that Hank was genuine, and was convinced that others would fall under the spell of Dyer's Hank show.
But in an email to HuffPost last Friday, Clacy is now singing a different tune.
"My suspicions in relation to the authenticity of the body started to develop," Clacy wrote. "[When] I confronted Dyer on my suspicions, he admitted to me personally that Hank was not a real body, but rather, a construct of a company from Washington state which was paid for by Dyer. Once I became [aware of] the truth, I could no longer continue in my role with Rick Dyer on moral and ethical grounds, and made the decision to immediately return home to Australia to continue my business."
As for Hank's creator, he's a man named Chris Russell. He told The Huffington Post that he built the body, not suspecting that Dyer planned to charge admission to view the contrivance.
Russell owns the Spokane, Wash.-based Twisted Toybox, where he creates custom Halloween masks, props and costumes for attractions around the world. Dyer contacted him last year, "saying that he was going to be making a film about Bigfoot and they needed a Bigfoot prop. It was a very non-descriptive phone call, other than the fact that he needed a prop of a dead Bigfoot laying there," Russell told HuffPost.
After discussing with Dyer several options for Hank's look, Russell says Dyer sent him a payment.
"I sculpted it in about five days, then it took a few days to make the mold, and then, once the mold was finished, we had to flip the mold over and clean all of the clay and everything out of it, and that took a couple days. And then a couple more days to put the latex in the foam and the mold, pull it out, paint it and glue the hair on it, and it was done," said Russell, of the two-week construction process.
Russell also told HuffPost he agreed to sign a nondisclosure agreement with Dyer never to mention that he was Hank's creator.
"I had to keep quiet for life, unless I heard a code [phrase], 'Project Footprint,' which meant that it was OK to discuss this," Russell said. "I was only to discuss it with someone who called on the phone if they mentioned 'Project Footprint,' or in an email. That would mean it was Rick or one of his associates or somebody with the film studio."
Russell said he became concerned when word leaked out that he had created Hank and he started getting harassed.
"I pretty much ignored it, other than all of the calls and emails with people saying, 'You know you helped Rick Dyer.' I was getting emails and calls daily. I got emails with pictures of my house in it and people saying, 'We know where you are, who you are and what you did.' It was kind of crazy, so I tried to stay out of it."
Watch this recent TV News report investigating Rick Dyer's Bigfoot past.
Clacy suggested to HuffPost that he was duped as much as the public was. "Dyer needed me to believe the body was real so I would contact the media and help make him money, which I did," he said. "I have personally become subject to extreme media and online criticism of my involvement and association with Rick Dyer, a relationship which I now deeply regret."
In his Facebook post, Dyer goes so far as to downplay Clacy's role in the deception and its success: "Not trying to be a smart ass, but when I said the haters made this happen and made me money, that was the truth! Controversy sales (sic) in a very big way...It wasn't Andrew [Clacy] that made the media come -- a monkey can make a phone call ... it was the haters and I really thank them for that."
Loren Coleman, director and founder of the International Cryptozoology Museum in Portland, Maine, and author of Bigfoot: The True Story Of Apes In America, suggested that Dyer has lost any credibility in the field.
"It's clear, over and over again, he's making money from all of these hoaxes," he said. "It certainly bothers me that the main core people in the Bigfoot field know about him, don't consider his stories credible and ignore him, but he keeps going on until he gets publicity."
Clacy said he would make himself available to cooperate with any federal or state law enforcement investigations that may arise.
"[Dyer] always leaves the door open for his next hoax. He's gonna keep doing it again and again," said Coleman. "All he has to do is wait another four or five years, and people will forget this."
Like Us On Facebook |

Follow Us On Twitter |

Contact The Author
Support HuffPost
The Stakes Have Never Been Higher
Related
Before You Go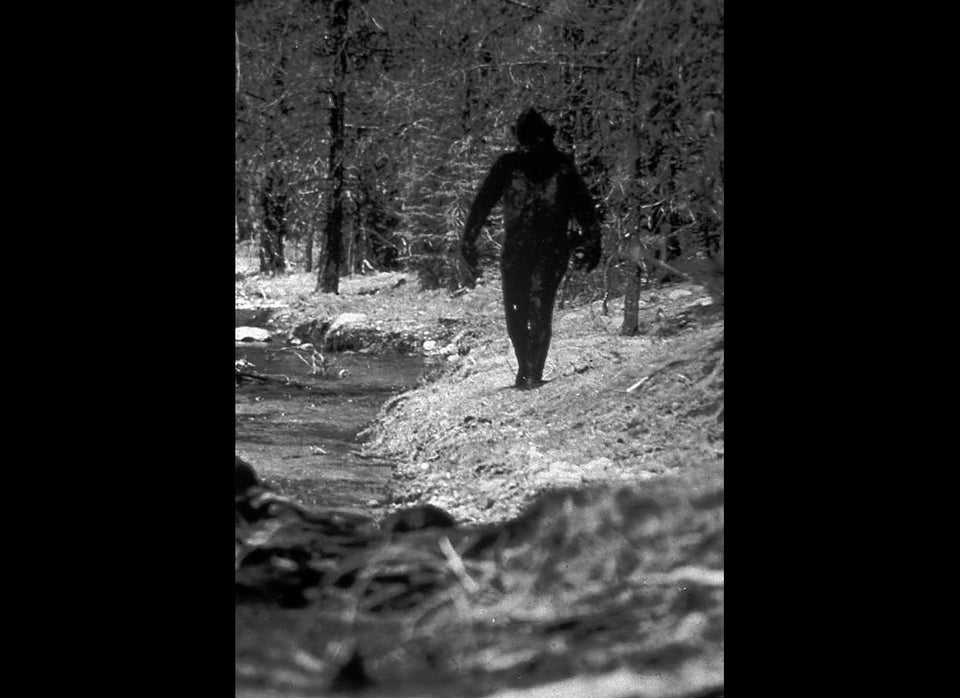 The Legend of Bigfoot Continues
Popular in the Community