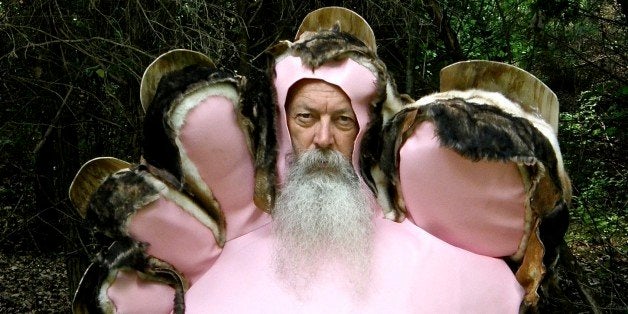 Ladies and gentlemen, children of all ages, the world's most terrifying creature -- Bigfoot -- has arrived in New York City...sort of.
With little fanfare, we previously warned you -- umm, announced to you -- that the Tiny Top Circus, "the greatest and the smallest travelling show on Earth," would present a real Bigfoot in Manhattan's Washington Square Park today.
The long-anticipated moment happened at high noon, with the presentation of, for the first time ever: Bigfoot, a VERY big foot.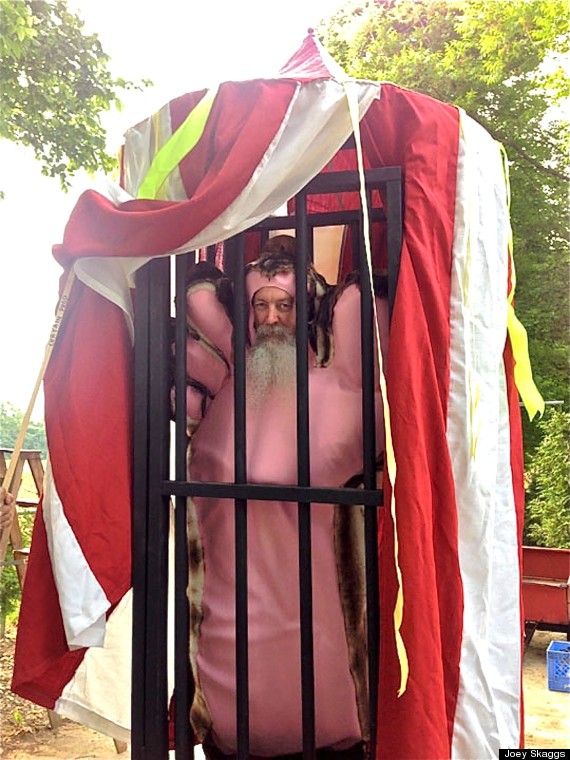 One publicity poster announcing the Biggy event spelled out a variety of rules that the public was encouraged to heed prior to the creature's unveiling:
Proceed at your own risk.
People with heart conditions or those prone to fainting be warned.
No one with serious medical conditions allowed.
All children must be accompanied by an adult.
We are not responsible for any medical or psychological problems resulting from this encounter.
Stand back at least 3 feet from the cage.
Do not touch, pet or feed.
Do not scream.
Prank artist Joey Skaggs is the sheer genius behind this latest Bigfoot debacle -- of which there have been many -- but Skaggs takes the concept of "There's a sucker born every minute" to the ultimate degree.
Skaggs circled Washington Square Park in a tiny bigtop, pulled by a tricycle. When the tent flaps came up, there was Skaggs, dressed as a giant foot. The prankster laughed and told the crowd, "If you believe in Bigfoot, you're at least as gullible as people who believe in religion or politics."
And wait! We couldn't help notice something amazing about the look that Skaggs brings to his Bigfoot. The following composite image shows (on the left) the alleged face of Bigfoot displayed by hunter Rick Dyer earlier this year until he finally confessed it was all faked. On the right side of this image is hoaxer Skaggs inside that BIG foot costume he just appeared in earlier today. Do you notice any facial similarities here?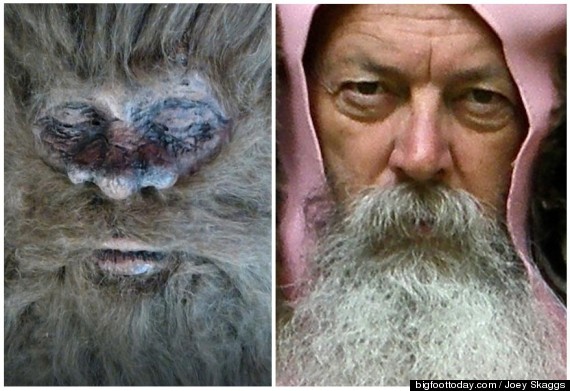 To see more authentic images of Bigfoot in his natural habitat -- featuring a toe that looks remarkably like Skaggs -- check out the following slideshow.
PHOTO GALLERY
Joey Skaggs Bigfoot
We offer some advice to all other Bigfoot hoaxers out there -- and you know who you are: Skaggs has raised the bar against which all future Bigfoot bamboozles must be measured.
REAL LIFE. REAL NEWS. REAL VOICES.
Help us tell more of the stories that matter from voices that too often remain unheard.
BEFORE YOU GO
PHOTO GALLERY
The Legend of Bigfoot Continues