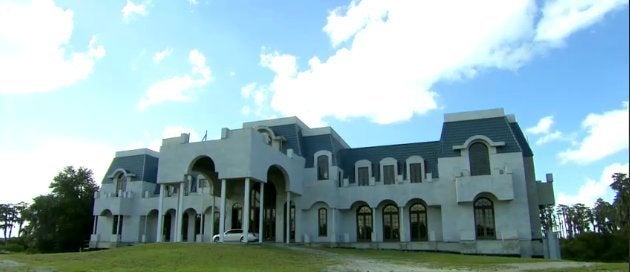 All it takes it 90,000 square-feet, 45-foot ceilings, and doors and window frames with $4 million price tags to build the biggest house in America.
David and Jackie Siegel have nicknamed their Orlando, Fla., mansion "Versailles" and the couple hopes the money train keeps running until the construction is complete.
Click here to watch the full "Good Morning America" interview.
The would-be Versailles will reportedly feature nine kitchens, a bowling alley, three swimming pools and a full baseball diamond.
The 76-year-old billionaire and his 46-year-old wife had to stop construction on the home three years ago when the market crashed and financing for Westgate Resorts slowed, according to Bloomberg Businessweek. Now, the house is only 60 percent complete and, although the Siegels claim they plan to finish the home, it is currently on the market for a whopping $65 million.
"The Siegels are not like most Americans, but theirs is a very American story," Businessweek's Susan Berfield wrote. "It's a tale of hard work and borrowed money, of idle consumption, wanton ambition, and what happens when it all comes to an abrupt halt."
Siegel's Westgate customers borrowed money from the company to pay for their timeshares, the company borrowed from the banks, and when the banks stopped lending, the house of cards collapsed, according to the Forward.
The film follows the Siegel's path from the start of their lavish plans to have the biggest house in America in 2007 through the financial crash of 2008.
"I didn't think people like them would be affected by the economic crisis," Greenfield told the Forward. "I assumed that people with this kind of wealth would have a lot of money on the side -- a cushion, some protection. It wasn't until later that David told me he had signed personally for all the loans."
"The Queen of Versailles" premiered at the Sundance Film Festival this year and will air on Bravo in 2013.
Despite the fact that David and Jackie Siegel were privy to the feeling of financial hardships, the two show little compassion for the 99%.
When asked to justify their ostentatious lifestyle while much of the country continues to struggle, Jackie simply replied, "Let them eat cake."
CLARIFICATION: While the Biltmore Estate in Asheville, N.C., measures 174,000 square feet, it is now a National Historic Landmark. The Siegel's home is the largest house in the country to be used for residential purposes.
WATCH: "The Queen of Versailles" Official Trailer:
Popular in the Community