Three of the world's heaviest polluters will likely face the greatest human and financial costs caused by coastal flooding, one of the effects of climate change.
According to a report released Monday by Christian Aid, an anti-poverty organization, people living in the U.S., China and India -- three of the world's very worst offenders in terms of greenhouse gas emission -- face the greatest risks posed by coastal flooding.
By 2060, more than a billion people worldwide will likely confront coastal flooding due to sea level rise, storm surges and extreme weather, with the majority of those people living in major cities throughout Asia.
Calcutta, India, tops the list, where around 1.3 million people are currently exposed to coastal flooding. By 2070, that number is expected to balloon to 14 million, according to the report. Mumbai ranks second, where an estimated 11.4 million people could face disruption due to flooding by 2070. Dhaka, Bangladesh, is third with a projected 11.1 million vulnerable people.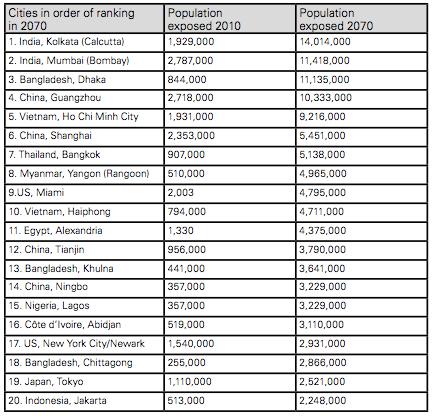 The poorest residents in these areas are likely to be hit hardest, as they would be ill-suited to respond to extreme climate events and would have the most difficult time rebuilding their lives afterward.
"Cruelly, it will be the poor that will suffer the most. Although the financial cost to cities in rich countries will be crippling, wealthier people will at least have options to relocate and receive insurance protection," Dr Alison Doig, one of the authors of the report, said in a release accompanying the study. "Evidence shows that from New Orleans to Dhaka, it is the poorest who are most vulnerable because they have the worst infrastructure and no social or financial safety nets to help them recover."
That includes people like Adan Morales Saracay, a 59-year-old fisherman in El Salvador whose family nearly died last year amid a series of wave surges created by a storm at sea.
We were in panic for the love of our families, we didn't want to lose anyone. So we decided to abandon everything, but it was very scary.

Adan Saracay, a Salvadoran fisherman who lost his house in a wave surge.
"It was a Saturday around 2pm. We saw that the waves started getting much larger. Within minutes they came into our houses. By the time the night came, we had to evacuate our entire families. The waves were about 13-14 meters [42 - 46 feet] high," Saracay recalled to the authors of the report. "We were in panic for the love of our families, we didn't want to lose anyone. So we decided to abandon everything, but it was very scary."
"Never in my life have I seen any waves like this before," he went on. "For the past ten years, the weather has been less predictable. We don't have anywhere to go."
After the disaster, Saracay's house was buried in sand and debris, and the fish he relies on for his livelihood were harder to catch, having fled to deeper water amid the surge.
In addition to the human toll, the report predicts that flooding will exact a large financial cost on coastal cities as well.
In financial terms, Miami is the city that stands to lose the most as oceans rise -- not just in the U.S. but in the world. The Florida city is projected to have some $3.5 trillion in assets exposed to coastal flooding by 2070. According to the report, the second most at-risk city in 2070 will be Guangzhou, China, with $3.4 trillion liable; the New York City/Newark, New Jersey area comes in third on the list with a projected $2.1 trillion.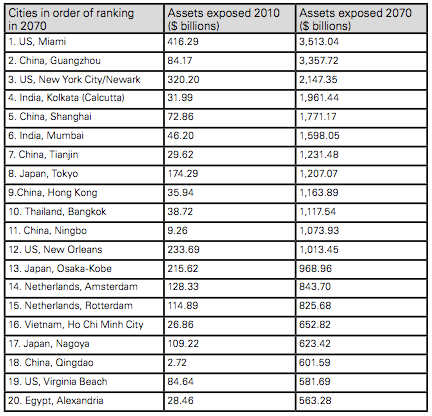 To combat these massive human and financial costs, Doig and her co-authors argue strongly in favor of taking action now to lessen pain in the future.
"There is a chance this horrifying vision of the future can be avoided," Doig, a HuffPost contributor, noted in the release. "It is striking that the cities facing the most severe impacts are in countries with high contributions of carbon emissions. The first thing we can do is speed up the global transition away from dirty fossil fuels to the clean, renewably [sic] energy of the future."
"We can also do more to prepare for such occurrences," she added. "Spending money now on reducing the risk of disasters will save money and lives later. Such investment is a no brainer."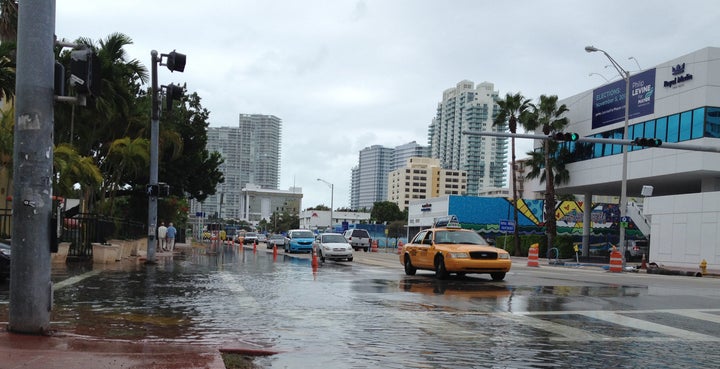 "We cannot prevent natural disasters," he said. "But at least we can prepare ourselves how to minimize disaster risk. We can reduce disaster risk."
According to Ban, every dollar spent planning for and reducing risk ahead of time reduces the cost spent cleaning up after a disaster by around $7. 
"Resilient recovery means protecting societies against the worst damage from future disasters," he said. "The money spent is not a cost -- it is a valuable investment. Humanitarian needs are rising around the world. Climate change is increasing the risks. Disaster risk reduction is a frontline against climate change."
Calling all HuffPost superfans!
Sign up for membership to become a founding member and help shape HuffPost's next chapter
BEFORE YOU GO
PHOTO GALLERY
Tragically Beautiful Exhibit Shows How Our Oceans Suffer