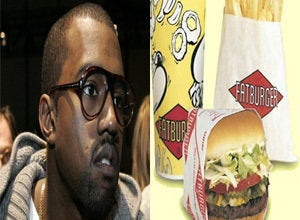 I love Kanye West. Seriously, I think Kanye West is one of the great popular artists of our times. So does Kanye West. That sort of supreme self-confidence -- and a certain careless genius for self-promotion -- helps explain why Kanye manages to get himself in high-profile trouble at award shows. Other people come to award shows and basically thank some people they know and claim to be somehow "humbled." Not Kanye West. I also really like Taylor Swift, so here's a playlist for Kanye to play while he works on his manners -- until the next award show.
"BIGMOUTH STRIKES AGAIN" - The Smiths
"YOU TALK TOO MUCH" - Run-DMC
"I WANNA TALK ABOUT ME" -- Toby Keith
"SOMETHING STUPID" - Frank and Nancy Sinatra
"TALK OF THE TOWN" - The Pretenders
"RUDE MOOD" - Stevie Ray Vaughan
"A LITTLE BIT COUNTRY, A LITTLE BIT ROCK & ROLL" - Donnie & Marie Osmond
"TALK" - Coldplay
"TALK TALK" - Talk Talk
"SHUT UP" - Black Eyed Peas
"SOMETHING TO TALK ABOUT" - Bonnie Raitt
"CARELESS WHISPER" - Wham
"I MAY BE RUDE BUT I'M THE TRUTH" - Cobra Starship
"SILENCE IS GOLDEN" - Frankie Valli & The Four Seasons
What would you play for Kanye?

Calling all HuffPost superfans!
Sign up for membership to become a founding member and help shape HuffPost's next chapter