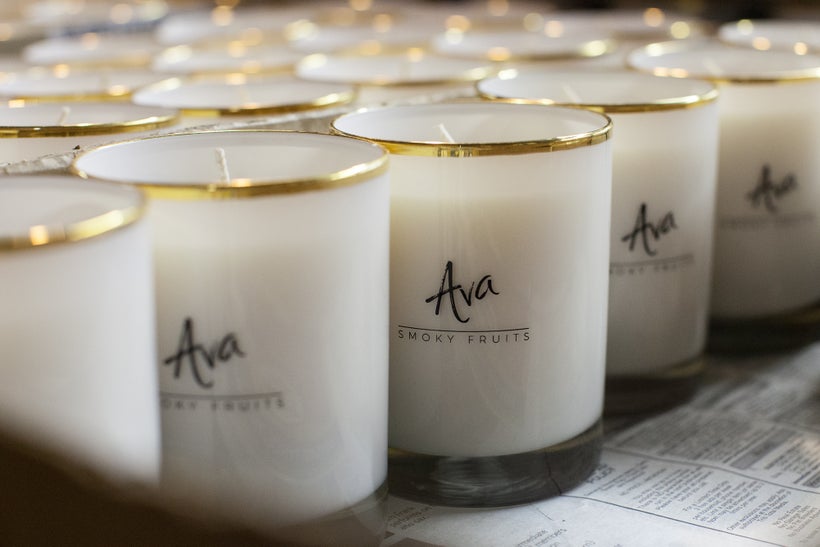 A lit candle can transform any basic space into a mature looking room. A good candle will linger throughout a home. And a great candle burns all night. BIJOU is a women-owned, women-run company based in New York City. All candles are made of 100% soy wax, with a high fragrance load, all made and hand-poured in USA. It's founders' Alaina and Jocelyn Young Drew's baby, so I had to get the scoop on brand's mission and of course safety tips for burning candles! Go inside our conversation.
Mel Writes : Where did the name "Bijou" come from? It sounds either super fancy or like Halloween… which is a good thing. 
Bijou Founders Alaina and Jocelyn: Super fancy Halloween is literally our personal brand of happiness, so that​'​s perfect! Bijou is a ​F​rench word meaning a jewel or trinket or something small and precious. We feel like there's always the perfect French word for something you​'​r​e​ trying to describe. 
Is there something different about these bijou candles after the rebrand? Ingredients different? 
Yes! We wanted to be able to control our quality better and have more freedom as far as design was concerned. We switched to ​milk ​glass vessels​ with a 22 karat gold rim​ which gave us that warm glow we were after. All of our candles are now 100% soy which burns stronger, longer, and cleaner. We are proud to say our candles are now made 100% in the USA​.​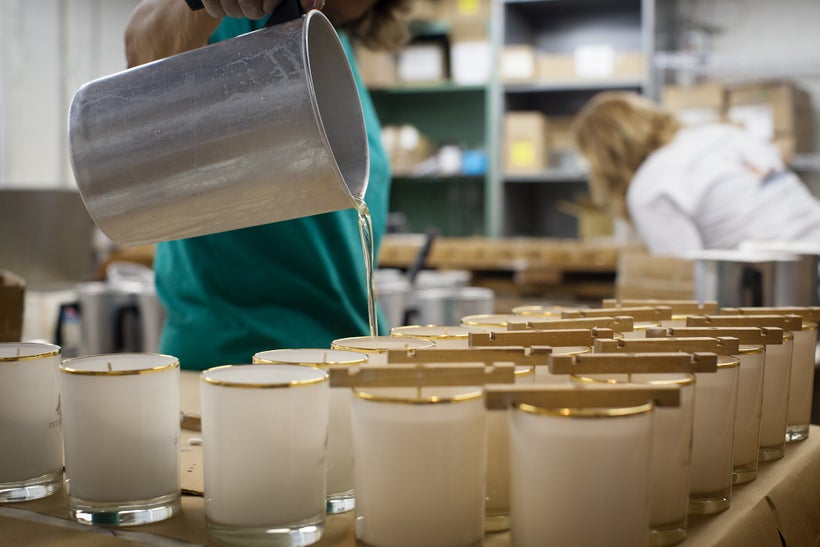 Ava makes my apartment smell so rich and the scent just lingers… What Is your design process like? 
We developed the scents first and then designed the vessels based on that. These scents were a labor of love that took over a year to perfect. We like there to be something for everyone in each scent. If you don't love pure vanilla, no worries, we throw some smoky bourbon in there. It's all about balance and making it widely palatable and interesting. 
Is there any fragrance/candle scent that remind you of both your background, Jocelyn -- as a makeup artist in the fragrance corner of say Bloomingdale's? 
Jocelyn​:​ Fragrance has been a huge part of my life since I was little. I come from a family of women who always wore perfume and was given my first perfume (Love's Baby Soft!) in​ the​ first grade. I went to Cosmetology school at Aveda and their signature herbal scents definitely inspired me. I also worked for a while in the Barney's beauty dep​artment​ and was surrounded by this incredible blend of very expensive perfume​s​, candles, and lotions. It definitely spoiled me​.​ Alaina: I've always loved and burned candles​,​ but once Jocelyn started bringing home those luxe candles ​I​ went ​through a whole new level of obsessed​,​ which really was the seed for Bijou!
Is there a story behind why each candle scent has a feminine name? 
The names came about after we had decided on all of the fragrances. We were referring to them like people. We were like​,​ "​O​h​,​ ​she looks so like Smoky Fruits​,​" and Alaina had the idea to give them names from women in Old Hollywood. We felt it reflected a time where luxury and elegance reigned​,​ and we loved the juxtaposition of something vintage with the more modern design​,​ with the packaging​,​ etc. We also love to pay homage to women from history who inspire us and that will be a lot of the inspiration for Bijou in the future​.​
What is the brand's inspo? 
At the heart of it, it's about affordable luxury and not feeling guilty when you want to treat yourself. 
Any safety tips for burning candles in general? 
Never burn unattended, always burn on a heat safe surface, and trim your wicks between each use! Trimming your wicks makes your candle burn cleaner and with less smoke!
Calling all HuffPost superfans!
Sign up for membership to become a founding member and help shape HuffPost's next chapter
This post was published on the now-closed HuffPost Contributor platform. Contributors control their own work and posted freely to our site. If you need to flag this entry as abusive,
send us an email
.