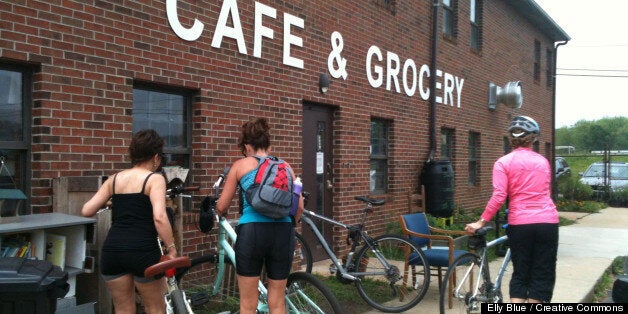 NEW YORK -- When Mary Walsh opened Swamp Rabbit Café and Grocery in 2011, the business had all the markings of a venture destined to fail. Rather than open up in downtown Greenville, S.C., the SUV-friendly town where Walsh and her business partner, Jacqueline Oliver, live, the duo set up shop in an abandoned storefront more easily accessible via bike trail. In a part of the country better known for pulled pork and fried food, Walsh's store offered organic hummus and kombucha.
But two years after launching, Walsh says sales are going briskly, driven by customers who'd rather take their groceries home in a bike basket than a car trunk. A gym, bike shop and "environmental hair and nail salon" have opened next door, turning a site Walsh says used to be a crackhouse into a bike-focused strip mall.
While some may have called Walsh crazy for choosing to open her store along a cycling path, her success is part of a surge in bike-related business opportunities. With the initial economic hit from the Great Recession in the rearview mirror, both new and existing businesses across the country are tapping into changing attitudes about biking as a way to drive up traffic and put their sales into high gear.
"It's really low-hanging fruit changes being put in place that make a big impact," said April Economides, an urban planning consultant who has advised businesses in the city of Long Beach, Calif., on how to make their shopping districts more bike-friendly.
"When you offer things like basic bike repair, events, free bike valet, it puts the idea in people's mind that 'Oh, I could bike there'," Economides said. "That's good for businesses because cyclists travel at human speed. We notice businesses that we normally wouldn't notice if we were going in the car. And it's much easier to stop, park for free and walk right in."
As a direct result of various efforts to make the city of Long Beach more bike-friendly, Economides said, 25 businesses have opened or expanded there.
Academic studies have backed the idea that promoting cycling can have positive economic effects. Researchers have estimated that all aspects of cycling -- increased sales by bike retailers, out-of-state tourism, a bump in traffic to businesses near bike lanes, gains from positive health effects, and other factors -- contribute $435 million per year to Iowa's economy. Similar studies have found contributions of $481 million to Minnesota and $556 to Wisconsin. In Colorado, a famously bike-friendly state, the estimate is $1 billion.
In Memphis, Tenn., the president of a community development nonprofit said that a program by the city government to carve out bike lanes from old trolley tracks and railroad bridges has helped turn a blighted part of central Memphis into a vibrant arts district.
"We have a lot of businesses moving in here because they are seeing the future when the bike connector is in there," said David Wayne Brown, president of Historic Broad Avenue Arts District. "There's a lot of expectation and anticipation that this is going to be the central place for people to use as a hub. Maybe stop and get a coffee when they're on a ride with their friends."
One of the most exciting projects being undertaken, Brown said, is the rehabilitation of a warehouse that will serve as a community performance space. The center is expected to be an anchor for the business district, with a restaurant on the rooftop -- easily accessible via bike ramp, of course -- as a likely centerpiece.
"We have a lot of plans that are pie-in-the-sky, but also realistically possible in the future," Brown said. One such plan involves placing shallow pools near the bike lane to serve overheated cyclists.
"It could be a place for people to cool down when it gets really hot in the summer and yell 'good luck!' at the other cyclists passing by," Brown said.
That encouragement from other cyclists -- really, the development of a bike culture in cities and towns -- is just as important for businesses as biking infrastructure like trails and lanes, several entrepreneurs told HuffPost.
In New York City, designer Sarah Canner has developed Vespertine, a line of couture reflective apparel meant to cater to female cyclists who might enjoy biking for short trips, and want to be safe but also fashionable. This type of biker is appearing more often on New York City's streets as cycling becomes more popular and in the wake of the installation of a bike share program in the city, Canner said. In reference to the mayor of New York, who has aggressively pushed the city to build bike infrastructure during his tenure, Canner called this new breed of cyclist "the Bloomberg-model biker"
"Necessity is the mother of invention," Canner said. "There's been a number of people that have been inspired to figure out new challenges -- and very much on the fashion side."
"Bikes are trendy, and they've been so for a couple of years," she said. "It's been a nice time to be involved with bikes."
CORRECTION: A previous version of this story misquoted April Economides. Overall efforts of many people to make Long Beach more bike friendly have helped businesses, not her efforts alone. We regret the error.
Related
Before You Go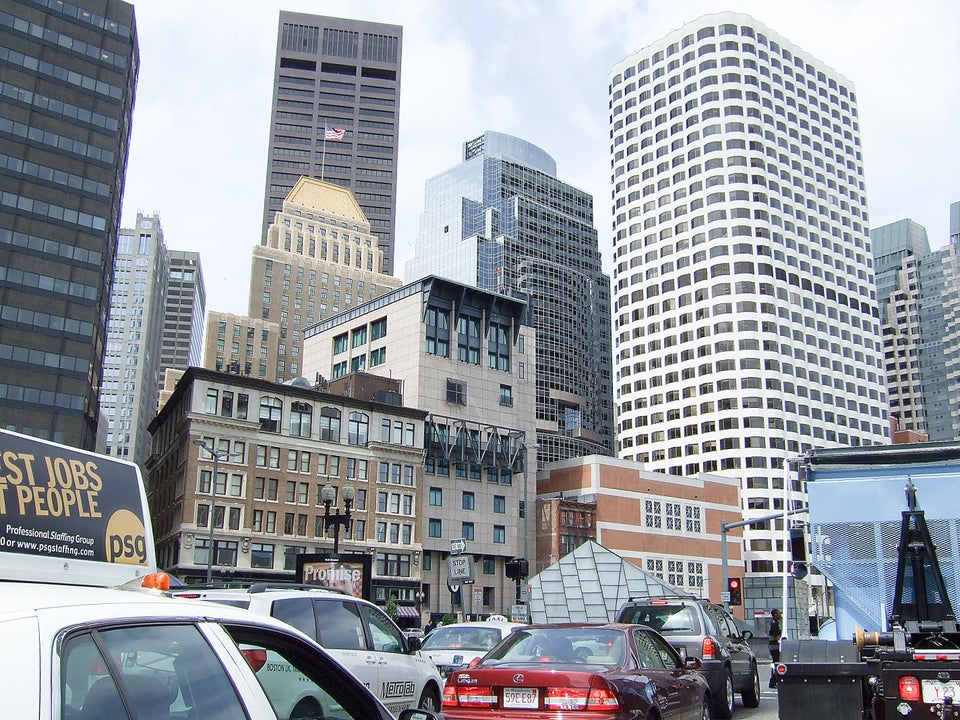 Cities With The Worst Traffic: 24/7 Wall St.
Popular in the Community