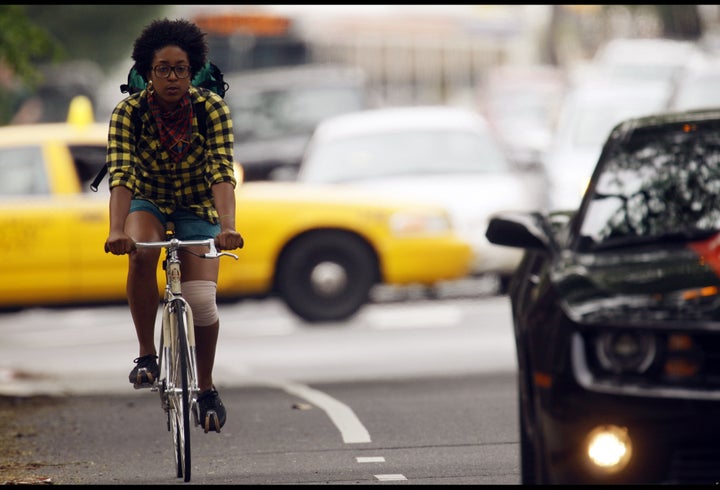 It's official. Bike lanes have become a metaphor.
For some they symbolize the "nanny state" run amok -- as if the City were forcing drivers out of their cars and compelling them to get around on two wheels instead.
But to paraphrase that great cyclist Sigmund Freud, sometimes a bike lane is just a bike lane.
They serve a simple purpose -- to help provide all New Yorkers with more diverse transportation choices.
Some New Yorkers will always drive, or take a cab. Others will rely on public transportation. Many will walk. And a greater number -- a 50% increase in the last four years -- will ride bicycles to work and to recreate.
The New York of the future should accommodate all of these options.
By 2030, we'll add nearly a million more people to New York. The City will become denser. If current trends continue the City will become hotter -- and gasoline for our automobiles might well be more expensive.
It is critical that we plan for this future, and faced with great changes, our city and its infrastructure must adapt. We just marked the 200th anniversary of the Manhattan street grid, and until a couple years ago, our streets had remained essentially fixed for the last 50 years.
That's why Community Boards across the city have requested them and voted for them. There have been 40 different individual committee and full community board votes and resolutions supporting bike lanes over the last several years.
And the results are clear: When protected bike lanes are installed, injury crashes for all road users typically drop by more than 40 percent.
Bike lanes are hardly the answer everywhere and they are not a panacea to all our transportation needs -- the city has 6,000 miles of streets, and only 255 miles of bike lanes have been added during the last four years.
But they will help make our streets safer for everyone and give New Yorkers more transportation options today and in the future.
That reality is why we will continue to work with community groups that seek bike lanes in their neighborhoods.
Popular in the Community