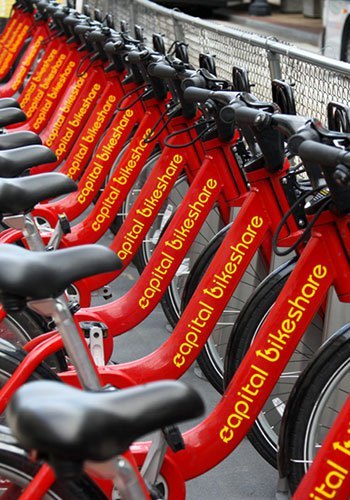 In just four years, bike share has gone from being the fantasy of a few enthusiasts to a practical and low-cost way for tens of thousands of people in American cities, both large and small, to get around. While some cities have created their own bike share systems, many have partnered with Alta Bicycle Share, a company based out of Portland, Oregon.
Alta runs bike share systems in New York City, Washington, D.C., Boston, Chicago and Chattanooga, really inventing these systems as they go. Like many start-ups, Alta Bicycle Share has never turned a profit and has also gotten blasted in the press for hiccups in the roll-out of its services (see the ongoing complaints with CitiBike in NYC).
But Alta Bicycle Share was recently acquired by outside investors, and Jay Walder, the former head of the New York City Metropolitan Transit Authority (MTA), will soon become the new CEO.
According to Alta Bike Share founder Mia Birk, who spoke at Washington Ideas Forum, an event organized by The Atltantic and the Aspen Institute, this move is for the best, as "this new group can take us to the next level." Birk said the acquisition signifies bike share is moving from niche into the mainstream, from being a start-up concept to a legitimate transportation option.
Birk, who is also the head of Alta Planning + Design, which plans and designs bicycle infrastructure, said bike share has been as transformational as any start-up in existence. "The numbers are phenomenal. To date, there have been an estimated 45 million miles traveled on bike share, ridden over 28 million trips."
While major bike share systems like Washington, D.C. and NYC's get all the press, Birk said there were actually 35 systems running in the U.S. Some smaller cities' systems may just have a few hundred bikes. For example, Salt Lake City has GREENbike. Indianapolis has started its Indiana Pacer Bikeshare, and San Antonio, Texas, has also gotten on board.
Bicycling in general is up, even if safety remains a major concern. According to data from a recent Governor's Highway Association study, bike use has increased 62 percent since 2000, but so have bike fatalities, with a 16 percent gain. Some 69 percent of those deaths have been in cities.
Birk said "we've found that as bike use increases, there is also an increase in the raw number of crashes. However, the number of fatalities is very small, so even a few deaths can make the percentages go up." Interestingly, some 80 percent of bicyclists killed are men, and 28 percent were shown to have been drinking. "People drinking on bikes are a real danger."
On New York City Mayor Bill de Blasio's goal of zero transportation-related deaths, Birk said this is a worthy but "probably more aspirational than realistic. Can we really expect everyone to behave? No. We don't have sovereign control over humanity."
To add, Birk said we must differentiate between bicyclist and bike share user deaths. "In bike share world, there have been no fatalities."
So what's coming up for bike share?
First, Birk sees further integration with other established transportation systems. Cities will roll out "one passes," which will enable transit users to easily shift between subways, buses, car share and bike share. "The San Francisco Bay area may be the first out of the gate."
Second, notoriously car-centric cities like Dallas and Atlanta will become more bike-friendly, at least in parts. "These cities may not become bike meccas, but there may be pockets that change the culture." In Dallas, Birk and her team are working on a new trail system; In Atlanta, the goal is to bring bike share to the Beltline project. Even Bentonville, Arkansas, home to Walmart, is creating a pocket of bike share, probably because it's a cheap way to get around. "It's not just in Portland anymore."
Lastly, bike share and bicycling in general will become even safer. Today, only 1 percent of Americans commute by bike. "These are usually male, lycra-clad adrenaline junkies." Another 6 percent of the population, said Birk, are "enthusiastic, confident bicyclists who bike on weekends with their kids but feel it's too dangerous to bike to work in traffic. They are concerned about safety and parking. They want a low stress network of bikeways, and better separation between cars and bicycles, like you find in the European Union."
To get that 6 percent commuting everyday, Birk argued that U.S. cities need "dedicated bike signals, which are used in every European transit system." These signals are crucial to improving safety and reducing the number of irresponsible bicyclists who fail to obey traffic signals and bike up on the sidewalks. "This is really what happens when you have very little bicycle infrastructure. People behave how they want." As one Dutch traffic engineer told her, "bicyclists are like water, they will flow into wherever they want to go."
So cities need to get moving on building out more bicycle infrastructure -- to meet growing demand and improve safety, but equally as importantly, to reduce the growing backlash against "bullying" bicyclists. In D.C., tensions have risen to such an extent between drivers and bicyclists that we can read statements like these in Washington Post op-eds: "It's a $500 fine for a motorist to hit a bicyclist in the District, but some behaviors are so egregious that some drivers might think it's worth paying the fine."
Calling all HuffPost superfans!
Sign up for membership to become a founding member and help shape HuffPost's next chapter