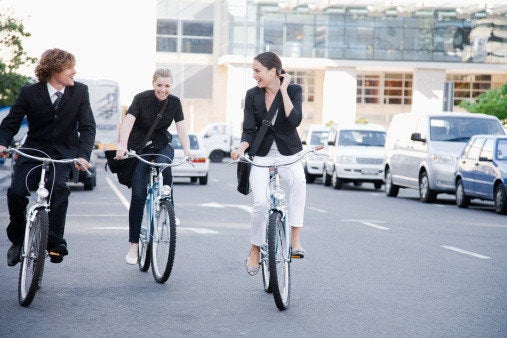 Fact: Bikes can be expensive.
This expense can be easily justified of you're one of those people who rides a bike to get wherever they need to go virtually every day. But what if you only use a bike every so often and, like most self-respecting locals, you wouldn't be caught dead on a rental?
Bike sharing programs are becoming increasingly popular institutions in major cities around the world. The programs generally work on a membership basis--once users sign up, they can check out a bike from an automated station, ride wherever they need to go and then return the bike to any station throughout the city.
Think Zipcar, but without the car.
Our bike sharing program, which SFMTA will run in conjunction with the Bay Area Air Quality Management District, will consist of approximately 500 bikes parked at 50 solar-powered, energy self-sufficient stations around SoMa and the Financial District.
As the San Francisco Bicycle Sharing Pilot Service Area map presents...the pilot service area will be centered in San Francisco's employment- and transit-rich Downtown/SOMA corridor between the Financial District, Market Street and the Transbay and Caltrain terminals. This area is notably flat, has the densest bikeway network coverage in San Francisco and enjoys the highest levels of cycling, yet those who commute by transit from cities to the east and south encounter difficulties bringing a bicycle with them on BART or Caltrain. Much of San Francisco's densely urbanized northeastern quadrant is similarly well-suited to bicycle sharing.
SFMTA's $7.9 million pilot program will roll out in conjunction with several similar bike sharing efforts in South Bay cities such as Mountain View, Palo Alto, Redwood City and San Jose.
A vendor for the program hasn't been selected and, as such, prices have yet to be set. However, costs are expected to fall in line with other bike sharing programs around the country, which range between about $45 and $75 a year.
San Francisco's program is relatively small-scale compared to similar ones in other cities. The New York City bike sharing program, pushed heavily by Mayor Michael Bloomberg, will encompass 10,000 bikes at 600 stations and is expected to go live around the same time as San Francisco.
The small size of San Francisco's program is largely due to it debuting as a pilot; its details can be continually tweaked by city officials. "As a planner, one of the interesting things about this project is that there will be a lot of data about how bikes are being used," SFMTA Senior Planner Heath Maddox told Mashable. "It would tell us where the high demand corridors are, and we could plan network improvements accordingly, not just for users of the bicycle program but for anybody riding a bike in the area."
One of the biggest issues in maintaining a functioning bike sharing program is ensuring the bikes don't get stolen and remain in good, working order. With Velib, Paris' venture that's served as a model for many of the programs developed since its launch in 2007, a full 80 percent of its over 20,000 bicycles have either been stolen or vandalized. At a cost of $3,500 per bike, than can become a prohibitively heavy expense.
SFMTA spokesman Paul Rose said he doesn't expect theft to be a major issue in San Francisco, because stealing shared bikes in most North American cities is uncommon. "All the leading technology and service providers in bike sharing have bikes and stations that are designed and built specifically to guard against theft and vandalism," said Rose. "Bikes are attached with very robust locking mechanisms to individual docks that are attached to station platforms."
Not only will the bikes be equipped with GPS, which could be used in their recovery in the event of theft, but they will be comprised of non-standard parts so stealing a bike to disassemble it and sell the pieces on the black market would hopefully prove impractical. In a city as notorious for bike theft as San Francisco, the efficacy of those anti-theft measures will be tested the moment the bikes hit the streets.
San Francisco's program was initially going to be run as a public/private partnership between SFMTA and media communications giant Clear Channel. Revenue from advertising placed on bike stations, and the bikes themselves, would subsidize the cost of running the program. However, when Clear Channel pulled out in 2009 citing economic factors, the city was left finance the program entirely with public funds.
The city's bike sharing program is expected to debut sometime next spring.
Calling all HuffPost superfans!
Sign up for membership to become a founding member and help shape HuffPost's next chapter