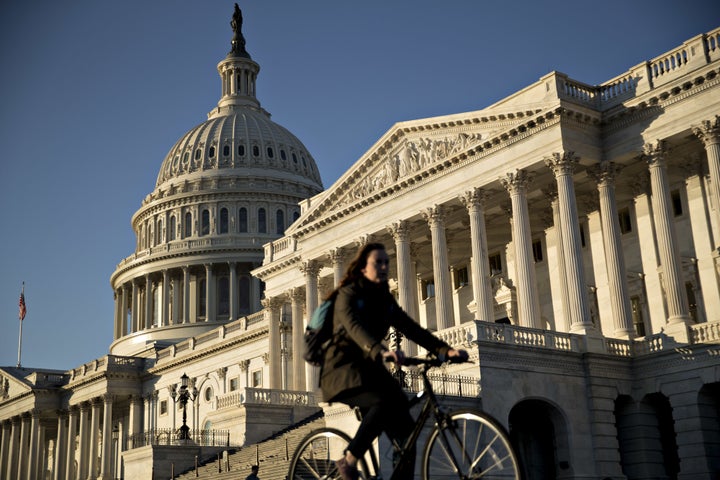 WASHINGTON ― Tucked inside the sweeping tax package Republicans rushed to enact last month is a tiny provision targeting people who bike to work.
Since 2009, businesses have been able to give workers who commute on bikes a tax-free benefit worth $20 a month to cover bike-related expenses. Not anymore: Cyclists will now have to pay taxes on that money.
"It's an example of the cats and dogs in this bill," Rep. Earl Blumenauer (D-Oregon), a staunch advocate of the bike benefit, told HuffPost. "Every week we're going to find something else that really wasn't discussed that matters to tens of thousands of people ― in this case, hundreds of thousands of people potentially."
Implemented in the wake of the Great Recession, the modest benefit for cyclists was meant to put more parity in the U.S. tax code between those who bike to work and those who drive or take mass transit. Commuters in the latter category have long been eligible for a tax benefit on parking fees and transit fares ― in the form of a tax break on up to $255 of their monthly pay.
Although the bike benefit was pocket change by comparison, cycling advocates say it was an important recognition by the federal government that not everyone drives or takes the subway to work. If your employer provided the benefit, you got reimbursed with tax-free money for necessary cycling expenses ― like a bike purchase, a tune-up or new equipment such as tires or a helmet.
The benefit also served as a modest incentive for people to take a healthy and environmentally friendly mode of travel to their jobs.
"Whether or not you have free or subsidized parking is a massive determinant in whether you drive to work," explained Colin Browne, a spokesman for the Washington Area Bicyclist Association, an advocacy group for D.C.-area cyclists. "This was a small way to try to balance that out and give folks an alternative."
The elimination of the bike benefit offers a useful window into how Republicans carried out their very complicated overhaul of the tax code with stunning speed. For starters, many lawmakers, let alone members of the public, didn't even know the measure was in the bill. No one HuffPost spoke to was able to identify the member or members of Congress who targeted the benefit for elimination. The change first cropped up in a Senate version of the tax package.
Spokespeople for the Senate Finance Committee, which drafted the upper chamber's version of the bill, didn't respond to a simple question: Why target bikes?
Committee Chairman Orrin Hatch (R-Utah), who is retiring from Congress at the end of this year, couldn't explain it either when HuffPost asked.
"We've had a lot of different priorities and we didn't always keep everything we wanted to keep," Hatch said, even though the final version of the bill did keep the bike provision.
According to Blumenauer, elimination of the bike benefit will raise an estimated $5 million a year for the federal government ― barely a rounding error among the $1.5 trillion in tax cuts. Since the provision barely affects revenue, the cycling advocates HuffPost interviewed sensed a political motivation at play. After all, even though people all over the country bike to work, the cyclists are more likely to live in or near big cities than in rural areas.
Like the highly controversial elimination of the state and local tax deduction, the death of the bike benefit may have been a way to stick it to liberals who live on the coasts, shop at Whole Foods and vote for Democrats. But nobody seems to know for sure.
"It could certainly be that. Or it could just be one [senator] who had a bad experience with a cyclist," said Ken McLeod, policy director at the League of American Bicyclists, a national advocacy group. "It's a relatively innocuous benefit that doesn't cost the federal government pretty much anything. It seems like it must be a personal or cultural thing rather than actual public policy."
The bike policy is one of several changes to employee fringe benefits in the new tax law, which offsets the revenue lost in corporate and individual tax cuts with an assortment of revenue increases. Tens of billions of dollars will be raised by disallowing employers from deducting the full value of worker compensation that takes the form of commuter benefits, entertainment, meals and employee achievement awards.
The law still allows employers to deduct bike-specific compensation on their corporate returns, but doesn't let them provide that monthly $20 tax-free to employees. Workers who drive or take mass transit, however, can still get tax-free reimbursements.
It's unclear if employers will continue to provide the bike benefit if it's less attractive to workers. The League of American Bicyclists encouraged bike commuters to take full advantage of their benefits before the end of last year.
Along with Blumenauer, Rep. Vern Buchanan (R-Fla.) is co-chair of the congressional bike caucus. He's also a member of the tax-writing House Ways and Means Committee, yet even he seemed blindsided by the shift in bike tax policy.
"We gotta change that," Buchanan said. "I just haven't focused on that but now that you brought it up, I will."
Arthur Delaney co-hosts the HuffPost Politics podcast:
Support HuffPost
The Stakes Have Never Been Higher
Popular in the Community