To anyone who's ever been a victim of bike theft, Olguiemar Freyre feels your pain.
After a thief made off with Freyre's $700 bike -- her only mode of transportation -- the 19-year-old DePaul University student penned a scorching (and profanity-laced) note to the thief that quickly went viral.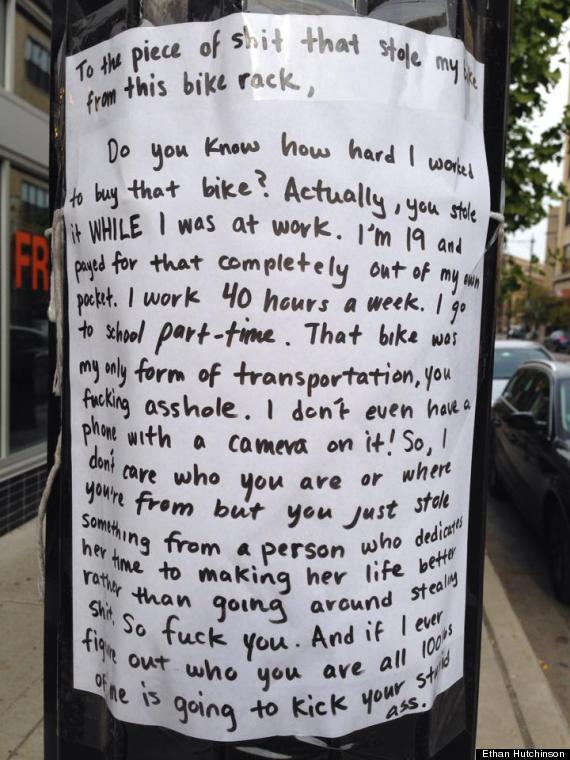 Freyre said her friend Ethan Hutchinson snapped a photo of her now-famous note.
"I looked outside and thought, 'My bike is gone...'" Freyre told The Huffington Post by phone on realizing her ride had been boosted. "I picked up the lock and started hitting the bike rack," Freyre added, describing her initial reaction.
As detailed in her note, Freyre explained she worked hard to save for the bike with the intention that it would save the cash-strapped college student money in the long run.
"School is expensive," said Freyre, who had to drop to part-time status as a student to work and earn money for tuition. "You don't get a [CTA] U-Pass if you're a part-time student, and I knew I wouldn't be able to afford to ride the train to get to work and school."
Freyre said she locked her bike up outside Lakeview Art Supply near Lincoln and Belmont, where she works, Monday "around 9:50 a.m." and noticed it was gone by 2 p.m. Freyre said she was shocked that someone would so brazenly steal her bike in the middle of the day in what she says is an otherwise nice neighborhood.
Employees at the nearby yoga studio said they didn't see anything suspicious and, upon closer inspection, Freyre noticed her lock was still on the rack, leading her to believe the thief must have ruined part of the bike to get it free.
"I figure [the thief] is selling [the bike] for parts, so I don't really have hope of ever finding it," she said.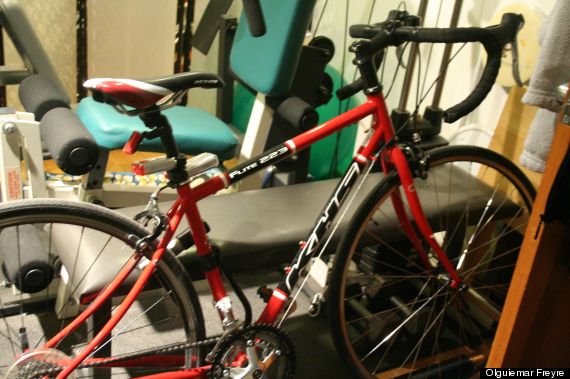 A photo of Freyre's bike that was stolen, "a red KHS Flite 223 Serial # U91270488."
After filing a police report, Freyre penned the note (and later mentioned she was so mad, she misspelled "paid" in her missive -- something Internet commenters have been quick to point out).
Luckily for the year-round cyclist, her story has a happy ending: "I have a new bike already," Freyre said.
Freyre said she was originally skeptical of the man's offer, whom she notes was "well-off," but soon learned his heart was in the right place.

"He said the same thing happened to him when he was 20 and he really felt for me and just wanted to buy me a new bike."
The man and his daughter met Freyre at a bike shop and purchased her a new ride. Though she said it's far less expensive than the one that was stolen, Freyre said her new set of wheels is "a really nice hybrid bike to get me from point A to point B."
As far as the Internet response to her ordeal, Freyre said most people responded to places like Reddit saying they felt they same way she did.
"I didn't post [the note] because I wanted a new bike and I didn't post it because I wanted this attention," Freyre said "I did it because I was so mad."
With several people making offers to replace her ride, Freyre said she's now thinking of a good way to pay their kindness forward in the form of a fundraiser or bike drive to benefit others who are unlucky victims of bike theft.
Special thanks to Neric Dominguez.
Clarification: When asked about the replacement bike that was bought for her, Olguiemar told HuffPost she purposely choose a new bike that was less expensive than the $700 one that was stolen because she "didn't want [the donor] to spend that much money."
Popular in the Community