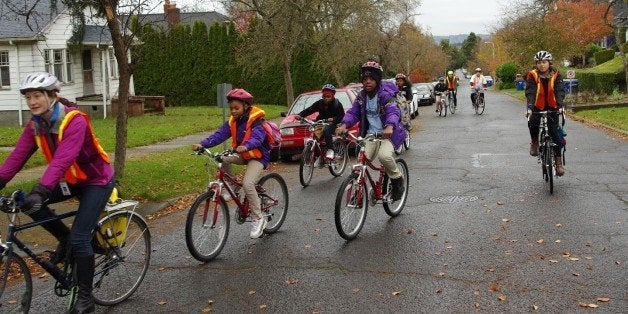 SEATTLE -- As the first rider in her neighborhood bicycle train, Maka Yusuf pedals nearly 4 miles and climbs more than 350 feet on the way to her elementary school. During the trip she is joined by several classmates and a handful of adult volunteers. Just a month ago, those formidable Seattle slopes forced Maka to walk her bike. She easily conquers them today.
And the benefits of students actively transporting themselves to and from school may go well beyond improved fitness, says Dr. Jason Mendoza, the pediatrician at Seattle Children's Hospital who is behind the bike train, a children's health research project.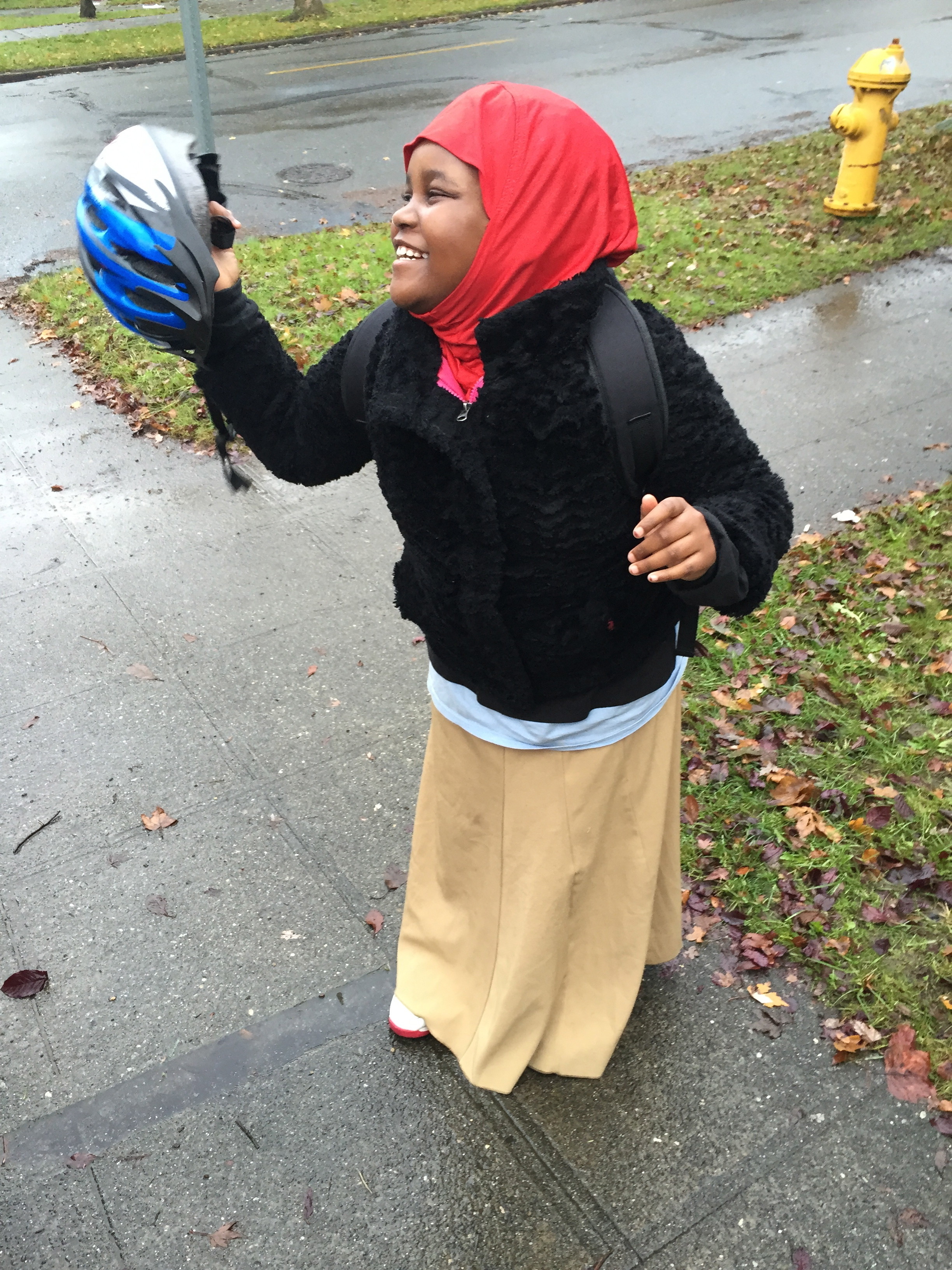 Maka Yusuf prepares for her ride to school. (Lynne Peeples)
In the late 1960s, almost half of U.S. kids walked or biked to school. That number was down to about 13 percent in 2009. Meanwhile, obesity has more than doubled in children and quadrupled in adolescents over about the same time period.
"It's a missed opportunity," said Mendoza.
He is not suggesting that the changes in transportation alone are driving the health problems, but he said the association was enough to inspire him to "go old school" and study just what role it could play. Mendoza added that he chose Maka's low-income Madrona community for the project because children in such neighborhoods generally face disproportionately high health risks.
Other experts share Mendoza's interest in reversing the trend and getting kids back on two wheels. Jonathan Patz, director of the Global Health Institute at the University of Wisconsin, Madison, has calculated a "four-way win" when cars are swapped for bikes: reduced greenhouse emissions and gains in air quality, fitness and the economy.
"Bike trains seem like a small-scale local solution to some huge global issues we are facing right now," said Maya Jacobs, a bike train leader and researcher at Seattle Children's. "And kids somehow just love biking to school. Even in pouring-down rain, they think this is the best thing ever."
Maka's bike train represents the second phase of Mendoza's research project. As the researchers did with a separate pair of Seattle-area schools in the spring, students from Madrona K-8 and Dunlap Elementary School were outfitted with activity and GPS monitors, as well as new bikes and helmets that they can keep. Dunlap served as the control group: participating students got bikes, but did not have an organized bike train. With Madrona's last organized bike train ride now complete, Mendoza and his team are preparing to crunch the data, and expect to have results by the spring. He added that their ultimate goal is to do a larger study -- enrolling students from, say, 20 schools -- across different cities, and with a variety of terrains and cultures.
While this bike train study is a first, the phenomenon of rolling en masse to school or work is on the rise. L.A. and New Orleans, for example, boast organized bike-to-work trains. Biking to school is increasingly popular in other cities, like Portland, Oregon.
New research continues to underscore the physical and mental health benefits of daily exercise. A Danish study published earlier this year found evidence that even a little regular exercise could significantly improve a child's ability to concentrate. Walking or biking to school, according to the research, had a greater effect than a child's diet on his or her concentration levels.
"I think that physical exercise gives some sort of mental readiness for concentration and learning," said Niels Egelund, director of the Department of Education at Aarhus University in Denmark and author of that paper. "We are probably built for a mix of physical and mental work that modern life does not automatically provide."
Of the 20,000 students aged 5 to 19 that Egelund surveyed, more than three-quarters walked or biked to school.
It may then come as little surprise that Denmark has led the way in popularizing bike trains. They were the first to coin the term "Safe Routes to School" in the 1970s. The first U.S. Safe Routes to School program came three decades later -- in the Bronx, New York, in 1997.
Josh Miller works with Seattle's Cascade Bicycle Club and helps coordinate the Safe Routes to School National Partnership. He told The Huffington Post that he has seen a reversal, or at least a leveling-off, in the trend of kids not walking or biking to school in the U.S. "It is really gaining momentum," said Miller, who helped teach Maka and her peers how to ride their bikes safely. "We've seen exponential growth in the past few years."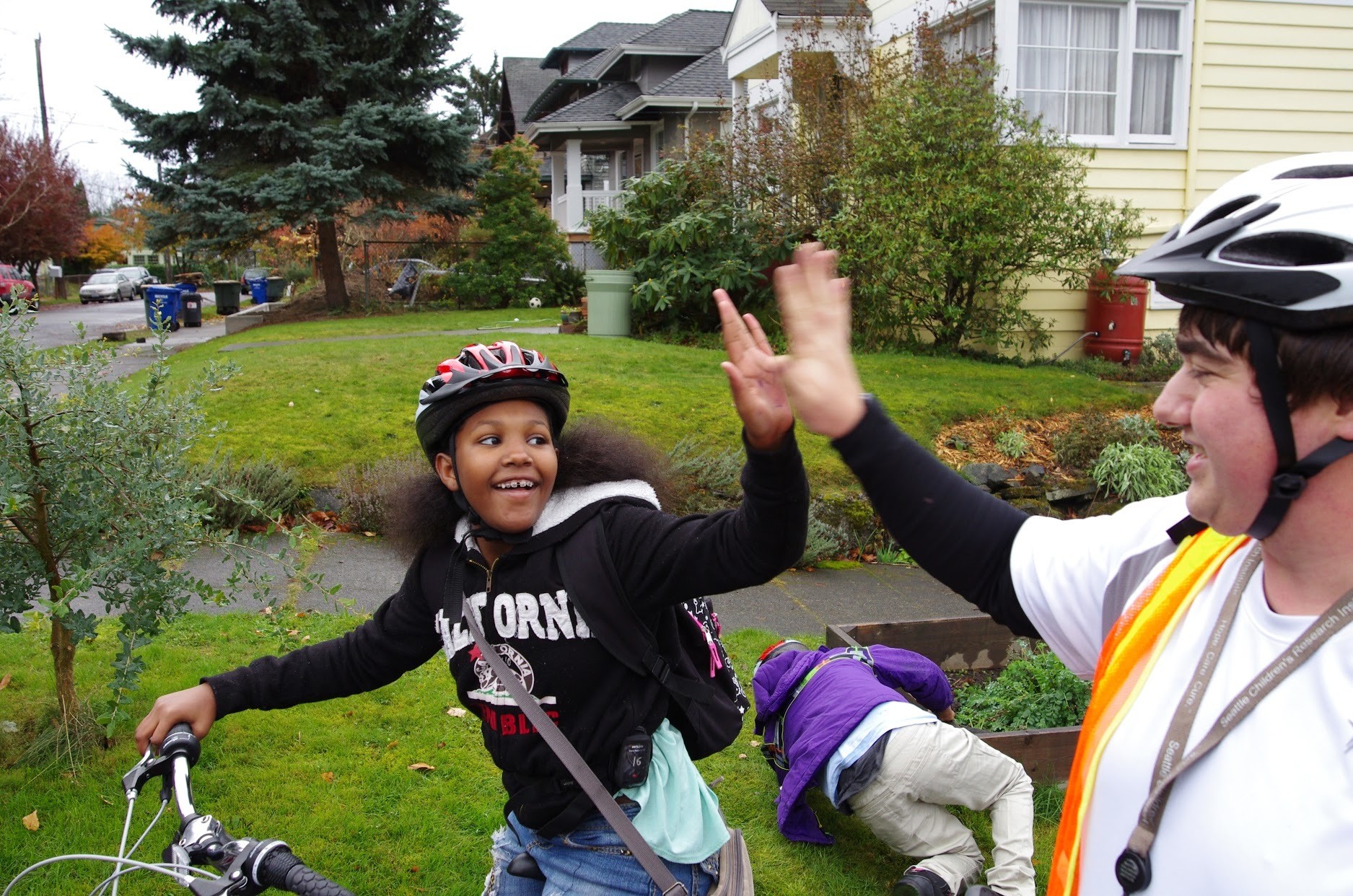 Diamond Robertson high-fives bike train volunteer, Mark Abbey-Lambertz, as Nadia Caty takes a break on the grass. (Josh Miller)
In addition to the health and environmental benefits, Miller suggested that the progress should be seen as a win for city budgets. Seattle, for example, recently made cuts to bus service.
"It seems to be a no-brainer," said Miller.
Anne King, who runs a local bike education and consulting business, added another benefit to the list: "It teaches kids about independence."
"It's good for them to learn how to get places on their own, walk in their neighborhood, interact with their neighbors and community," said King. "When you're in a car, it's completely different."
Her 6th-grade son likes biking to school, she noted, partly because it is actually faster than taking the school bus. But traffic leaves King and her husband too nervous to let him ride on his own. Concerns about getting hit by a car continue to keep many kids -- and adults -- from choosing to bike or walk.
Reducing the number of people behind the wheel, including the parents who drive their kids to and from school, would obviously mean fewer traffic jams. "We need to get out of this loop," King said. "Get more people on their feet and biking, and maybe some of that traffic, and traffic fear, would be minimized."
Last Wednesday, Washington Gov. Jay Inslee (D) made national headlines when he unveiled his Carbon Pollution Accountability Act. The governor's office estimates the proposed cap-and-trade legislation would collect about $957 million annually from the state's biggest polluters. From that, hundreds of millions of dollars would be used to improve biking and walking in the city, including $80 million for Safe Routes to School. The efforts would further support his Healthiest Next Generation initiative, which formed a 50-person council in September to look into ways to reduce childhood obesity.
The governor even accompanied a "walking school bus," part of another Mendoza-led project, in West Seattle this March.
"It doesn't take a medical degree to know that walking and biking to school is a healthy thing for our kids," Inslee told HuffPost. "These programs yield so many benefits, from helping our kids get more exercise to reducing pollution and keeping our air clean. If we can help get more kids off a bus and on their feet, we'll be making them and our communities that much more healthy."