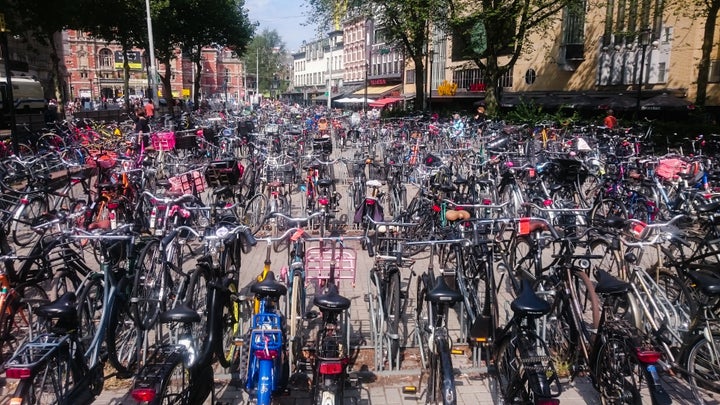 "I'm so impressed with the thousands of people riding bikes in this city," I say to the young barista serving me coffee beside one of Amsterdam's many canals as throngs of cyclists whoosh by us.
"Yes, we Dutch are lazy. We don't like to walk."
She's not joking. After all, she grew up in a country where automobiles are treated like third-class citizens. The Dutch obsession with the bicycle is profound. The country is impossibly flat, the cities are compact, and cars are actively discouraged in favor of bikes—the cities and towns don't just have bike lanes, they also have safe wide separate cycle paths with their own infrastructure of signs and signals throughout the entire country. There's nowhere you can't get to safely and effortlessly on a bike in the Netherlands, but plenty of places that cars can never reach. Riding a bike through Amsterdam for example is much quicker, cheaper, and easier than trying to drive a car the same distance. Owning a bike (or more usually, two or three of them) is a source of national pride for the Dutch. The Nazis confiscated every bicycle they could find when they occupied Holland in World War Two. Suddenly their beloved bikes were being used by the enemy. This was a final indignity, their identity now fully lost. Along with their lives, the Dutch wanted their bikes back.
But after the war, when the country became wealthy, cars began invading the cities. Thanks to some visionaries—many of them children—who took to the streets to protest all the kids being killed by cars, and thanks to the 70s oil crisis, the Netherlands decided to ditch the almighty car in favor of the bike. The Dutch got back on their bikes in droves—now on gleaming new cycle paths—and they haven't stopped riding since. Today, there are more bicycles than residents in the Netherlands and in cities like Amsterdam and the Hague up to 70% of all journeys are made by bike.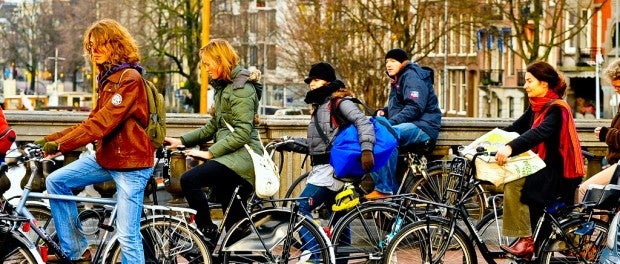 As I wander around Amsterdam what strikes me even more than the sheer number of cyclists is that everyone is on a bike, not just fit students, but business people in suits, school kids, people in their eighties, tradesmen, mothers schlepping their kids in carriers, men who look like they watch lots of TV sports, boisterous teens, fancy-dressed middle-aged women, purple-haired girls with tattoos running up their legs, doctors, hip young guys. Not one segment of the population is exempt. They're all on bikes. And what's even cooler is they're all riding pretty much the same bike, what we call Granny bikes in North America, those practical upright one or three-gear roadsters, often with a basket or front carrier, cushy seat, and a bell. This is my favourite type of bike because it's so comfortable and you don't have to lean over. People sometimes make fun of me for riding my Granny bike, yet here in the Netherlands it's actually cool. Or cool doesn't even matter here. It's just what everyone rides because it takes you where you need to go so effortlessly. In a country this flat, you don't even break a sweat.
Since a nation where you can easily ride your bike everywhere is a dream for me, and since I've fantasized of riding a bike from one little Dutch town to the next since I was twelve, I decided my family and I needed to get on some bikes pretty much as soon as we arrived in the country. I signed us up with two different bike tour companies (one based in Haarlem, one in Gouda) to go on some day trips and was incredibly lucky at my finds.
At Amsterdam's Sloterdijk's railway station, we meet Emiel Blok of Holland Bike Tours who fits us out with some fancy (shush!) German bikes. Despite the torrential rain that's now thundering down in an otherwise dry summer, we decide to brave the trip anyway. Soon we're cruising along a cycle path out of the city and it feels so relaxing, smooth and uncomplicated that I keep thinking something's got to give. Surely this shouldn't feel so Easy Rider. Surely this will get nightmarish any minute. Leaving a major city by bike anywhere in North America would be a horror show but in Amsterdam it's a breeze. I keep thinking, we're riding bikes and actually getting respect? More respect than cars? What kind of utopia have I landed in? We have our own well-signposted, generous wide cycle paths and our own junctions where we give way only to other cyclists. And even though we're riding in Amsterdam's outskirts, there's no industrial sprawl, no ugly strip malls (strip malls don't exist in Europe) and in less than fifteen minutes we're immersed in vibrant green countryside. We even stop to admire a little horse in a farmer's field.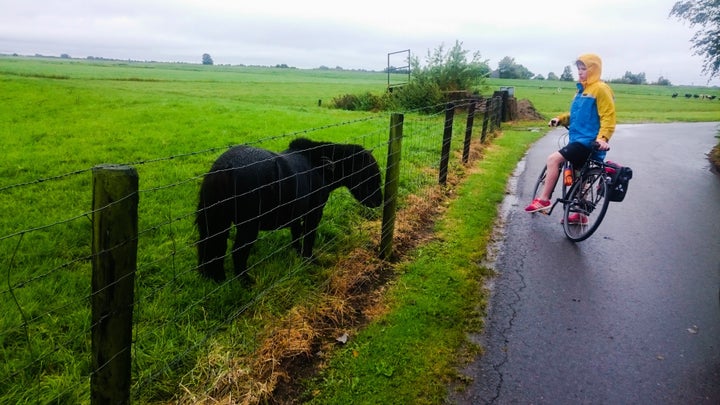 "A city needs to do a lot more than just put in the odd bike lane or separate bike path," says Emiel when I ask him why he thinks more cities aren't bike-friendly. "The whole infrastructure needs to be interconnected intelligently. For example, you need lots of space for the places where cars and bikes meet, no dangerous turning lanes." We cruise through a lush wooded area called Spaarnwoude, pass some houseboats where people live year-round, and finally get to a "hill" in a pancake-flat country. But the hill is only a two-second rise to get up to a dike. Riding along the dike, Emiel points out polders and explains that with two-thirds of the Dutch population living below sea level, the country is in a constant state of constructing and reconstructing its sea and river dikes, preparing for the inevitable fierce storms of the future. At the tiny village of Spaarndam, we stop in a restaurant for hot chocolate, espresso, and apple strudel as rain beats down outside.
Holland Bikes Tours offers a wide and fascinating variety of bike trips (see below) but you can't control Mother Nature. We were supposed to pedal all the way to the National Park Kennemerduinen with its grassy sand dunes and wildlife, have lunch at the seaside in Bloemendaal aan Zee, then head to the medieval city of Haarlem. Sadly, the rain has washed those plans away. We decide to avoid hypothermia and end our tour in Haarlem. With its canals, cobbled streets, thriving cultural scene and epoch-spanning architecture, Haarlem is sometimes referred to as a smaller version of its famous neighbor. It's clear, however, that this city beats to its own vivacious drummer. We cycle through the city center where there's nary a car in sight and find a pub where we warm up and enjoy traditional Dutch pancakes and craft beer.
Even with the lousy weather it's worth every drop of rain to cruise so comfortably and safely on upright bicycles through the emerald countryside along what I consider revolutionary roads (aka Dutch cycle paths).
We're much luckier with the weather a few days later in another medieval city that's an hour south by train. Under clear blue skies we prepare for an afternoon with Green Cow Bike Tours in Gouda (pronounced How-da). Already we've fallen in love with this ancient friendly city—more canals! more bikes! more cafes!—and feel like living here one day. The night before we'd wandered into their gigantic old market square where their final cheese market of the season was holding a festival. A band was playing on the balcony of their 15th century town hall, Gothic Staduis, a building so weird and beautiful that it's impossible to tear your eyes away.
Now on our bikes in the same square with Marc Setzpfand, owner of Green Cow, he's explaining that on that very balcony where the band played, public executions once took place. Marc is incredibly knowledgeable about the history of Gouda, as are the two friends he has brought along who fill us in on more fascinating history as we pedal along Gouda's canals, passing old-fashioned wind mills and modern dykes. We're on our way just north of the city to the lake district, Reeuwijkse Plassen, cruising in the sunshine along well-maintained cycle paths, admiring expensive houses surrounded by moats. "When visitors come to Gouda," says Marc, "they usually don't know this gorgeous lake district is just north of town. You can spend an entire day biking around it and hardly see anyone." We're stopped beside one of the lakes when a tiny convertible pulls up out of nowhere, newlyweds in wedding dress and tuxedo. A camera is involved.
Like about everywhere in this country, where eyesores just don't seem to exist, where people take pride in keeping their cities, villages and countryside attractive—it's the perfect spot for a photo. The rest of the world has a lot to learn from the Netherlands.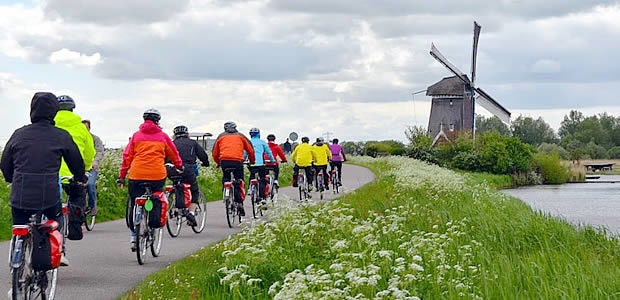 More Info: Holland Bikes Tours offers everything from one-day trips to historic villages, tulip fields, national parks, coast, and inner lakes, to the four-day Liberation Route (where you cycle the area where a military operation played out that almost ended World War II a year earlier), to eight-day trips where you cycle to Belgium, plus more. Their bikes are German-made VSF with high quality (premium) parts, such as hydraulic brakes, Shimano Premium hub gearing and frame sizes for all heights. See www.hollandbiketours.com
Related
Popular in the Community