An annual New York City motorcycle ride and rally, called the "Hollywood Block Party," turned violent Sunday after a motorcyclist was involved in a minor fender bender with a black Range Rover. Both the initial accident, and the high-speed chase that followed, were caught on tape via the mounted helmet camera of another biker. Motorcyclists, after catching up with the car, assaulted the driver.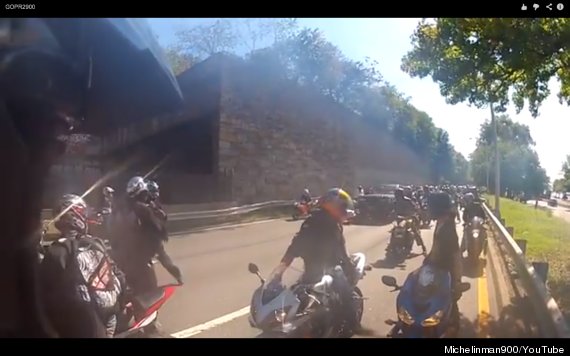 The driver--identified as an Asian male in his thirties who was driving his wife and his young child--hit a motorcyclist's back wheel after being cut off on the West Side Highway in Upper Manhattan. The New York Daily News reports that no one was injured in the collision, and the driver initially stopped.
However, when the crowd of motorcyclists swarmed the Range Rover, attempting to damage the car, the driver sped ahead, running over several bikes in the process.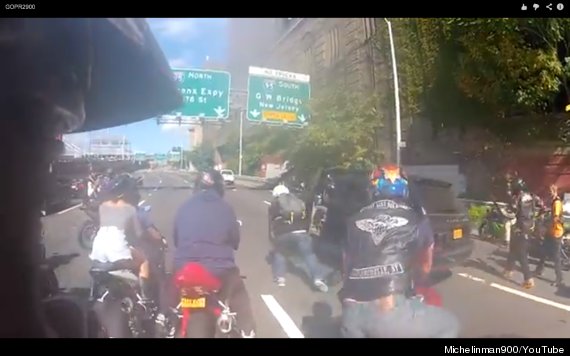 The angry crowd of bikers gave chase. At one moment in the video, bikers catch up with the driver. After one biker manages to open a driver's-side front door on the Range Rover, the driver speeds off again.
The motorist eventually exited off the West Side Highway at W. 176th St. in Washington Heights, but was forced to stop at a red light on W. 178th St., which was when the bikers attacked.
The video shows one biker taking off his helmet and smashing it into the window of the Range Rover while another man attempts to punch through one of the backseat windows where the child was sitting. The video then abruptly ends.
Reportedly, the tires on the Range Rover were also slashed to prevent further chase, according to Gothamist.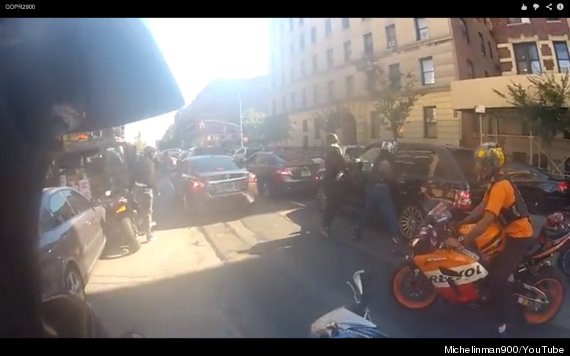 Police say several bikers beat the driver. He sustained injuries to his face and torso as well as two black eyes. He was transported to Columbia University Medical Center where he was treated for facial lacerations, stitched up, and discharged.
No other injuries were reported and no arrests have yet been made, but police are still investigating.
Popular in the Community