Over the summer, I rented an apartment for a few weeks in Paris. As an avid biker at home in New York, I was intrigued to see that the city has introduced a bike sharing program -- called Vélib' -- that allows residents and visitors alike to rent bicycles on a short-term basis. For a fee of just 5€, and a credit card guarantee for any damage, I signed up for a week of access. At minimum, I figured that I would experience the joy of using yet another European product whose name carries both an accent as well as a seemingly ornamental apostrophe.
Using the program is simple. All over the city there are web-enabled kiosks where you sign up for an 8-digit ID code and select a PIN. Each time you want to use a bike, you enter this data and then choose one the bikes or "vélos." On selecting a vélo, it is electronically unlocked and you're on your way. The bike is free for the first thirty minutes and then costs about 1€ for every additional thirty minutes.
With over 20,000 bikes and 1,500 bike stations available, it seems like Vélib' is everywhere. You can pedal over to the Louvre and then leave the bike at a nearby rack. Once you want to move on, just find another free bike and head off to your next destination. No need to worry about carrying a lock as the bikes are automatically locked when they are returned to their racks. It all ends up being cheaper than taking the subway, and it is exhilarating to travel through Paris at street level.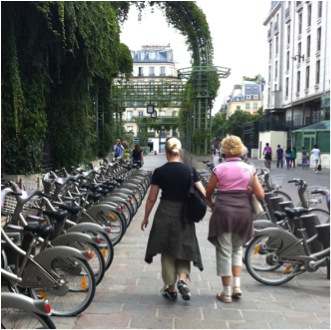 The Vélib' station at Les Halles
Despite all these positive factors, however, travelling by vélo does have its risks. While Paris has excellent bike lanes and drivers are quite conscious of bikers, the city also has hundreds of ancient and narrow streets that require careful negotiation.
On my second day using Vélib', I turned down a small street near the Seine and found myself approaching a trash truck head on. Since the street was too narrow for me to drive past the truck, I moved over to the side of the street to allow the driver to pass me. Although the French I learned from my Quebecois grandparents has stuck with me quite well, I don't think I ever learned the phrase: "Move your bike or we are going to run it over!" Apparently, that is what the trash collectors must have been yelling, because they proceeded to drive right into me and the impact bent the pedal on my bike.
My shock was quickly replaced with anger and I felt compelled to think of an appropriate response. Drawing on my French-Canadian upbringing, I yelled the only thing that came to my mind: "Cochon! Vous êts un cochon!" Rather than taking offense at me calling him a pig, the driver laughed derisively and drove on.
I was left to inspect the damage to my bike. The pedal was definitely bent, but otherwise the vélo was in fine condition. Not knowing what else to do, I returned it to the nearest rack and contemplated the charge that would surely show up on my credit card for any needed repairs (15€ in fact). Before anyone gets judgmental, my Parisian friends all assure me that I handled this like a local.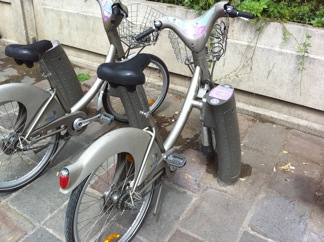 My busted vélo waits for the next unsuspecting customer
The Vélib' program in Paris has truly revolutionized the city and has vastly improved quality of life. People of every age use the vélos and it's not uncommon to see an impossibly elegant French woman dressed to the nines and pedaling down the street. The citizens of Paris and tourists have readily taken to the program because it is affordable, easy to use, and fun.
As for me, I dusted myself off, got another bike, and headed off to the Left Bank. I also decided to be a bit more cautious on my bike going forward. From that day on, when I saw a trash truck, I pulled off the road and respectfully waited for the truck to pass. I have learned in life how to pick my battles, and French-Canadian insults are a poor weapon in a fight with an 8-ton truck.