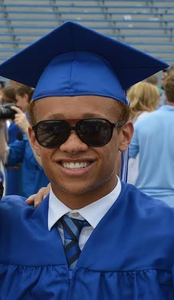 The first moment on the job deceives me. I glance around the deserted High Gear Cyclery shop, wondering if keeping myself occupied will be more of a challenge than selling bikes.
I meet Bill, my manager. He smells of cigarettes and coffee when I am within arm's reach. He shares the basics of advising bikers on nutrition and repairs. Still no customers. His need for nicotine runs high. He exits for a smoke. As Bill puffs outside, a flood of customers enters:
"Can you fix my flat tire?"
"I am looking for a new bike. Can you help?"
I am a nervous and stressed 14-year-old fielding questions from people twice my age, and I love it. Ironically, or maybe not, my first time on a bike is one of my first memories.
I was four when Pops walked me to the neighborhood basketball court pulling a bike with training wheels for me, while my older brother Jordan rode a two-wheeler. Jordan took a break and I hopped on the two-wheeler while Pops was not looking. After peddling a few feet, I fell. He rushed over. "Are you ok? " I rose, brushing gravel from my skimmed hand, and persistently pleaded to ride the two-wheeler again. I convinced him. Today Pops says he knew I wouldn't give up until he said yes. I continued to fall but the short moments of balance were worth the scars. By the end of that day, I rode the two-wheeler without falling.
After nine months of mastering bike sales, Bill designated me to train employees. I loved the new responsibilities but hungered for even more business opportunities. I saw a possibility when a brutal snowstorm hit two years ago. I looked out my bedroom window to see men with diesel-powered four-wheel-drive trucks rushing from house to house, salting driveways, and using sharp metal plows to cut through the thick ice and snow. Do they really need all that equipment for such a simple job? I thought to myself. Why do they deserve to monopolize business on MY block?!
I answered that question by starting my own snow removal business. I saved $1,000 and invested in a snow blower. Last year, I hit the streets with the first snowstorm. I carefully chose Mrs. Gene's doorbell, since she was a friendly neighbor. Yet even she was not an immediate sale.
"Oh, well, usually Joe's Snow Removal Company does it for me," she told me.
"I do a quality job, can beat their price and will come any time that you need me."
"Well, hun, Joe's comes back and salts the steps so I don't fall getting to my car in the morning."
"I do that as well. Everyone on the block is going to be so jealous when they see how salty your steps are after I finish them."
First sale made! The snow blower paid for itself in a few driveways and business started to boom. Eventually I had blocks of clients. Despite their elite equipment, my competition suffered.
Over time, my salesmanship grew beyond commerce and onto the lacrosse field. During my lacrosse team's losing season two years ago, I was often the lone voice trying to sell my team on the belief that we could "bring home a 'W.'" Perhaps it was those selling moments that inspired the team to elect me to be captain, as a junior, last year.
I still work at the bike shop and my business's growth required me to hire two neighbors to help plow and attract new customers. Motivating them mirrors my roles on the lacrosse field, in the bike shop and, ultimately, my pathway as a natural leader with the initiative to work with people to get tasks done. Imagining what might comprise the open, unknown places on that path excites me as much as the rush of meeting those first customers in the bike shop.
Christopher Lassiter, a graduate of Millburn High School, is a freshman at James Madison University.
Related
Popular in the Community