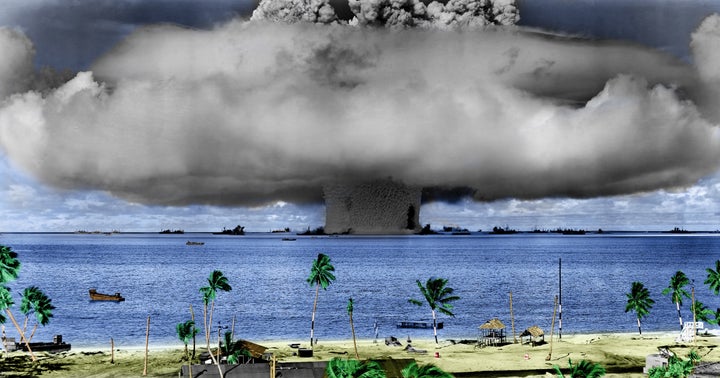 If you were to make a list of top 10 scuba dives for history buffs, this one would just have to be near the top.
Far off in the Pacific Ocean, 200 feet below the surface, sit a dozen radioactive warships. The fleet includes the aircraft carrier U.S.S. Saratoga, the Imperial Japanese Navy battleship Nagato and the destroyer U.S.S. Lamson. All were formidable WWII battlewagons --t he Saratoga, a launching point for U.S. fighter planes attacking Guadalcanal; the Nagato, the command center for Japan's attack on Pearl Harbor.
In 1946, as part of a series of tests to determine the vulnerability of warships to atomic attack, the U.S. subjected the Nagato and the Saratoga (sans people) to a blast, code-named Baker, equivalent to the destination of 23,000 tons of TNT.
The bomb, detonated 90 feet below the ocean's surface, sent a water spout more than a mile into the air. The ensuing 100-foot waves, plus a million tons of radioactive water falling back into the sea, sent both ships to the bottom. The Lamson had been sunk by Able, an above-water A-bomb blast, three weeks earlier.
All of this history makes Bikini ultimate site for wreck-diving. Nick Teasdale, a business development manager in Barrick Gold Corp's Peru office, has dived shipwrecks off Alaska, North Carolina and the British Virgin Islands -- even exploring under the ice in winter behind hydroelectric dams. But to celebrate a milestone birthday, he chose wreck-diving at Bikini.
This dive is not for amateurs. To go on the excursion, you should have 50 prior dives, some deeper than 130 feet, and have completed advanced training prescribed by the International Association of Nitrox and Technical Divers.
Getting to Bikini isn't easy, either. First you fly to Honolulu; then, a six-hour connection to Majuro in the Marshall Islands; and finally, via puddle-jumper, to the two-square-mile Bikini Atoll. Accommodations on the island are usually provided by a U.S. Department of Energy field station--comfortable and air-conditioned.
Countless waivers must be signed, some regarding divers' exposure to radiation. The ambient level is low, about double that of downtown Denver. The atoll's soil, however, remains contaminated by radioactive cesium, a metal by-product of the blast. For that reason, visitors are told not to eat coconuts or anything else grown on the island. All of Bikini's food is imported.
Radiation from the shipwrecks is negligible, though, since water acts as an excellent insulator. Divers are safe, so long as they don't grab souvenirs. Pilfering is forbidden and hazardous.
Another rule requires divers to leave the water before sunset, since that is when sharks begin to feed. Teasdale spotted dozens during his five days of diving.
"While I was decompressing, sharks would circle for ten minutes," he says. "You get used to it."
The wrecks aren't visible from the surface. But once you're submerged 60 feet in the 80-degree water, the top of the Saratoga's conning tower comes into view. At 110 feet you can see the carrier's 890-foot-long deck.
"The fighter planes are all there, still in a neat row," says Teasdale. "You know these things flew over Guadalcanal. You're touching the cockpits of history." Next to the planes are unexploded 500-pound bombs. Did Teasdale touch one? Yes--very carefully. "I didn't think they'd go off," he says. "But you never know."
Getting to the Nagato is more difficult. This ship is sitting upside down in the sand. Teasdale, an experienced underwater photographer, found photographing it challenging. At first "nothing came out, even with my lights," he says. "I kept resetting the camera, and still nothing. It was weird. Spooky."
"Everybody's experience is personal - and different," Teasdale says of diving shipwrecks in general. "Sometimes it's a feeling, other times it's something weird we see. That's what makes the sport so special."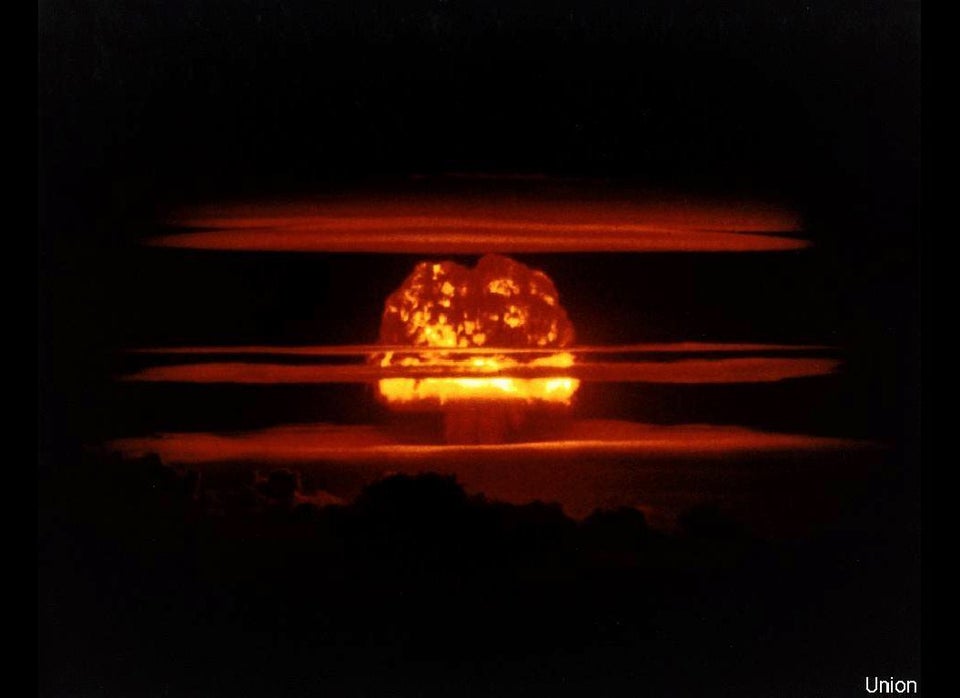 A Nuclear History
Support HuffPost
A No-B.S. Guide To Life
Related
Popular in the Community